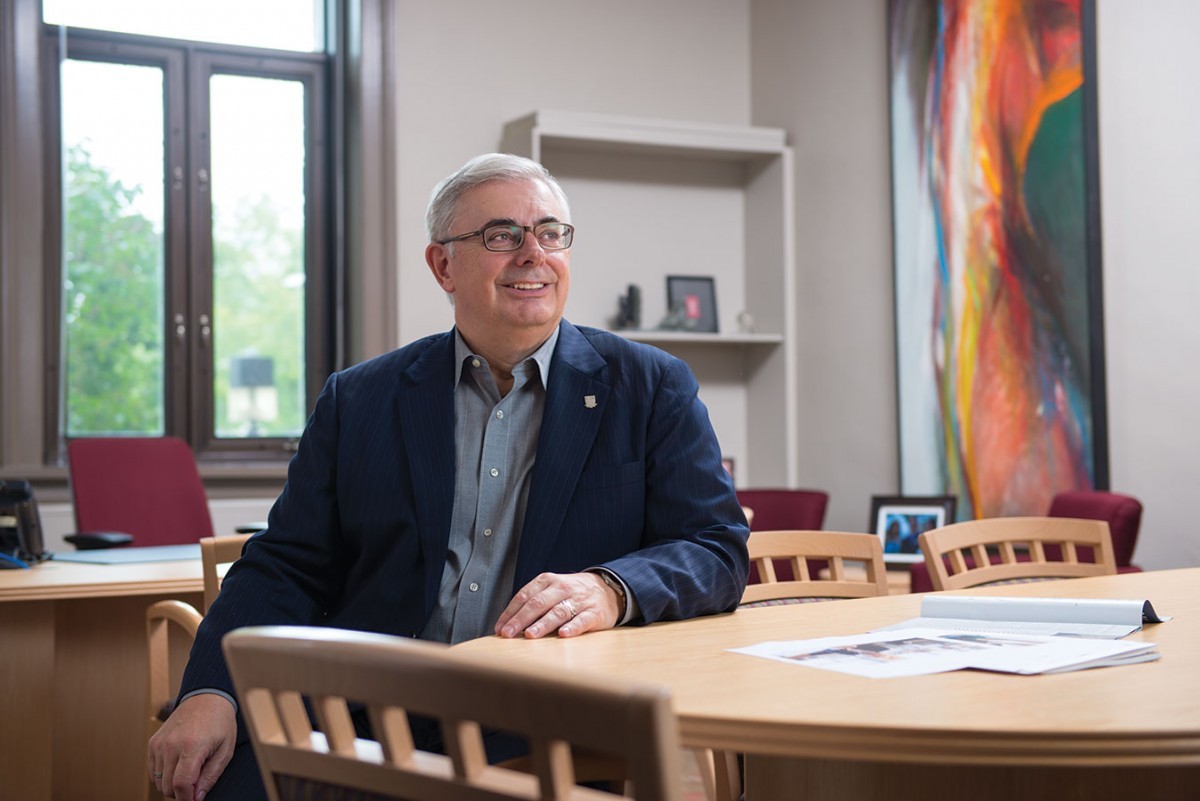 Q&A with President David Barnard, departing chair of Universities Canada
November 2, 2015 —
Last week President David Barnard's two-year term as chair of Universities Canada (UC) came to an end. He will now serve as past chair for one year while the new board transitions.
Universities Canada, formerly the Association of Universities and Colleges of Canada, is a national organization that advocates for universities to government, unifying the voices of its 97 member intuitions.
UM Today sat down with President Barnard to ask him about his time at UC.
UM Today: What are some Universities Canada accomplishments you are proud to have been a part of?
President Barnard: Universities Canada has an ongoing agenda of advocacy with government, so on many files there is not a distinct starting and ending point. There is an ongoing refreshing of the files.
But having said that, one of the things that I worked on while I was chair was the Canada First Research Excellence Fund (CFREF), and UC had a big role in that – consulting with the community and government.
Individual universities, like the University of Manitoba, were working on this too because larger, research-intensive institutions like ours have their own channels to government. And the University of Manitoba is a member of the U15 group, which was working on this. But UC keeps all the universities together as a sector, and represents the sector towards government.
In terms of CFREF, the impact of having an organization representing all the universities coming forward, saying the community supports this, those kinds of messages are very important in Ottawa.
Was there anything from your term as chair that was left undone?
I wouldn't say 'left undone' as that implies there is a disappointment in that we wanted to achieve something and didn't get there. I would say there are ongoing projects. So, UC started to think about and plan for Canada's sesquicentennial, but that still is ahead of us. The board will continue to work on that.
I chaired the board when the idea of how UC can be involved in the sesquicentennial was brought forward. Someone else will chair it when that idea is brought to fruition.
It's a privilege to serve. It really is a privilege to be a part of it because you get involved in conversations. I was involved in conversations with people in Ottawa on a number of different files. You get close to things and you see things in action. You have input on behalf of the community and you get to talk to lots of people in the university leadership to try and understand what the community's concerns are and represent those to government, and vice-versa.
You're getting excited talking about this.
It was very stimulating. I consider it a privilege to be a part of it.
What are the most pressing issues facing universities now, and what role will UC play?
One of the most obvious issues is financial pressure. The particular aspects of that can vary from institution to institution and particularly from province to province depending on provincial policies on a number of things – what tuition fees are, are they regulated, what the grants-per-student are, how does the provincial government match federal funding.
All of these things vary from place to place but I think it is fair to say without exception that there has been growth at universities. First and foremost is the participation rate, which has caused the growth of universities. That growth has placed pressure on the funding mechanisms. So if we were to go and find your analogue and my analogue at almost any university in the country, they could be having a conversation about financial pressures. Resources haven't grown as quickly as they have in the past on a per-student basis.
That's one thing.
I think a second thing is, as a sector, we want people to realize in general, yes, universities prepare people for their career, but they also are preparing citizens for life. So some of the conversations in the country that reduce the value of higher education to simply job preparation are, I think, a general concern for UC. It's not that it's not true; it's just not the whole truth.
I think universities in general, and UC as a representative organization, are concerned about this narrow view of the role of universities. There needs to be a larger understanding. And frankly, many of our alumni know that this understanding needs to be larger because while many graduates do experience work satisfaction as a result of their university education, they also, as a result of education, enjoy a lot of other aspects of life too.
Universities make other contributions. We just had a federal election and one of the things we want universities to contribute to is an engaged, aware citizenry that can make a democracy work.
I often say 'We're building bigger futures.' We want the future to be bigger for our students and their families and the communities they will live in. But 'bigger' not just in terms of economics, but also in range of opportunities.
We have an understanding within the academy of what our breadth of role is. UC wants that understood by decision makers outside as well.