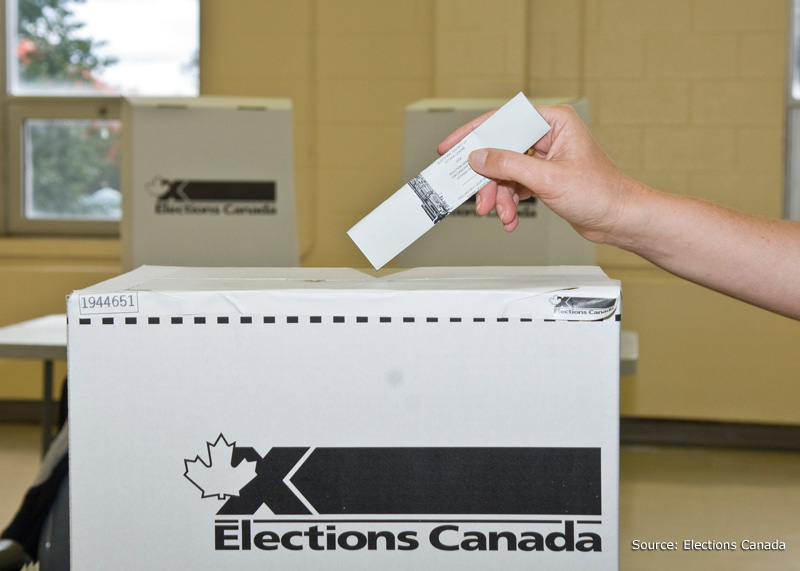 Q&A with former pollster on this year's federal election
August 11, 2015 —
Christopher Adams, Rector of St. Paul's College at the University of Manitoba, is a past pollster who has worked as a vice-president with the Angus Reid Group and more recently with Probe Research. He continues to provide commentary to the media, and UM Today sat down with him to ask him a few questions about polling in this federal election.
UM Today: Do attack ads affect the polls?
Christopher Adams: What attack ads do is affect the voting public and this gets captured in the polls. We know this from watching the attack ads in previous elections such as those that positioned Stéphan Dion and Michael Ignatieff in a negative light. We know those were very effective. And I think in part the Liberals standing in third place is partly due to the "Justin Trudeau: 'He's Just Not Ready' advertisements.
The other parties put attack ads forward too, but the Conservative party is the most effective. They've had the most money to spend and put together, I think, a good marketing research strategy behind these advertisements to see which ones resonate well.
I get interviewed probably two or three time every campaign on the question of attack ads and the extent to which they are effective. Many people will say they are not influenced. And I think the answer is this: political parties would not spend this much money on attack ads if they weren't effective.

Loading ...
Does the duration of this campaign affect the science or process of polling in any way?
It's a bit of a myth that the polling industry makes money off election polling. In fact, many companies lose money on their election polling and the reason for that is polling is used as a loss leader ­– the polling companies use the media to get their brand name out and to find a way to get their numbers out in the public so people start thinking of Ipsos, or Compass, or Abacus, or Forum or Probe Research.
So when they get their numbers out, the pollsters get publicity, and if they build a reputation for accuracy, then they are able to win profitable contracts from paying clients.
Let's say the Royal Bank of Canada wants to go to a new market research company – and that's a more accurate term for these firms which are market research companies that do polling. So if RBC were looking for a new company to handle its consumer research, it would look for a reputable company which has done effective polling for the media.
So with an 11-week campaign, these companies are probably salivating at this opportunity.
That's right. And back to your real question, well, the 11 weeks gives the polling companies more time to showcase their capabilities. But at the same time, those companies doing it as a loss-leader, will face huge problems if have to give these polling numbers to media over a longer period of time. I think we might see the firms spacing out some of their polls early on, so they don't lose too much money in the process.
What I think we might see more of are crowd-funded polls. We had one done in Manitoba by Probe Research in the mayoral election last August. A number of people threw in a hundred bucks and we all got to see the results. So we may see more of those coming, which is a new kettle of fish for the polling industry.
Why would people do that?
Well, in Manitoba, it is difficult to see how the parties are doing in Manitoba in this election, even though the big national polls are coming out every day with regional breakouts, the numbers are too small from these polls to do any province-specific analysis because they always pool Manitoba and Saskatchewan together, and sometimes all the three Prairie Provinces.
So if you want to get a flavour of what's going on in Manitoba you have commission a special poll. And no one is going to pay for that. Even the Winnipeg Free Press is reluctant to pay for polling. So political junkies, others, and me will throw some money in and do a poll.
But getting back to your question and how the length of the election will affect the polls: it will mean the national polling companies will have to work much more in this election. It will probably mean that there will be more money spent by the national media, such as the Globe and Mail and CBC, on their polling providers. This means there is more money out there in the system. And it will give us a better sense of where things are going, but things can change quite a bit over an 11-week period.
Well over an 11-week period, what poll will actually matter to people? Will all polls matter equally, or just this one we'll probably see coming out right after the first debate, or the last one right before election day?
The numbers change over time.
And people often say the polls aren't accurate during elections. But they do actually become more accurate as you get closer to election day. And people say, 'Well last election they weren't accurate'. In reality there were some that were off, but the polls released just a day or two before the May 2 2011 election when the NDP swept Quebec, the polls were accurate. Only two of the major polling firms were off.
So in the early part of the campaign, I expect polling numbers are going to be off to what the final election will be. But the ones released by reputable firms right before election day, those should be accurate.