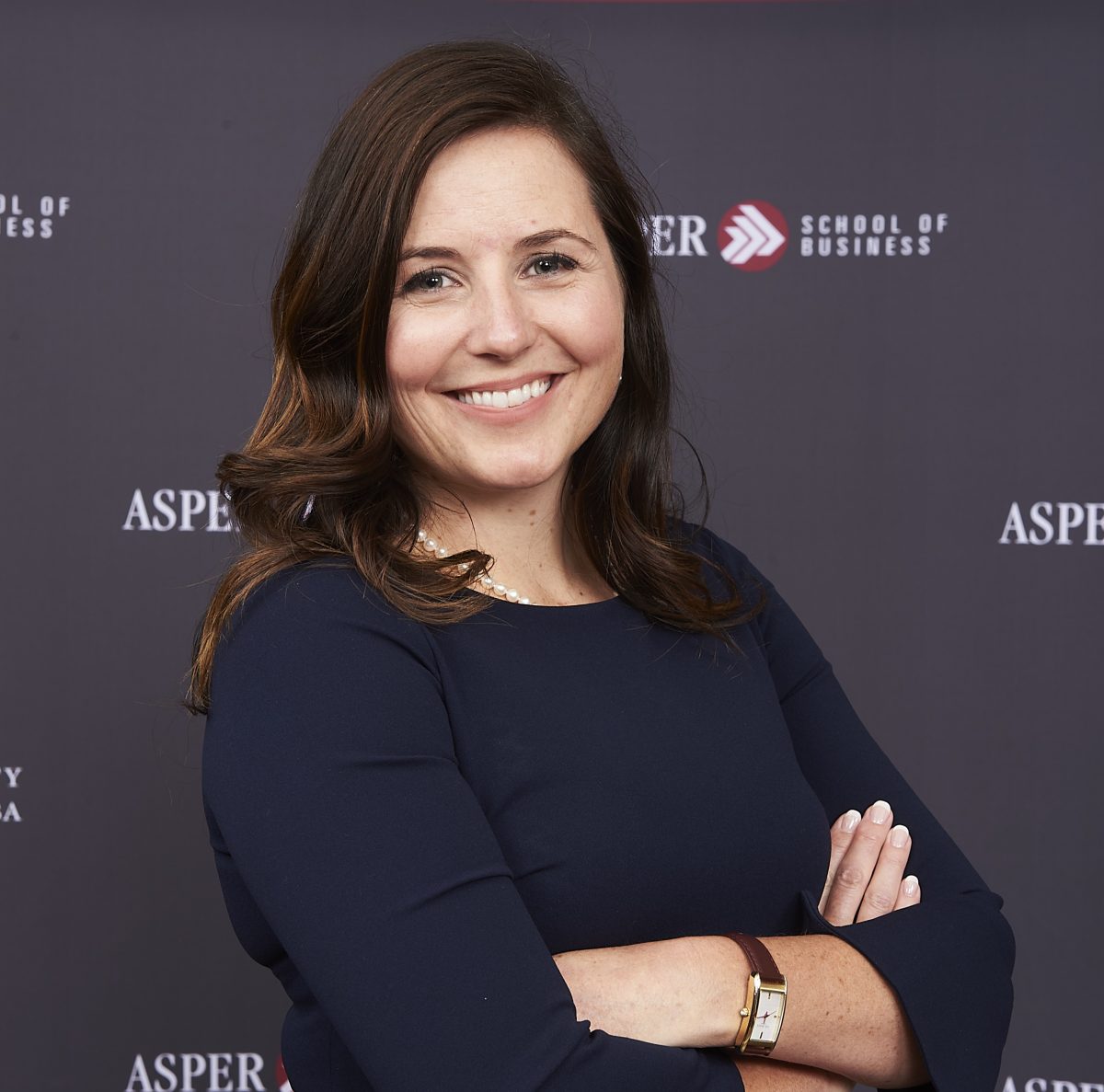 Q & A with an MBA: Tanis Brako [MBA/19]
Mastering career, motherhood and MBA
November 13, 2019 —
In celebration of 50 years of graduates since our first cohort in 1970, the Asper School of Business is pleased to launch the Q & A with an MBA story series. Throughout 2020 we'll be profiling our Asper MBA students and alumni by celebrating achievements, highlighting the range of career paths and showcasing student and alumni impact in the local, national and international business communities.
–
As a full-time Manager of Customer Energy Services at Manitoba Hydro and mother of two young children, it would seem that balancing the Asper MBA program would have been challenging for recent graduate Tanis Brako. But not only did Brako successfully complete her MBA, she thrived in the program while finding additional time to support others in her industry.
Brako was a member of the winning Asper MBA team at the 2019 East Meets West MBA Leadership Case Competition and for the past five years she's mentored female engineers as part of Engineers Canada 30 by 30 initiative.
Brako connected with us to describe her experience as a student in the Asper MBA program.
Why did you decide to take your Asper MBA?
I started considering an MBA when I was about seven years outside of my bachelor's degree in engineering.
I enjoyed the engineering profession and I thought it was challenging, but what I noticed is that I didn't have a solid sense of what to consider when it comes to business decisions. My business acumen wasn't strong and I knew I wanted change that.
I looked around my company at different positions to determine what I would be interested in doing in the future. I'm really passionate about people, I love engaging with people and I love being part of teams and I felt pursuing a leadership position made sense for me.
How do you think the program has improved your leadership abilities?
The program has improved my leadership abilities and has done even more for me than I could have imagined. Not only did I learn what I would call "business acumen" but what I feel was the most valuable was the overarching strategic thinking that I developed from the program.
I now feel very confident being able to speak to a president or executive about corporate strategy and I never thought I would feel as confident with these high-level interactions as I do coming out of the program.
I knew I would understand the basics of accounting and marketing, but I really didn't foresee the overarching business strategy being something that I would feel strong in.
And then of course, the network that I built being in the program with fantastic, amazing people as well as making contacts internationally. Participating in case competitions, I met people from China and South Africa that I'm now connected to on LinkedIn and I feel comfortable reaching out to them at any point if I ever needed advice in my career.
How did you balance school, work and being a parent all at the same time?
The way I balanced it, I literally didn't watch TV. Any spare moment I had I would do my schoolwork.
I would stay up late – especially when I took Corporate Finance. It was hard, I didn't want to but when the kids went to bed, from 9pm until midnight I was doing Corporate Finance and for a solid eight hours on a Saturday.
I honestly found that when I was going to school I accomplished more and found that I was forced to organize my days when I had to compartmentalize everything.
For example, I allocated eight hours for work, one hour after school for organizing the kids, an hour for activities and then find time for dinner.
I had a block of time for homework and I had to be extremely organized, extremely regimented and could never skip a day.
I started working out at 5:30 am because if I didn't do it then it wasn't happening.
I leaned on my supports too. When my parents were around I got their help and my boyfriend has been amazing and super supportive. He doesn't live in Winnipeg so I would sometimes be traveling to see him and he traveled to see me.
Plane rides were fantastic as I would get so much work done on a plane.
You really optimize the number of hours you are awake for and you get it done. When you have deadlines you just have to, you don't have a choice.
Were there any professors or courses from Asper that you found helpful, and whose lessons still resonate today?
There are definitely a few that stick out. Hands down, the best course I ever took was Business Case Analysis. That's where everything came together for me. All the courses I took leading up to it – they were bits and pieces all put together in Case Analysis. The Case Analysis class is really the essence of what everyone should get out of an MBA, it was a fantastic course.
Negotiations was also a favourite of mine and I find that I use those tactics all the time in the work that I do. I also happened to love Corporate Finance with David Stangeland. It was a lot of work but he's such a good teacher. I was actually surprised about how much I liked that course as I heard so many scary things about it.
What was your most memorable experience from the Asper MBA program?
The competition on the international stage at the Molson Case competition where we presented front of John Molson. The level of competition and judges was above and beyond what I ever thought I would experience in the program. I know it's a competition, but it felt very real. You had real executives in the room asking you questions and you needed to know very practical answers to the questions. Things that you would actually put in place in real life and to be put on the spot by some of these executives was so incredibly challenging and very humbling.
To learn more about the Asper MBA program, visit Asper-mba.ca.