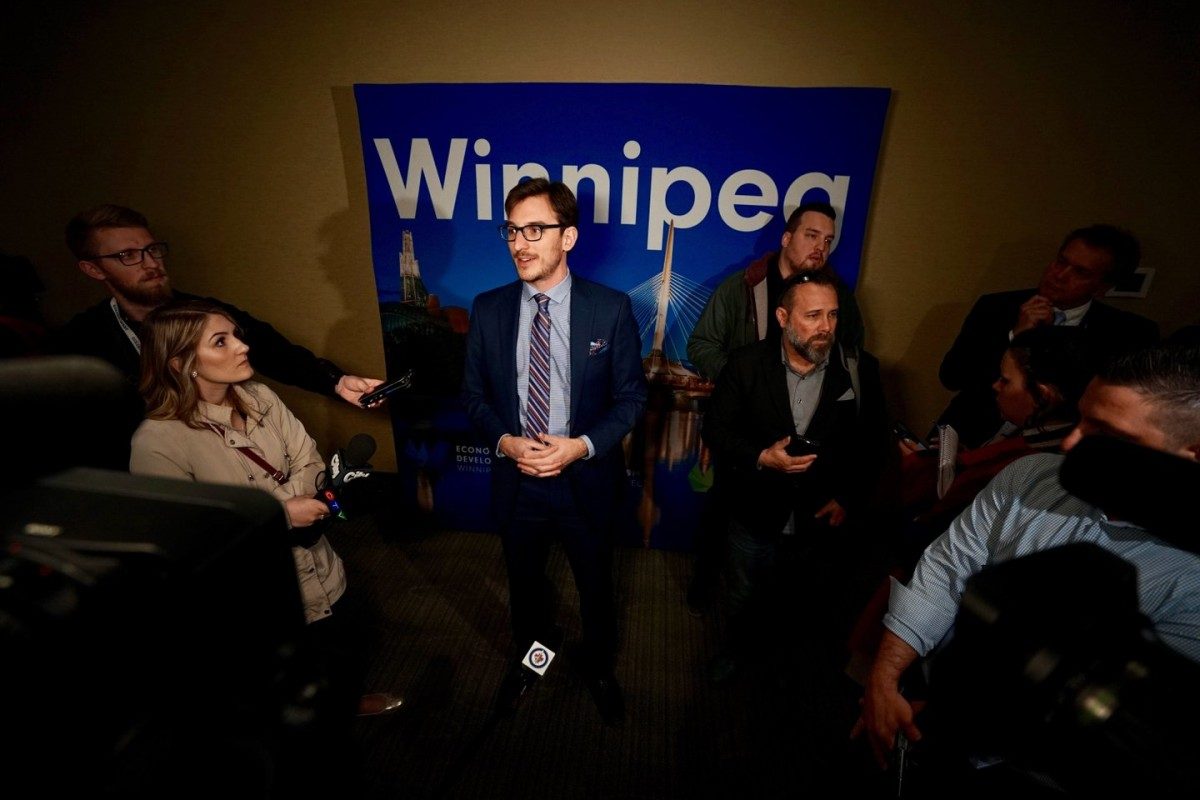 Q & A with an MBA: Matt Schaubroeck [MBA/17], start-up-innovator and Whiteout-Street-Party-organizer
April 15, 2019 —
Matt Schaubroeck [MBA/17] is an Asper MBA alumnus who balances growing his start up company, ioAirFlow, with his day job working for Economic Development Winnipeg.
Schaubroeck recently received the Canadian Public Relations Society Communicator of the Year award for 2019 for his work coordinating the Winnipeg Whiteout Street Parties during the Winnipeg Jets' playoff run last year.
The alumnus has much to share about balancing his two booming careers and what he thinks about Winnipeg's start up scene.
You were instrumental in the planning and execution of the Whiteout Street Parties during the Jets' playoff run last year. Do you think these parties helped elevate the city's reputation?
There's no doubt in my mind. The Whiteout Street Parties were a phenomenon that blew away everyone's expectations. When I think back to last spring, I remember seeing video and images that showed our downtown electrified. Having helped manage the public relations campaign, I also know how far our message reached. When you have outlets like Bloomberg and The New York Times praising our city – not just the Jets, but Winnipeg itself – then you know you've made a lasting impact.
What was it like managing media relations for the Street Parties?
I've never done so many interviews in my life, to be honest. The media launch event last year was more cameras than I've ever seen in one place before, and that was just a taste of things to come. Most Street Party days, I was managing anywhere from three to six interviews.
We had interviews with virtually every Canadian media outlet, and I even appeared on Fox News in Las Vegas during the Conference Finals last May, talking about why Las Vegas residents should come visit Winnipeg. We don't get a chance to share a tourism message with a city like Las Vegas very often.
What do you think makes a good leader?
Someone who leads by example, and inspires others to join them. If you want to be a leader, you need people to buy into your vision – a good salary or workplace culture isn't going to achieve that buy-in on their own. The leaders I've looked up to throughout my careers have been open to criticism, collaborative and ready to jump in and help when things get tough.
That's particularly true in a start up environment. As a start up CEO, I'm really at the bottom of the organizational hierarchy. Over the past year I've gotten hands-on electrical engineering experience, tried my hand at some computer coding and have developed detailed financial forecasts. All of these skills are not a part of my natural skillset, but someone has to do them and more often than not that falls to me! Honestly, I wouldn't have it any other way. The things you learn when you're open to new experiences is one of the best parts of being an entrepreneur.
How did you come to create your business?
The whole idea of ioAirFlow started in the MBA program, in the entrepreneurship experiential course. One of the assignments was to reach out and pitch a prototype or concept to some of that industry's largest companies. We pitched the idea of a decentralized smart thermostat to some of the world's biggest controls companies and the response we got back was quite positive. Essentially, we were told: "Go build this, test it and come back and talk to us." When you get a response like that, you have to think seriously about developing your idea – which is exactly what we did.
Just over two years later, and the company has gone through more pivots than I can count. But we've arrived at something that I think will be able to have an impact on the green building marketplace. I'm looking forward to seeing how much we can scale up in the next year or two.
How do you manage both your career with Economic Development Winnipeg with your company, ioAirFlow? Is there a commonality between the two?
Hard work and late nights, mostly. With a 9-5 job at Economic Development Winnipeg (EDW), I make time to work about an hour on ioAirFlow before heading to my day job, and another 1-3 entrepreneurial hours in the evening. The good thing about these jobs is how different they are – I'm using very different skillsets, which keeps me engaged even during a 12-hour day.
How have the last two years been in Winnipeg's entrepreneurial environment?
It's been a unique experience. I've learned a lot over the past two years, which has really complemented my Asper experience. There are a lot of things that you just can't learn in a classroom – for example, how to negotiate the terms of a shareholder agreement, or what skills to look for when looking for contractors to help on short-term projects. No course can ever fully prepare you for scenarios like those.
I do think that Winnipeg's start up scene is in an intriguing space, and we're hearing about more companies finding success and beginning to scale up. I also think that as a community of entrepreneurs, we're a little more willing to take risks than we were even just a few years ago. I think that places us well to grow the entrepreneurial ecosystem in Winnipeg.
If you could give an incoming MBA student one piece of advice, what would it be?
My best advice would be to take the time to experience all the intangible benefits of the MBA program. Get involved with aMBAsa sign up for competition teams, go on the international trips, attend networking events, and get to know as many of your peers as you can during your time in the program.
Some of the most practical and useful things I learned throughout my MBA education didn't come from the classroom – it came from putting myself out there and seeking out new challenges.
Were there any professors or courses from Asper that you found helpful, and whose lessons still resonate today?
I was lucky enough to be on a few competition teams during my MBA, including the Business Planning Competitions and Case Competitions. Those courses stood out for me as a way to test my classroom knowledge in something closer to a real-world setting, and being critiqued by industry leaders. That type of experience is invaluable.
I remember in particular pitching at the Cardinal Challenge in Louisville, Kentucky – one of the judges tore into us and demanded more from our team. That was a great lesson in humility, having to take criticism in stride, and improving without being discouraged. I often to back to that moment if I feel like easing up on the gas pedal before a presentation – don't ever be happy with mediocre.
There are so many courses that I find myself referencing on a daily basis with my start up. I've referenced my accounting and finance textbooks more in the past year than I did during the actual courses, and have used negotiation and marketing strategies learned in class on more than one occasion.
What do you do in your spare time, or more importantly, do you have spare time?
My girlfriend has been very good at making sure I carve out some time each day for spare time – for which I'm eternally grateful, or else I probably wouldn't switch off that often. I do have a few hobbies that keep me occupied. For example, since graduating from the MBA program I've been taking cello lessons (with my first recital coming up this summer, which feels more terrifying right now than an investor pitch).
I also try to exercise to let my brain relax – kickboxing, running and hot yoga. If I have some spare time on weekends, I love to curl up with a few records and a good book. Our library at home is getting a little out of hand, but I can't resist buying books on a regular basis.