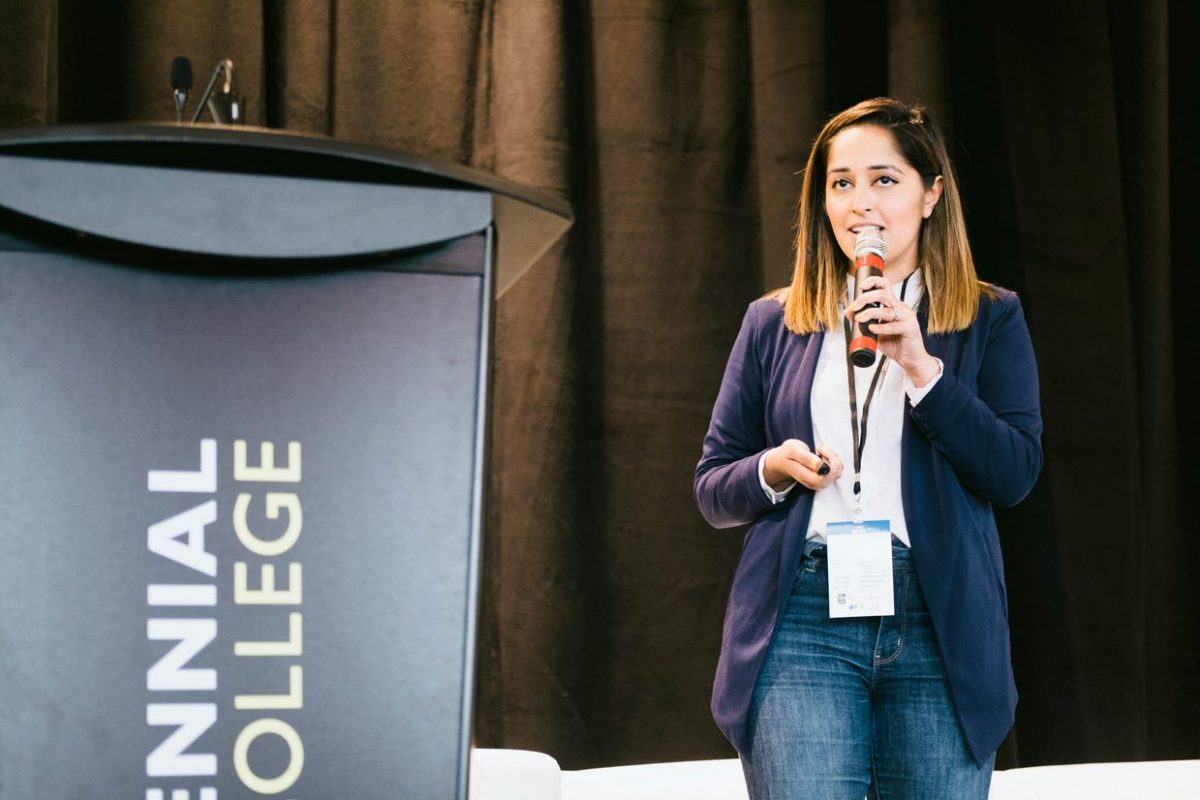 Q & A with an MBA: Geeta Chopra [BComm (Hons)/11, MBA/16]
Asper alumna maximizes connections to establish a career in Toronto
March 9, 2020 —
Asper MBA alumna Geeta Chopra [BComm (Hons)/11, MBA/16] is open to possibilities.
With limited connections and no established plan, Chopra saved up her money and moved into an Airbnb in Toronto during a summer break in her Asper MBA schedule. This month-long adventure paid off, and five years and three roles later, Chopra has firmly established her professional career in one of Canada's top business hubs.
Currently the Retail Innovation Manager at Johnson & Johnson, Chopra is also the co-chair for the Asper Alumni Toronto Chapter with fellow Asper alumnus Chris Nepomuceno [MBA/09]. Hosting a series of annual networking events, the chapter connects Asper alumni living in Toronto through an active professional and social community.
—
As a native Winnipegger, how did you end up moving to Toronto?
There was a free month with no courses and thanks to some encouragement from Courtney Thompson, (Asper Alumni Lead) I decided to spend my time off in Toronto. That month was kind of an immersive learning experience where I essentially scheduled coffee-connects with anybody that would meet with me.
It took courage but the interesting thing I found out about Toronto was that there were so many Winnipeg connections, and I used all of them. I emailed the Alumni Association I emailed everyone on LinkedIn who had any Toronto connections and found that there were a lot of U of M and Asper alumni living here that would happily meet with me.
So when I when I was here for the month I had maybe five coffee dates set up and then all of five of those lead to more and so by the end of the month I think I met close to 40 people.
At time of graduation I got very lucky. Albert Behr, a professor in the MBA program ran a tech firm out here and heard I was moving to Toronto and needed a job so he hired me.
I worked from home and was a consultant for his commercialized technology firm. After six months in the role I was interested in an office setting at a larger company and was hired at Procter and Gamble. That experience helped me gain my role at Johnson & Johnson where I currently lead a function called retail innovation, designed to modernize and move the company into the future of retail.
What's involved in your role as co-chair for the Toronto Asper Alumni chapter?
I've been co-chair with Chris (Nepomuceno) since the summer of 2019 when we took over the roles from the previous co-chairs.
One of our major priorities is setting up a larger digital network by establishing a social media presence for the chapter on LinkedIn and Instagram. We are also responsible for event management and our events vary from formal learning events to informal networking events.
Why do you feel it's important to promote Asper alumni interaction?
When I think about my success within Toronto, so much of it was because of the support and feeling of not being alone through the Winnipeg connections. I sought those out but I would love for someone who is maybe not so extroverted to still have a network to connect with. Not everybody is comfortable messaging someone on LinkedIn and going for coffee so I wanted to build what is already a natural Winnipeg network here with people who are at different stages of their careers.
A lot of new grads are also seeking mentorship, advice or a confidence boost. Or sometimes older more established Asper alumni who attend our events are leading divisions of banks, are in the C-Suite of organizations or are successful entrepreneurs.
It's about matching people at different times in their career paths to support each other. And there's something special about the Asper brand and I think it's refreshing for these business people to network with similar cultured people in the sense that we're not we're not together to show off, or to name drop. There's a level of being humble that is so endearing about Winnipeggers.
Do you have any upcoming chapter events?
We organized an International Women's Day panel on Monday March 9th that featured three female Asper alumna who are all in different industries.
Camille Kennedy, former Toronto Asper Alumni Co-Chair and PR Maven who recently launched her own consulting practice, Danielle Rombough, Director of Planning & Inventory Management at Indigo and Catherine Pacak, Owner Poa Studio, fashion & entrepreneurial leader.
They all have different experiences, stories of success and struggles that will be super motivating.
This was the first all-female Asper alumna panel event so we were very excited about it.
….
To learn more about upcoming Asper Toronto Chapter events visit: http://umanitoba.ca/asper/alumni/reunions-events.html or follow the group on Instagram @asper_alumni_toronto and on LinkedIn through the Asper School of Business Toronto Alumni Chapter group https://www.linkedin.com/groups/4112310/