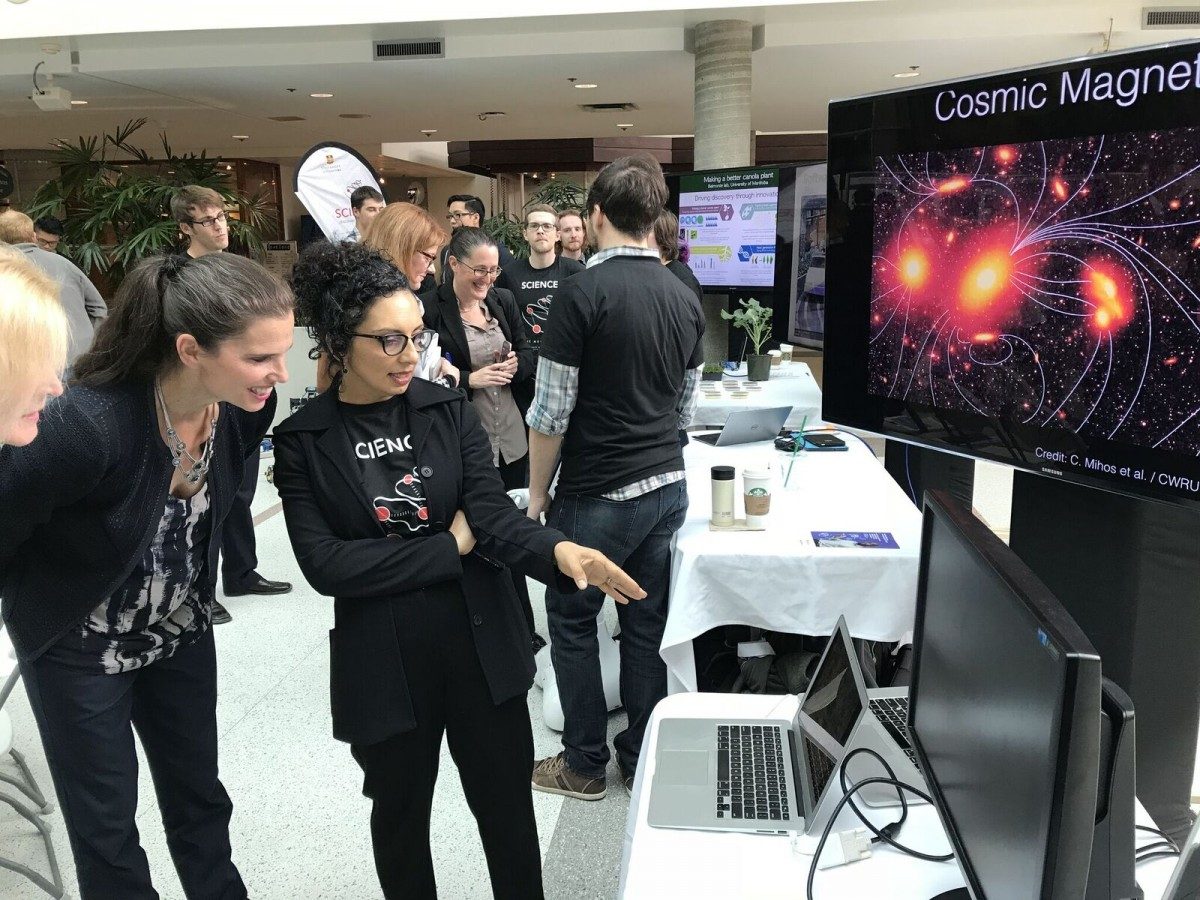 Putting new tools in the hands of leading Canadian scientists
More than $554 million for new labs and equipment to help Canadian researchers discover, innovate and train the next generation of scientists for the jobs of tomorrow
October 12, 2017 —
Imagine a nano-sized anti-cancer drug that can destroy a breast tumour without damaging the surrounding tissue. Or a self-healing skin graft made from nanomaterials that treats the wounds of people with diabetes. These two biomedical technologies being developed by a University of Manitoba research team could greatly improve the quality of life for patients and save millions in healthcare costs for Canadians.
This is why the Government of Canada is investing research infrastructure funds through the Canada Foundation for Innovation (CFI) for the new Biomaterials and Nanomedicine Laboratory at the University of Manitoba.
The funding was announced at the U of M today by the Honourable Kirsty Duncan, Minister of Science, as part of a CFI investment of more than $554 million in 117 new infrastructure projects at 61 universities, colleges and research hospitals across Canada. With this announcement, the CFI also marks an important milestone, having funded more than 10,000 projects since it began in 1997.
Using state-of-the-art equipment, Malcolm Xing, an emerging leader in biomedical engineering and nanomedicine at the University of Manitoba, will develop drug-loaded nanoparticles that target tumour cells. He and his team will also engineer 3-D printed nanocomposites for skin grafts used in treating foot ulcers in diabetics. This project is one of four at the university to receive CFI funding, for a total of $1.2 million.
"I thank the Government of Canada and the Canada Foundation for Innovation for this funding to support my research program. Our lab aims to develop new STEM (Science, Technology, Engineering, Materials/Medicine/Mathematics) for stem cells and organs. This will lead to a better life for all," Xing said.
U of M recipients of CFI funding were on hand in the atrium of the Brodie Centre on the Bannatyne campus to demonstrate some of their research to Minister Duncan.
Xing demonstrated implantable biosensors for the heart and brain, how an ultrathin graphene biosensor can detect diabetes and how oil and water can be separated using graphene oxide, among other technologies he is developing.
Faculty of Science professors and their grad students from demonstrated their research. The Autonomous Agents lab led by Dr. John Anderson demonstrated their arrow-shooting robots. The Human Computer Interaction (HCI) lab, led by Dr. Jim Young and Dr. Andrea Bunt, demonstrated Pepper, a humanoid companion. Dr. Bunt showcased her recent research in the areas of human-computer interaction and intelligent interactive systems. Professor Jane Waterman, Biological Sciences discussed her research on Polar Bears, and brought along several students from Kelvin High School to discuss their work with the International Student-Led Arctic Monitoring and Research ISAMR project. Several graduate students from the Belmonte Lab, also demonstrated their research into cellular and molecular functions of plant development and plant pathogenesis. Astronomers Stefi Baum, Samar Safi-Harb also showcased their work on Unlocking the Radio Sky with Next-Generation Survey Astronomy and other Sky Pathfinder and Survey Astronomy.
The heavens get a new library
Dean of Science Stefi Baum, and Canada Research Chair Samar Safi-Harb, and colleagues are partnering with colleagues at the University of Toronto and six other Canadian institutions as well as international partners to develop a virtual radio astronomy data centre. The project received $10 million in new CFI funding to create the innovative astronomical data systems that will usher in a new era of discovery.
Modern radio telescopes collect terabytes of data everyday, an overwhelming amount. U of M physics and astronomy researchers in collaboration with computer science researchers working on this new project will turn the raw data into images and catalogues that astronomers can use to investigate cosmic magnetism, the evolution of galaxies, exotic stars, and more.
"This work will directly benefit Manitoba in several ways," Baum says. "First, the infrastructure that we develop will have a diverse range of potential applications through new visualization, data mining, and deep learning techniques to medicine, finance, remote sensing, agriculture and a host of other applications which involve large databases of information. Second, we will produce trainees who will be highly proficient in signal processing, data-intensive research and high-performance computing, all key for the growth of innovation and industry in Manitoba."
Detecting rumbles
U of M's Andrew Frederiksen, a professor of earthquake seismology in the department of geological sciences, is partnering with a team at Dalhousie University to create a National Facility for Seismic Imaging (NFSI). Currently, most seismic measurements are taken on land, even though 71 per cent of Earth is ocean. The consequent gap in our understanding of the seafloor is particularly acute in Canada, which has the longest coastline in the world. Thus, NFSI will design, build, and operate 120 next-generation ocean-bottom seismometers (OBS) to serve the needs of Canadian researchers.
The first set of planned experiments will explore seismic hazard on Canada's west coast, earthquakes and ice movement in the High Arctic, offshore rifting in Nova Scotia and Labrador, and seismicity induced by industrial activity in the Canadian Prairies and central Canada. Regarding the latter, one crucial insights these new sensors will provide is how to mitigate seismic hazards from oil and gas activity in places like southwest Manitoba.
Answering once impossible questions
What are the economic outcomes of immigrants and refugees by entry program? How do corporate tax rates affect international trade? How do health outcomes vary in relation to provincial policy approaches?
While such questions are of pressing policy priority, they have always been virtually impossible to answer because we lacked the data to answer them.
Evelyn Forget, professor of community health sciences, will work with Research Data Centres across Canada to create The CRDCN Transition to High Performance Computing: Liberating Data for Research and Policy to answer these questions by using high performance computers to crunch vast amounts of data from government administrative databases, surveys and censuses. This will put Canada at the forefront of health and social science research and help policy be quickly informed by the latest science.
The right tools and the right hands
The funding announced today, awarded through the CFI's Innovation Fund, will support research across Canada, ranging from harnessing the renewable power of tidal currents, to rehabilitating people with traumatic brain injuries and building the world's first quantum computer.
"The University of Manitoba has a 140-year legacy of leading our province in research, scholarly works and creative activities: this new funding continues that tradition," said Digvir Jayas, Vice-President (Research and International) and Distinguished Professor, University of Manitoba.
This fund aims to put the right tools in the hands of the country's scientists so they can discover, innovate and train their students for the jobs of tomorrow. By doing so, scientists are contributing to building a bolder, brighter future for all Canadians, one that includes a strong and healthy middle class.
"Our government understands that scientists need to have the best labs and tools if they're going to make discoveries that will pave the way to a brighter future for all people. That's why today's funding announcement is so important; it gives scientists and their students the opportunity to further their research in areas where Canada has a competitive advantage," Minister Duncan said. "The discoveries, innovations and skills developed in these new, state-of-the-art labs will go a long way in improving our lives, our economy and our future prosperity."
Research at the University of Manitoba is partially supported by funding from the Government of Canada Research Support Fund.