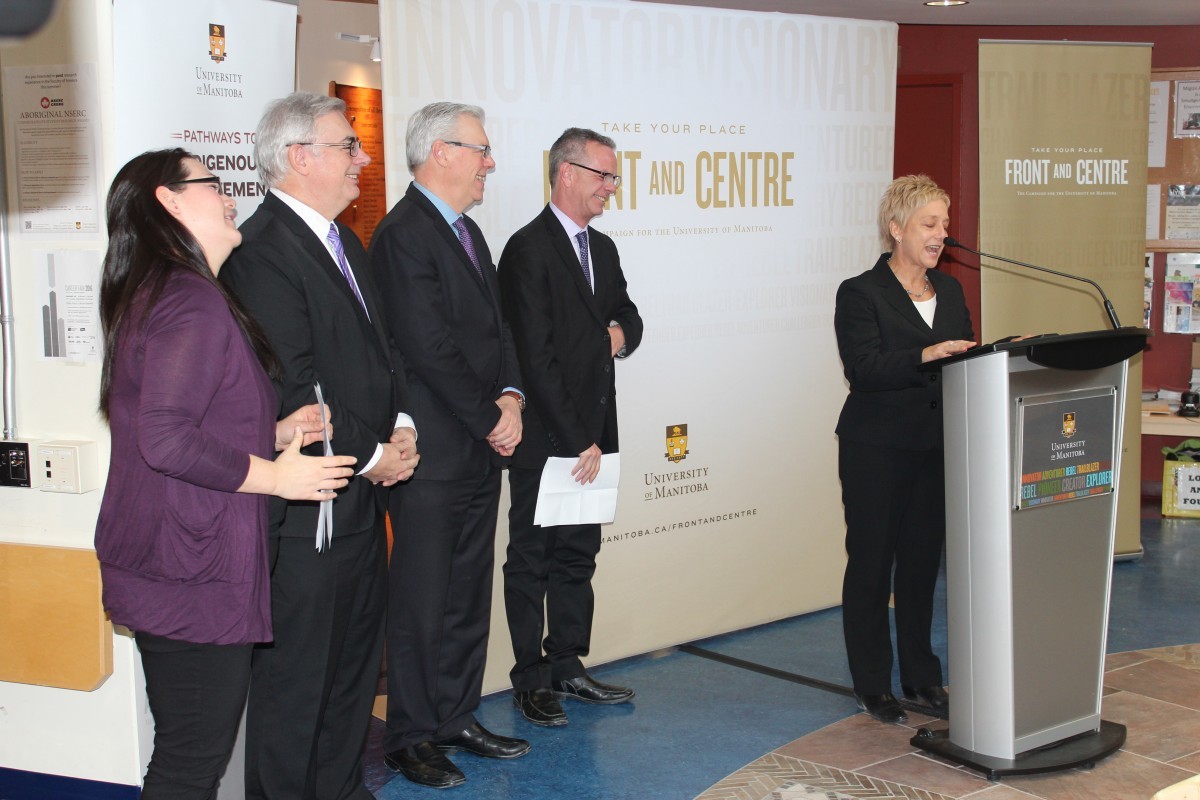 Province announces $30 million for Indigenous achievement, research excellence, student scholarships and bursaries
Focus on innovation in teaching and research practices, as well as support for students
January 11, 2016 —
The provincial government has announced $30 million in targeted funding to support the next generation of leaders and innovators, as part of the $150 million provincial contribution to the University of Manitoba's Front and Centre campaign.
"This is not simply an investment in the U of M," said David Barnard, president and vice-chancellor, University of Manitoba, "it's an investment in the future prosperity of the province and its people."
President Barnard thanked Premier Greg Selinger and his government for its leadership and vision in supporting post-secondary education at an event on January 11, held at Migiizi Agamik (Bald Eagle Lodge). Elder Carl Stone welcomed a group of students, staff and faculty with an honour song before Premier Selinger announced specifics around the funding. This included a $5 million investment to support an Indigenous Success Fund, which will provide scholarships and bursaries, assist in establishing earlier connections with Indigenous youth through mentorship and outreach programs, and facilitate the transition from high school.
The funding will also support:
$5 million for undergraduate scholarship and bursaries support,
$2.5 million for an endowed chair in palliative care,
$2.5 million to support innovation in teaching chairs,
$1.5 million for a chair in energy systems and water resources,
$500,000 in support for a chair in sustainable food development,
$500,000 for a women in engineering professorship, and
$500,000 to support the WISE Kid-Netic Energy engineer-in-residence.
The Manitoba government has committed $150 million to the Front and Centre campaign, representing 30 per cent of the overall fundraising goal. The University of Manitoba has already raised more than $215 million in private donations to support the campaign.
"By investing in applied research, scholarships and Indigenous achievement, we are supporting world-class education for students at the University of Manitoba," said Premier Selinger. "We're bringing together public support and private donations so that more funding will be available to support faculty and make sure students get the education they need to get good jobs here in Manitoba."
During the event, Janice Ristock, vice-provost (academic affairs) spoke to the university's goal of helping students learn in different ways and in different places through hands-on experiences, classroom technology, and collaboration.
Monica Cyr, a masters student in Human Nutritional Sciences spoke to the impact of student support. "Receiving my first bursary in my first term as a student had an enormous impact on me and I wouldn't be as successful as I have been without that support," said Cyr. "I feel that the University of Manitoba has supported Indigenous students on this campus and for that I say Migwetch."