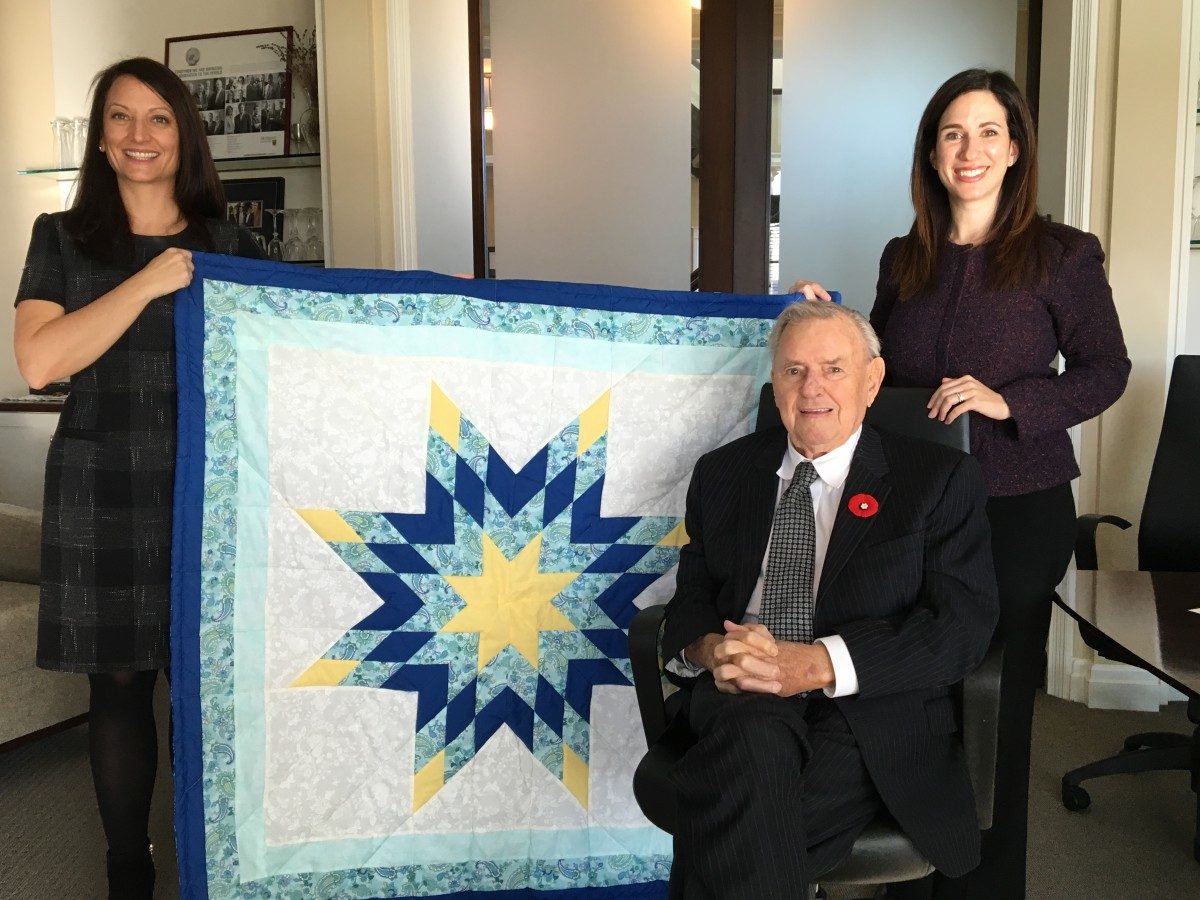 Providing Manitobans with opportunities to thrive
February 14, 2017 —
More Manitobans will have access to a transformative education thanks to a generous $1-million gift from The Joyce Family Foundation to the Front and Centre campaign.
The money will support the University of Manitoba's Youth in Care Tuition Grants, a relatively new program that provides youth who are currently in, or who have been in, the care of Manitoba's Child and Family Services the opportunity to receive post-secondary education at the U of M.
"Education can be a great catalyst. That is why The Joyce Family Foundation is happy to provide Youth in Care Tuition Grants, so more deserving youth may imagine their future and pursue their education at the U of M," says philanthropist Ron Joyce.
This support furthers the impact The Joyce Family Foundation's philanthropy has had on Canadian society. The foundation has a legacy of investing in programs that enhance the social, economic and emotional engagement opportunities for young Canadians. This is the first gift of its kind the Joyce Foundation has made in Manitoba.
"The University of Manitoba is grateful for the vision The Joyce Family Foundation has demonstrated in supporting this program," says University of Manitoba President and Vice-Chancellor David Barnard. "We are committed to providing opportunities for young Manitobans facing extraordinary challenges in pursuing their paths to success and fulfillment. This generous gift will transform many lives and on behalf of all these students, I thank The Joyce Family Foundation."
Since the Youth in Care Tuition Grant program began at the University of Manitoba in 2014, the U of M has awarded 30 grants, and 17 students are currently receiving this support. (Find out more about how you can support Youth in Care Grants through the Front and Centre campaign.)
Jane Lastra, director of financial aid and awards at the U of M, is thrilled by the news of this donation.
"The awards ensure that students who are currently or formerly in the care of Child and Family Services, have the same opportunities as their peers, regardless of socioeconomic backgrounds," she says. "It provides an opportunity for students who may not have the financial means to attend post-secondary education, to realize their academic goals by removing this barrier."
Opening new worlds
A current student who is now thriving thanks to this program is Jenna North.
When she was 12, Child and Family Services had to remove her from her home. By 16 she had a job and began saving money for her education.
"I had experienced what it was like living with abandonment, alcoholic parents and abuse, and made the decision that I wanted better for myself," says North, a College of Nursing student.
She was able to pay for her first year by herself and then in 2014 she became one of the first students to receive a Youth in Care Tuition Grant, which allowed her to flourish.
"The Youth in Care Grant is absolutely essential to my being in university," she says. "I am very fortunate and incredibly thankful to have received this award. It has helped eliminate more barriers than just financial; not only does the grant allow me to attend university, it also drastically reduces my stress that I would have if I were either unable to attend university or worry about having to forage for money each semester."
To find out more about donating to support Youth in Care Grants through the Front and Centre campaign visit umanitoba.ca/frontandcentre.
Read more about the impact of the Front and Centre campaign.
About the Joyce Family Foundation
The Joyce Family Foundation (formerly The Joyce Foundation) is a private, family foundation created by Canadian entrepreneur Ronald V. Joyce. His philanthropy reflects a deep-rooted sense of responsibility to give back to his community.
The Foundation's board members include Ron Joyce, Grant Joyce, Steven Joyce, Hon. Ed Lumley, Rob MacIsaac, Aileen O'Rafferty and Michele Thornley.
About Ron Joyce
Mr. Ronald V. Joyce is best known as the legendary Canadian entrepreneur who, in 1964, invested in the first Tim Hortons donut shop in Hamilton, Ont., and then grew the business into one of the most successful food service chains in the world. Co-founder of the TDL Group Ltd. which licenses Tim Hortons restaurants in Canada and around the world, Mr. Joyce sold the quintessential Canadian business to Wendy's International Inc. in 1996.
Born in Tatamagouche, Nova Scotia in 1930, Mr. Joyce has won numerous awards and honors for his entrepreneurial successes, commitment to strong corporate citizenship and unwavering philanthropic work: The Order of Canada, honouring his dedication to underprivileged children and youth; induction into the Canadian Business Hall of Fame; Entrepreneur of the Year for Ontario and Canada; the Gary Wright Humanitarian Award in recognition of his outstanding contributions to the betterment of community life as founder of the Tim Hortons Children's Foundation; the Red Cross Humanitarian of the Year Award; Burlington Community Foundation's 2016 Philanthropist of the Year; and the 2016 Outstanding Philanthropist Award from the Association of Fundraising Professionals Golden Horseshoe Chapter.
His achievements have also earned him several honorary doctoral degrees from universities, including McMaster, Queen's, Mount Allison, Saint Mary's, Cape Breton, and the University of Calgary.
Mr. Joyce remains actively involved in The Joyce Family Foundation, as well as his Hamilton-based executive charter airline company, Jetport. He divides his time between his homes in Alberta, Ontario, and Nova Scotia – the picturesque location of Fox Harb'r, his luxury golf resort. One of the world's most magnificent five-star resorts, this 400-hectare oasis is steeped in natural beauty and rich in maritime hospitality.
Mr. Joyce brings to these latest endeavors the same work ethic, business acumen, passion and deep personal commitment behind the success of Tim Hortons.