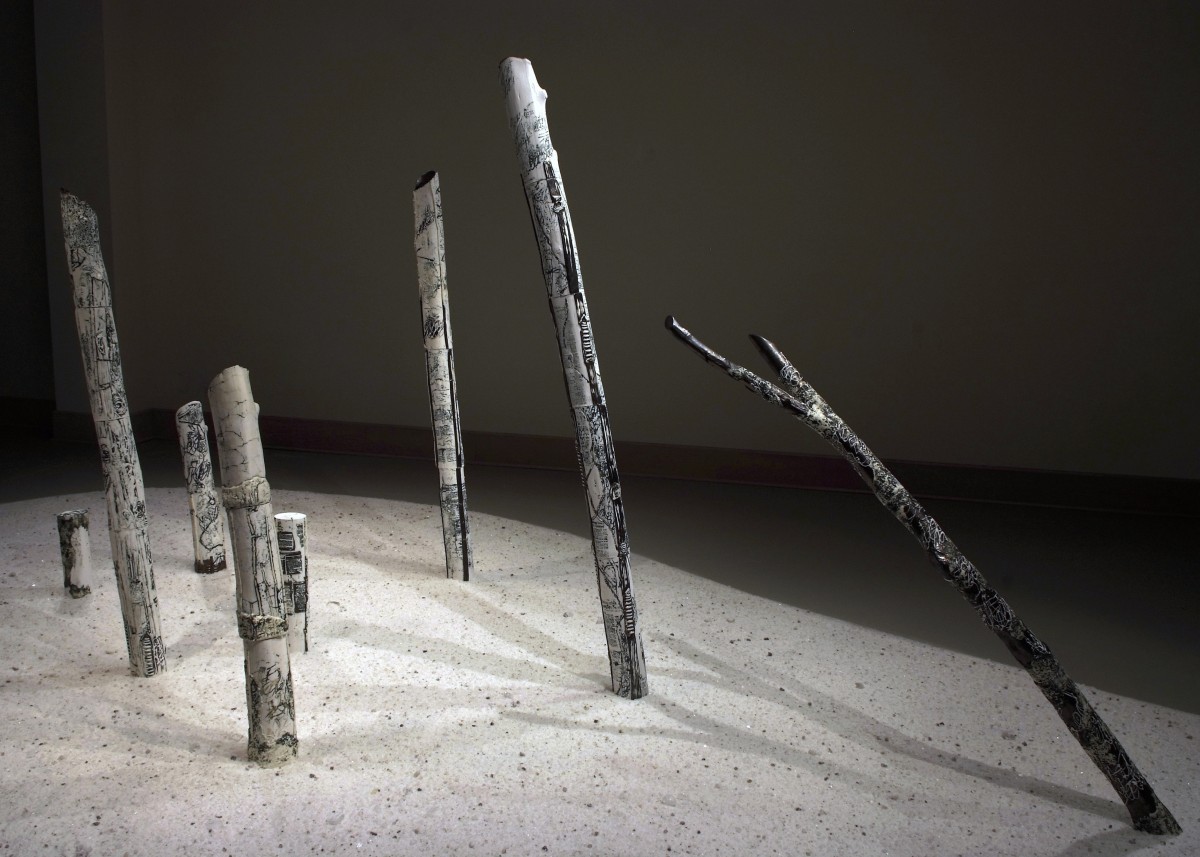 Prof's art exhibit opens in Nova Scotia, a gift to those who lived through 'the awesome and horrible experience of Hurricane Juan'
July 17, 2015 —
Hurricane Juan is still written about, talked about, and thought about in the Maritimes. The most damaging storm in Nova Scotia's history, the Category 2 hurricane hit the province just past midnight on September 29, 2003, ultimately killing eight and causing millions in damage.
Devastatus Rememorari, a new acquisition for the permanent collection of Art Gallery of Nova Scotia, once again invites people to remember their own experiences with Juan and other natural disasters that can shock us with their brute, unstoppable force. Grace Nickel, assistant professor in the University of Manitoba's School of Art, created it as a gift to those who lived through the "awesome and horrible experience of Hurricane Juan", the gallery says.
Nickel's Devastatus Rememorari exhibition will run from July 18th until July 17th, 2016, at the Art Gallery of Nova Scotia. "This show," the gallery says, "is a ceramic tribute to the awesome, random forces of nature and man's attempts to understand and control the resulting chaos…. Its power lies in the fact that it resonates not only through one specific event, but it can be read as a tribute to all trees devastated through natural phenomena."
Devastatus Rememorari consists of eight porcelain stacked casts of trees covered in white, black, bronze and subdued green glazes, arranged on a tear-shaped bed of rock salt, a symbolic representation of Hurricane Juan.
Nickel has a deep, ongoing relationship with the Maritime province: her sculpture Point Pleasant Pilaster was officially certified under Canada's cultural properties program and is part of the permanent collection at the Art Gallery of Nova Scotia because it was deemed to have exceptional cultural significance to the Maritime province. Now Devastatus Rememorari has also found a permanent home at the Art Gallery of Nova Scotia.
Nickel earned her BFA in ceramics from the University of Manitoba and received her MFA from NSCAD University in Halifax. The School of Art professor is an award-winning artist who has been successful in several competitions, including the Mino International Ceramics Competition in Japan, the Taiwan Ceramic Biennale in Taiwan; the Cheongju International Craft Biennale in Korea, and the Fletcher Challenge Award in New Zealand. She is a member of the Royal Canadian Academy of Arts and has been nominated for the Saidye Bronfman Award and the International Academy of Ceramics.