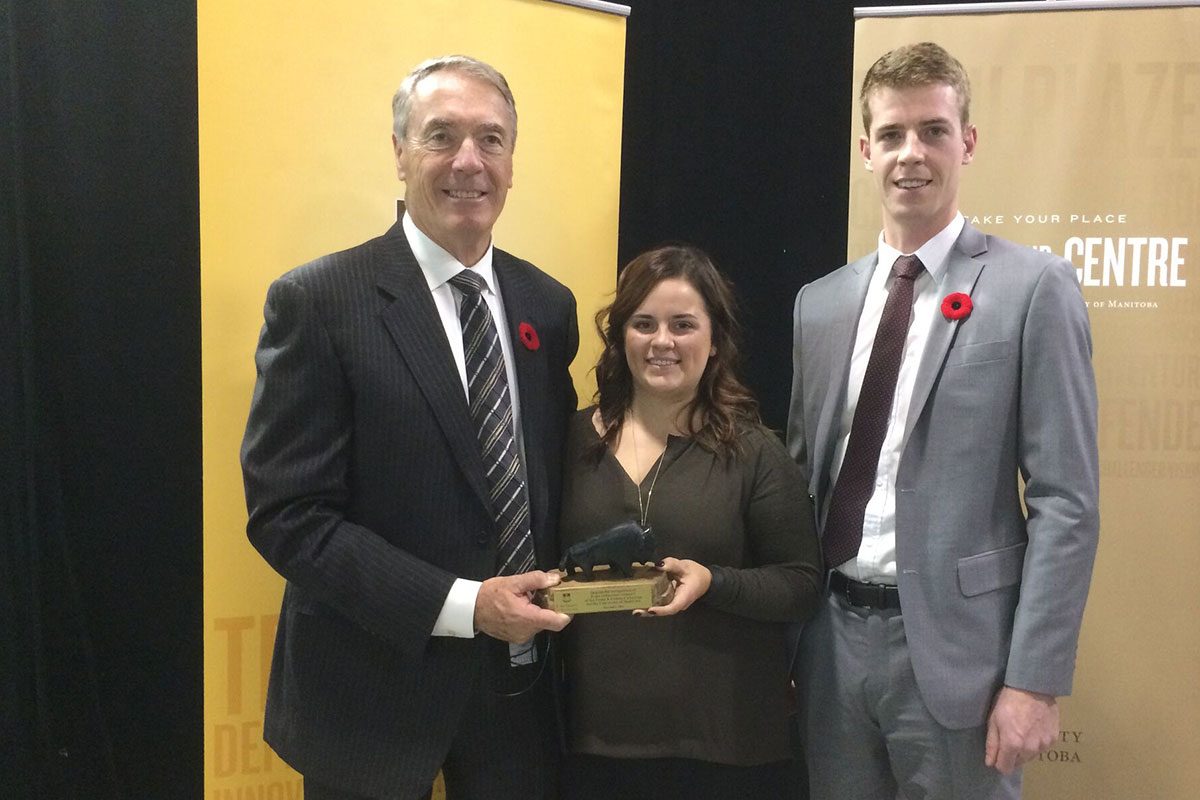 Price Industries supporting future engineers
November 10, 2016 —
The Faculty of Engineering received a $1.25 million donation today from its alumnus Gerry Price, CEO of Price Industries, representing the Price family and Price Industries.
This gift will support three areas key to student success: teaching and learning spaces, scholarships, and increased support for Canada's most successful engineering access program—the U of M's ENGAP, which has graduated over 100 Indigenous engineers in its 30 years.
"We are excited to be making this donation in support of the Faculty of Engineering to ensure that Manitoba businesses do indeed have the best engineers and of sufficient quantity to win the economic competition we are in with other jurisdictions in Canada and the US," says Gerry Price, CEO of Price Industries and Distinguished Alumni Award recipient from the U of M.
The majority of the gift, $900,000, will go towards the U of M's new engineering building, which will increase the capacity of the Faculty of Engineering.
Price Industries' support will further this building's sophistication by creating an Engineering Innovation and Prototype Centre within it, as well as new student support offices, laboratories and study spaces. It will also enhance current biomedical engineering laboratories.
Another $100,000 will bolster the Price Industries Limited Entrance Scholarships for Engineering, Price Industries Limited Faculty of Architecture Recruitment Award, and Price Industries Limited Undergraduate Award.
And $250,000 will support ENGAP students, a program designed to provide persons of Aboriginal ancestry with access to university studies leading to a Bachelor of Science Degree in Engineering at the University of Manitoba.
"Gerry and Barb Price and Price Industries have once again taken the lead, being an example of community leadership," says Jonathan Beddoes, Dean of Engineering and Interim Dean of Architecture at the University of Manitoba. "This gift will provide scholarship support to Architecture and Engineering students, expand financial support of Indigenous students in Engineering, and support our new engineering building project. This demonstrates a true desire to impact the future of engineering and architecture education in this province."
More than 154 Price engineers attended the event on Thursday, 40 of which are U of M alumni.
The announcement was held in Price industries Price Research Center North, a unique, cutting edge facility, designed to customize test conditions and products in a real-time environment.
"Our company was started in 1947 by a single engineer, Ernie Price, my father who purchased a rep firm selling HVAC products," says Gerry Price. "Fast forward to today, in 2016 Price Industries Limited alone had 1,300 employees."
Gerry Price's father Ernie had completed an engineering degree in Pittsburgh before starting the Winnipeg business.
"An engineering education teaches you work ethic, persistence, rigour or 'doing it right' and most importantly, a systematic approach to problem solving that is based on a deep understanding of fundamentals," says Gerry Price.
This gift is in support of the Front and Centre campaign, a $500 million fundraising campaign that will provide U of M students with exceptional experiences and support, bolster our province's international reputation and its contribution to global innovation, and provide accessibility and opportunity for Indigenous students.
As UM's Front and Centre campaign reaches its defining moment – with a celebration to match on April 2, 2020 – we're looking back on the inspiring people, places, and stories that have impacted all of us, here at UM and beyond. For more stories about the enduring legacy of Front and Centre, click here.