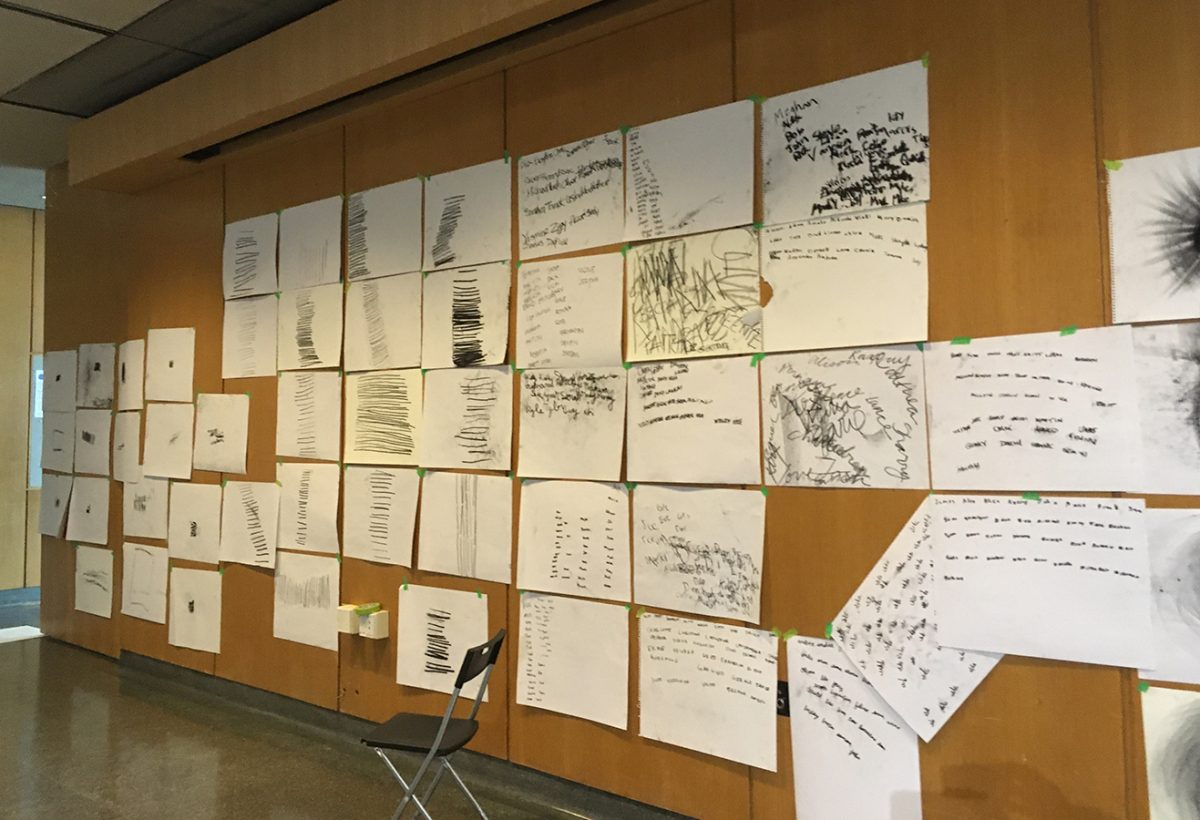 Pre-term drawing workshop with Diana Thorneycroft and Seema Goel
October 6, 2020 —
Close your eyes and find the centre of the paper. Taking the piece of charcoal in your left hand, create the darkest centre you can, extending out to the sides in lighter gradations to leave the edges white. You have 10 minutes. No peeking.
This year's pre-term drawing class for third year Landscape + Urbanism students was an adventure in rethinking drawing to move it away from rendering, and redirect it to expressive, experimental, and symbolic experience. Diana Thorneycroft and Seema Goel, both professional artists, shared their passion and perspective with the 35 students in this in-person, week-long, full day, program.
As a return to the school after a time of isolation and constraint, the attitude of the workshop was light, risky, and delightful. The students were asked to work fast and hard, to laugh frequently and push past their preconceptions of what drawing is about. Among the many exercises the students tasted spices and created time-based drawings of those tastes, used smoke to develop luminous landscapes, and tennis balls dipped in paint as an experiment in cooperative and spontaneous mark making.
One of the workshop exercises involved students working on 4 x 5' sheets of brown kraft paper against the wall. Standing firmly in their body and using a 4" paint brush and black acrylic paint, they were instructed to make non-representational marks over the surface of the paper. The process was intuitive; using gestures, patterns, lines and textures, the drawings were "automatic", constructed without a plan or purpose and most importantly, without conscious control. After this initial warm up exercise, the second drawing embraced the concept of "erasing" marks with gesso and the use of smaller brushes. Employing charcoal, chalk, acrylic and gesso, the last drawing incorporated the repetition of a motif selected by each student.
The purpose of drawing on large sheets of paper was to bring students into unfamiliar terrain and to expand the vocabulary of their mark making. By taking risks and embracing chaos, the resulting drawings were fresh and incredibly energetic.
These examples highlight the approach to drawing as something understood through its action; it hinges on the conviction that all efforts to engage are useful and move us somewhere new.
As the weather turns to crisp days and the colours and fragrances of summer shift from green to yellow and sweet to murky, we have an easy entrance into this kind of thinking. Any time of transition is a liminal space where we are fresh and naive. Here's the place to begin; step outside, close your eyes and smell the air, feel the temperature enter your lungs, feel wind moving the leaves. Now open your eyes and draw what just happened.