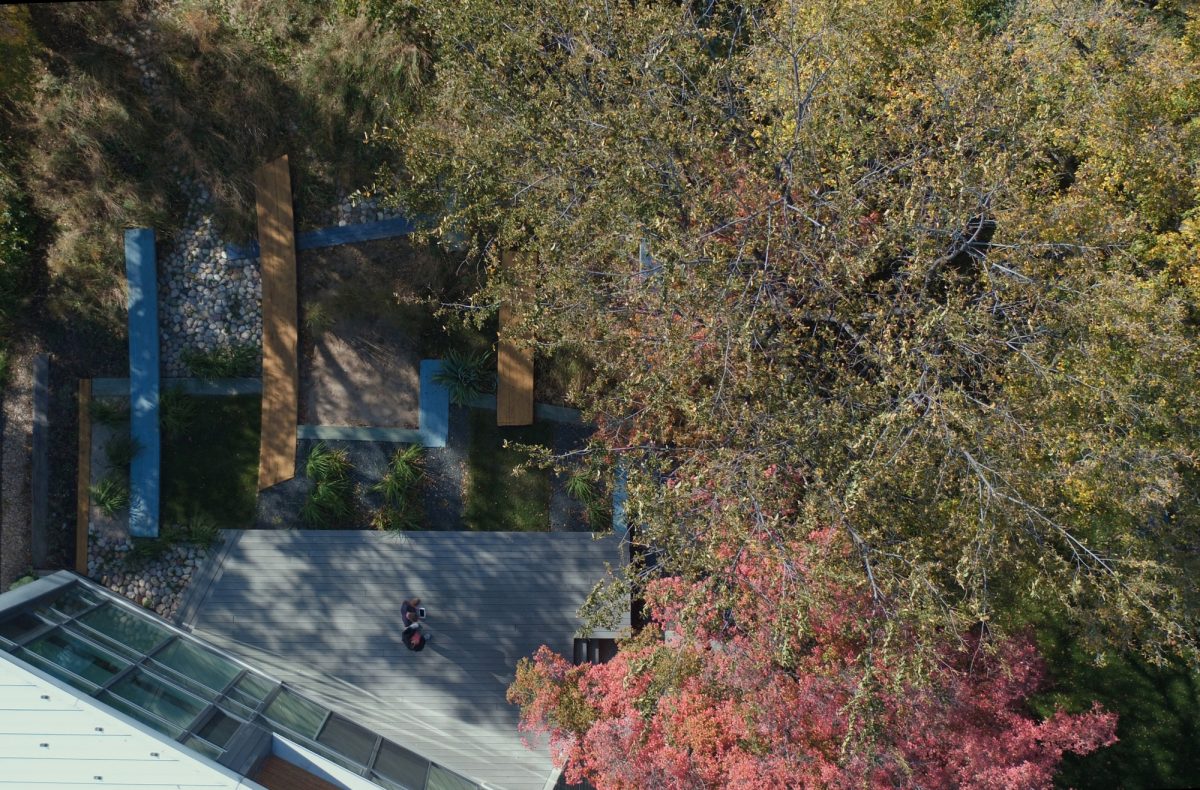 PRESTIGIOUS AWARDS FOR PURPOSEFUL PURPOSELESSNESS
October 8, 2019 —
"Gardens have always been experimental grounds for innovation and improvisation. Gardens are sensual experiments that demonstrate how something small, the garden and its gardener, finds sanctuary within something big: the landscape. Making a garden means nothing more than to start a dialogue with the land and all living things on it." (Dietmar Straub).
Gardens play a leading role in the creative work of Professors Dietmar Straub and Anna Thurmayr. As landscape architects, urban designers, ecologists, and gardeners, Dietmar and Anna have been persistently working on two gardens for almost seven years. Together with a Winnipeg family and a Montessori School they discussed, designed, built, planted, pruned, watered, transplanted, seeded and harvested. These gardens will never truly be finished, they need time and care to grow. However, these gardens reached a degree of maturity, even under the extreme climatic conditions in Winnipeg.
This 'season' Dietmar and Anna sent drawings, images, slideshows, videos, boards, short texts, long texts and portfolios into the world with the hope to detect some sound. Shortly after, in March 2019, Dietmar and Anna were informed by the Canadian Society of Landscape Architects (CSLA) that their project on the Casa Montessori & Orff Garden received a National Award of Excellence. Rooted in Clay – WY Garden in Winnipeg was awarded with a CSLA National Award of Excellence and the Jury's award of Excellence in 2019 for the outstanding achievement in advancing the art, science and practice of landscape architecture. For the first time, the jury decided that a project in a Residential Landscapes category will take the top honour.
Almost concomitantly with the exciting news from the CSLA, Dietmar and Anna received an email from Berlin. The German Association of Landscape Architects (BDLA) nominated Rooted in Clay for the German Landscape Prize in 2019 but an email from Slovenia arrived in June with much bigger impact. Casa Montessori & Orff School Garden was shortlisted for the international *LILA Award 2019 in the category Residential Housing and Rooted in Clay was shortlisted in the category private gardens.
On Wednesday, 19th June 2019 – the distinguished all-star LILA Jury members completed their task and selected the winners: ROOTED IN CLAY was their first choice in the private garden category.
"If we can say that a private garden is an experimental place for domestic life, Rooted in Clay is just that. … Considering the ordinary Canadian suburb, this garden is a surprise. Furthermore, the project reuses city's leftovers, mainly wooden slabs. Rooted in Clay is about engineering, recycling, and, above all, experience … Nature is an ambiguous term, but in a context of suburban residential gardens full of order, Rooted in Clay introduces a relaxed, more natural atmosphere. As such it is a poetic statement and a convivial critique" (LILA Jury comment).
The overwhelming national and international echo on their humble projects verify Dietmar's and Anna's trust that gardens work as inspiring catalysts towards a new ecological ethic and aesthetic in landscape architecture. They believe that gardens have the inherent potential for changing political actions and can act as initiators of paradigm shifts in design, social behavior and ecology on a larger scale.
Anna and Dietmar just came back from the LILA Awards Celebration in Geneva. They were invited to present their work, to expound their design thinking and to receive the award trophy.
More about Landezine International Landscape Award: http://landezine-award.com/
* LILA: the Landezine International Landscape Award was established in 2016 by Zaš Brezar (Landezine) and Robert Schäfer (independent journalist).
The aim of the award is to recognize interesting landscape architects and their projects from all over the world. LILA seeks outstanding quality in landscape architecture globally, but above all, practices that offer experimental approaches, deviations from the mainstream and unexpected inventions.
Dietmar Straub and Anna Thurmayr are Associate Professors in the Department of Landscape Architecture, Faculty of Architecture at the University of Manitoba. They are co-founder of Straub Thurmayr Landscape Architects and Stadtplaner, a creative design practice which allows them to cultivate their Research by Design.