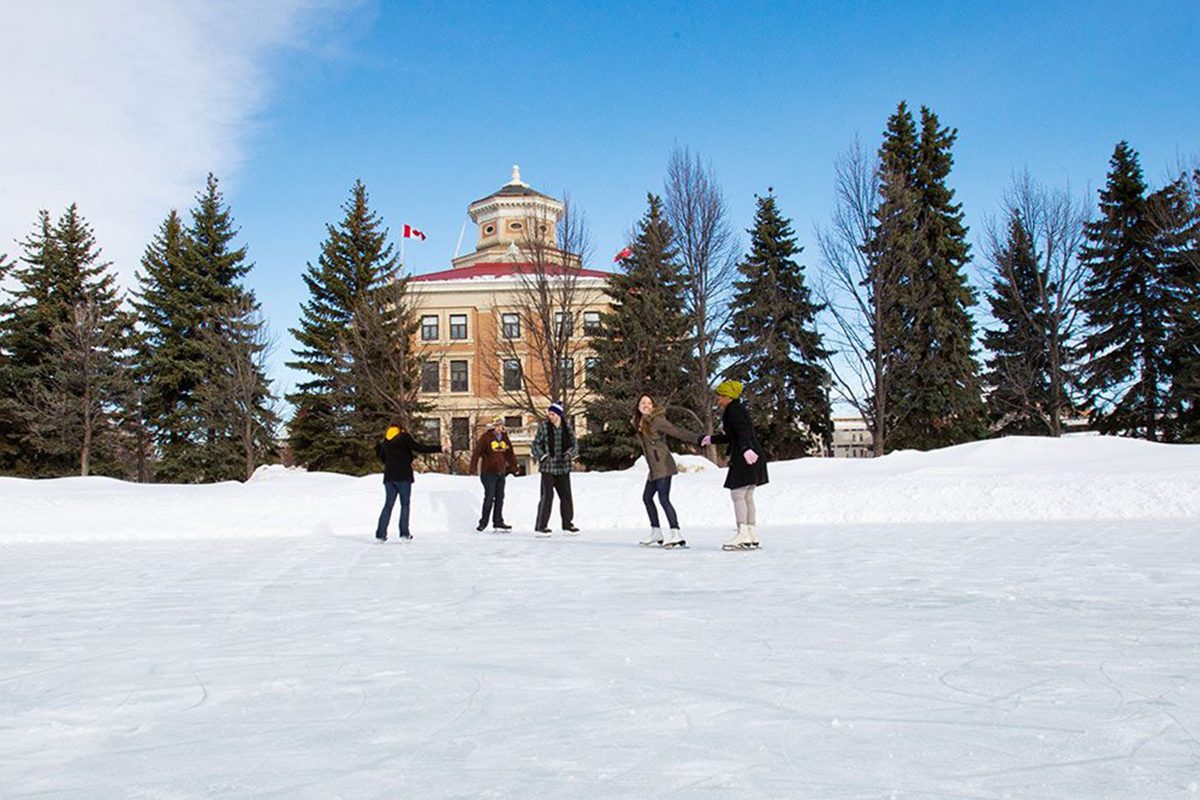 President's year-end message
December 19, 2018 —
A message from U of M President and Vice-Chancellor David Barnard:
The University of Manitoba holiday card I signed this winter depicts a colourful array of students skating on the Duckworth Quadrangle outside the iconic Administration Building and bears the inspiring inscription: "Let Joy Light Our Path."
Truly, there is great joy in our collective enterprise. In teaching and learning, witnessing young minds absorb, question, broaden and overturn knowledge. In research and scholarship and creative works that make our lives and communities safer and healthier and elevate us as human beings. And in community engagement that honours the stories, dreams and needs of the people and families our university is privileged to connect with and serve.
I take pride in the joy engendered here, and feel a deep sense of gratitude for being able to play some part in it.
During the past year, students, staff and faculty, and our alumni here and around the world, continued to achieve remarkable successes. They have stood out as beacons of caring, resolve and resilience.
I think of Faculty of Arts alumna Annette Riziki, our 99th Rhodes Scholarship recipient, who overcame the displacement and trauma caused by war in her home country to excel in academics and outreach in her adopted land, and who will now pursue graduate studies to enable her to make a difference in the lives of refugees and other forced migrants.
I think too of the 18 remarkable students, representing a wide variety of faculties, who earned the inaugural UMSU Award for Indigenous Community Leaders, and of the renewal of the Indigenous Scholars Fund and the Indigenous Initiatives Fund, which are advancing important work in the area of Indigenous achievement.
And of the tremendous research conducted in the Arctic, bringing early warnings of the effects of climate change, and resulting in exciting public education partnerships such as "Expedition Churchill," which will see interactive kiosks across the province linking tourism and conservation.
Who can forget the Bison Women's Hockey team bringing home the national championship? The first in our history.
Recently, too, we named a new chancellor, to take office in June, 2019: Anne Mahon, an alumna, writer, volunteer and philanthropist who I am certain will inspire our community to embrace her example of amplifying the voices of the disempowered.
So many achievements, all meaningful to those who persevered to make them a reality, and at the same time beneficial to communities close to home and around the world.
This week, we will all appreciate the wonder and magic of the winter solstice, when in one day we experience in equal measure the peak of darkness and the promise of increasing light.
So, too, this year has seen its share of challenges, difficult events and conversations that have tested us as a community and exposed our shortcomings. But I am confident we will confront these issues in the coming year with growing unity and vigour.
There is no place on our campus for racist actions or rhetoric. In 2019, the senior leaders of the university and I will meet once more with Indigenous students, Elders and other member of our community to chart a way forward to ensure a safe and respectful environment for Indigenous learners, scholars and administrators.
Our goal is to eradicate anti-Indigenous racism – indeed all racism – from our campuses.
At the University of Manitoba, there is no place, either, for sexual violence and harassment. We know these issues remain with us and that they have not always been dealt with as effectively as they could have been. I have apologized to our community for the consequences of these failures. And I have committed to moving forward with firm resolve to address the needs of our community.
Last week my team of vice-presidents and I met with the Board of Governors to share with them the steps we are taking to improve our prevention of and our responses to behavioural breaches.
These initiatives include a review of the Respectful Work and Learning Environment Policy and the Sexual Assault Policy; the development of standard operating practices based on an external consultant's review of the process we follow for formal complaints; an external review of practices related to discrimination, harassment and sexual violence investigations and their outcomes; development of a guide on intimate relationships; and significant enhancement of our education and training on these topics for faculty and staff.
This year's holiday card affirms:
"Magical things happen when community comes together. Nurtured by the support of others, our individual talents become a collective strength. Over the holiday season, I encourage you to embrace the spirit of togetherness to inspire positive change. Let's share the wonders of learning with the world and make it a better place for all."
Happy Holidays. Have a wonderful 2019.