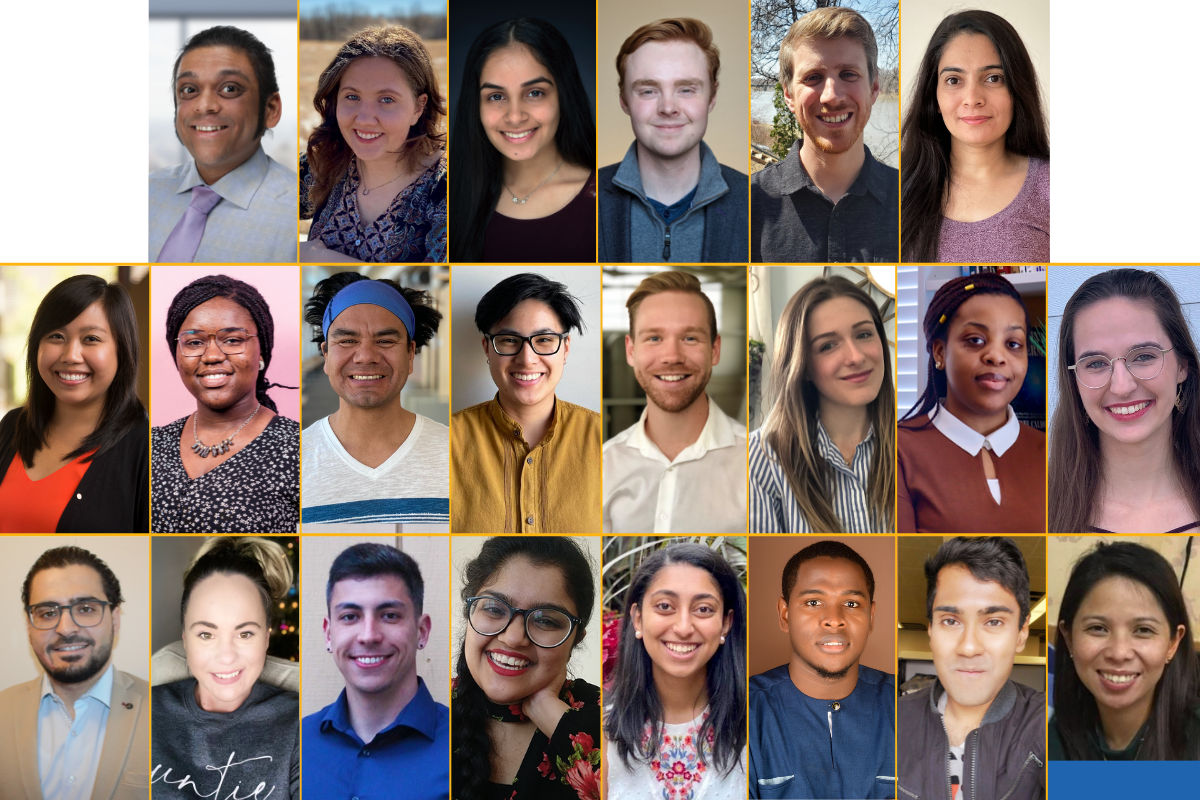 President's Student Leadership Program wraps up high impact community projects
Third year of program brings post-secondary students together from all over Manitoba
October 19, 2021 —
In June 2021, just as pandemic restrictions stiffened in Manitoba, the President's Student Leadership Program (PSLP) welcomed its third cohort. Now, three months later, equipped with a collection of new leadership insights from the early stages of the program, participants completed their leadership service projects.
Placed into teams, the students were asked to focus on a social issue of their choice and serve an existing social organization in a way that provides value that would not be achieved otherwise. The project required the students to find an organization to work with, discuss their needs, and design and implement an 'on the ground' service project. Each of the five teams executed their projects in the summer timeframe and presented outcomes and learnings at a virtual PSLP session on September 18.
"I am especially pleased that our PSLP students have been able to raise awareness of effects of the pandemic including for healthcare professionals, and have bridged differences in our society and contributed to key social issues including reconciliation," said Dr. Suzanne Gagnon, Canada Life Chair in Leadership Education and Director of the James W. Burns Leadership Institute. "The students have gone above and beyond to show leadership with the community organizations they served."
PSLP students are selected from UM and other Manitoba postsecondary institutions from a range of disciplines and backgrounds, based on existing leadership experience and commitment to leadership in the future. PSLP is a unique-in-Canada, fully funded program.
Student participant Daniel Schwade Araujo, originally from Brazil, came to Canada in September 2019 to start his MSc in Kinesiology at the University of Manitoba. He heard about the program from his advisor, Dr. Todd Duhamel, and past PSLP participants Kevin Boreskie and Jaqueline Hay. Arajuo says he has always been passionate about applying his knowledge to solve real world problems, so the President's Student Leadership Program seemed like a perfect fit. Arajuo and his group worked on a project centered around mentoring youth newcomers and immigrants by organizing workshops focused on different aspects of a successful life in Canada, including a workshop for newcomers on Indigenous history and reconciliation in Canada.
"I was lucky to be a part of an awesome team where each one of us came from a different background: Ameen (Syria), Cheta (Nigeria), Megan (Canada) and me (Brazil). We had all experienced the struggles and challenges that come with moving to a new country, so this topic really resonated with us," said Daniel Schwade Araujo, who is also a 2021 Vanier Scholar. "We created the topics and the structure for these workshops from scratch, and the diversity in our team meant that each one of us was able to contribute by bringing a unique perspective on these issues."
PLSP STUDENT PROJECTS
Through My Eyes: Nursing Perspectives
Season 1 of Through My Eyes: Nursing Perspectives podcast was executed in collaboration with President's Student Leadership Program at the University of Manitoba (PSLP), Association of Regulated Nurses of Manitoba (ARNM), and Rady Faculty of Health Sciences (Rady). The purpose of this project was to support and uplift both present and future health care workers by telling the stories of nursing leaders across Manitoba who have contributed to the profession by way of their character, diligence, commitment, education, personal background, specialized skills, and unique workplace roles.
Indigenous Newcomer Workshop
The objective of the Indigenous Newcomer Workshop was to build relationships and understanding between different communities, and to raise awareness about Indigenous culture within immigrant communities in Winnipeg. The initial introduction of newcomers in Canada to Indigenous culture is typically communicated by word-of-mouth, which may lead to an increase in the gap between Indigenous persons and recent immigrants to Canada. In particular, young immigrants are the most suspectable to misinformation. Through this project, the group collaborated with the International College of Manitoba and the University of Winnipeg to build relationships between newcomers and Indigenous people in Winnipeg by creating and hosting an Indigenous-Newcomer workshop.
Grassland Grazers: A Collaboration with Ducks Unlimited Canada and Manitoba Beef and Forage Initiatives
Grassland Grazers worked with Kristine Tapley of Ducks Unlimited Canada (DUC), and Mary-Jane Orr of Manitoba Beef & Forage Initiatives (MBFI) to achieve their shared goal of raising undergraduate and graduate student knowledge about grassland conservation in Manitoba and across the Canadian prairies. This project highlighted the important role of grazing animals, which are critical to improving watershed integrity, biodiversity conservation and overall climate resilience for one of the world's most endangered ecosystems.
So tell me about yourself: Gaining direction for interviews and beyond
This workshop welcomed youth to retrace their steps and identify times in their lives where they exhibited their outstanding qualities. Sample interview questions and other activities were provided for practice, so participants could build confidence in "selling" their peculiar experiences by building a brand for themselves. So tell me about yourself: Gaining direction for interviews and beyond discussed how this introspection can help clarify future life choices such as career, education, and volunteering. The group facilitated all the discussions in addition to sharing how they fostered their own senses of selves.
Early Childhood Literacy Project
The Early Childhood Literacy Project worked with Sheri-Lynn Skwarchuk and Meagan Nenka from Toy Box Manitoba to contribute to their caregiver handbook. ToyBox Manitoba creates activities for literacy, numeracy, and wellness to engage young children. The caregiver handbook is an additional resource that provides further context and details about the activities. Early childhood literacy is vital for cognitive development and will lay the foundation for literacy in their adult years. This handbook will be shared with caregivers at no cost to them. The aim of the project was to help caregivers have a valuable resource to help their children's development, aligning with ToyBox Manitoba's goal of creating a world where every child has the opportunity to access diverse and meaningful literacy, numeracy, and wellness activities.
The President's Student Leadership Program will continue into the fall and winter, with workshops, and leadership talks with senior Manitoba leaders. This year's cohort will run until April 2022, with the next cohort starting in June.
The program is funded through a visionary investment from Power Corporation, Canada Life and IG Wealth management to create the James W Burns Leadership Institute at the U of M. Selected students are funded through a fellowship to participate in the program.
Thinking about applying or know someone who should? Visit the President's Student Leadership Program online.