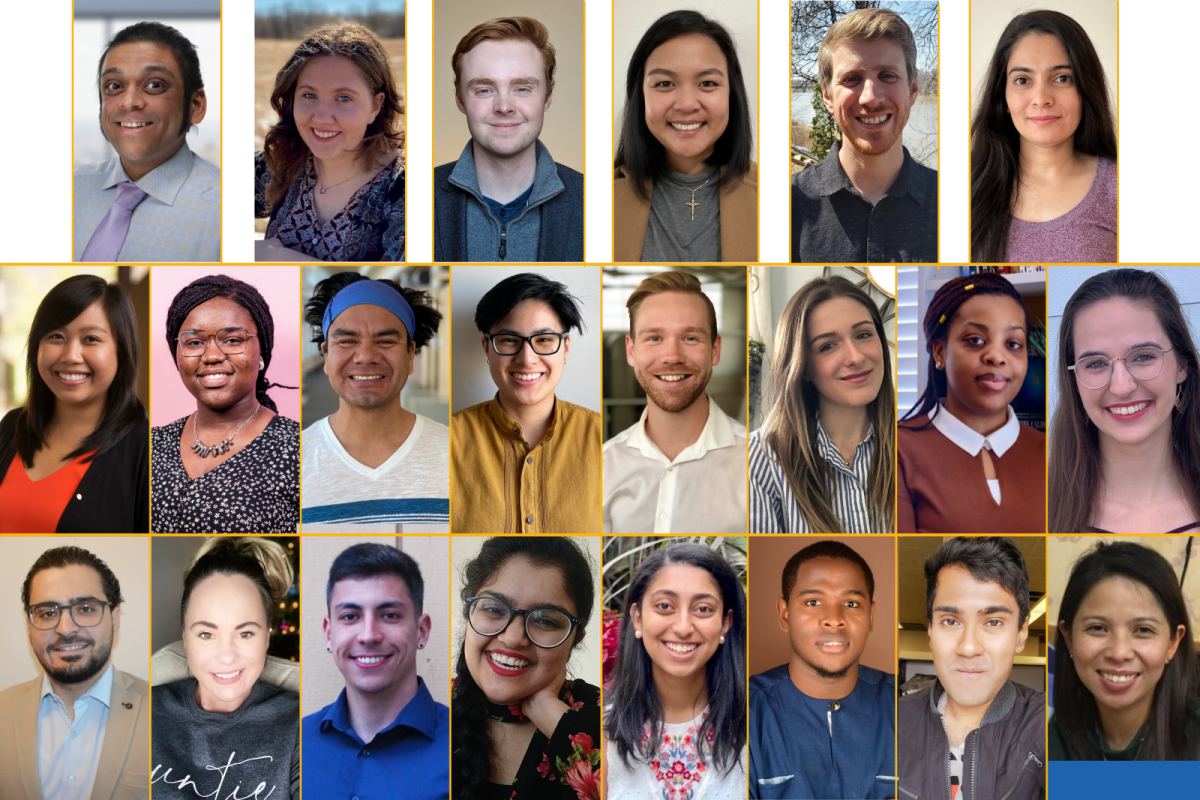 President's Student Leadership Program wraps up core week of programming
Four PLSP students share first hand lessons from the Program.
July 22, 2021 —
The James W. Burns Leadership Institute recently welcomed a third cohort of 23 participants representing some 15 disciplines, for the core week of the President's Student Leadership Program. Students from across the province dove into an intensive week of workshops, seminars, and group work. Participants also got the opportunity to engage with prominent and impactful community and business leaders about their own leadership journey and leading through crisis.
We connected with four PSLP participants: Jude Obidiagha, Meycee Kalaw-Crevier, Sasha Kullman, and Miray Eskandar to share the lessons they learned from the core week of the program.
Meycee Kalaw-Crevier (Master of Business Administration, University of Manitoba)
What stood out to me was the unique leadership journeys that the speakers had gone through, which shaped their own approaches for effective leadership. It was truly inspirational and humbling as they shared their wins, challenges, and learnings along the way.
Through our PSLP core week, our cohort has new tools that we can use as we further hone and develop our own leadership endeavours – ultimately towards making meaningful and long-lasting impacts in our communities.


Sasha Kullman (Bachelor of Kinesiology and Recreation Management, University of Manitoba)
The interdisciplinary panel of speakers and student participants is what sets this program apart. The opportunity to learn from such a diverse group has broadened my understanding of the role leaders play in the field, and fostered a deeper appreciation for the specialties and strengths of my peers.
The most influential lesson I have taken from the core week is that effective leaders support the growth of those around them, share knowledge, seek collaborations, and build strong rapport with stakeholders and communities.

Jude Obidiagha (Master in Applied Economics, University of Winnipeg)
When I found out about the President's Student Leadership Program, I just knew it was the right program for me as an international student looking to broaden my perspective about leadership and to meet other changemakers like me.
In one of our sessions, Diane Roussin of the Boldness Project spoke passionately on positive stories of Indigenous culture, land, and its significance. As an international student, listening to her spurred a genuine interest in knowing more about Indigenous peoples in Canada.
Miray Eskandar (Bachelor of Health Sciences, University of Manitoba)
As a science student, the humanities have not always held a very prominent place in my mind. For years I did not see their value beyond my high school English classes. But, after being part of the core week of the President's Student Leadership Program, my eyes were opened in a way that I had not expected.
Through one of our sessions with (improvisation actor) Rob Nickerson, I found that the arts are about so much more than entertainment. As leaders, we need to be able to empathize and care for those we lead. What better way to do this than through the arts, a medium that connects us regardless of our diverse backgrounds and experiences. Those that have the potential to change the world are not those with the loudest voices, but those with the biggest hearts.
–
With the first segment of the President's Student Leadership Program complete, participants are preparing for their social change projects. Placed into teams, the students are assigned to focus on a social issue of their choice and serve an existing social organization in a way that provides value and would not be achieved otherwise. See how last year's PSLP students tackled this project while working with COVID-19 restrictions.