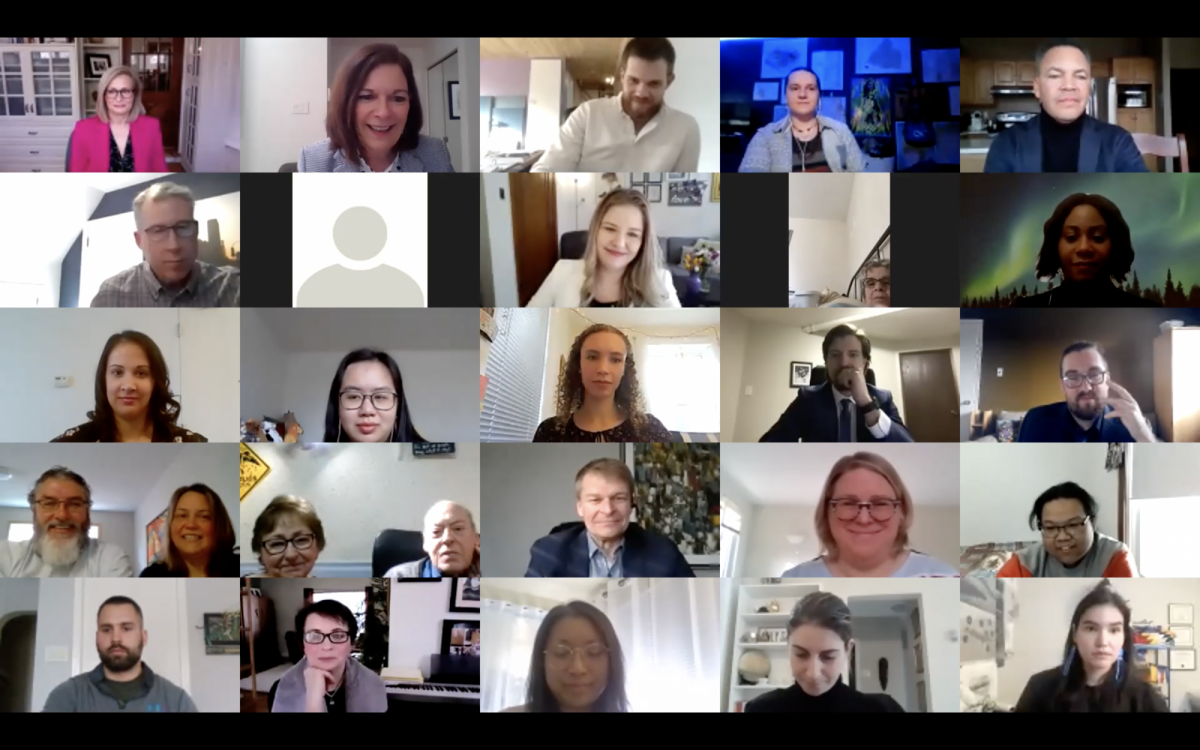 President's Student Leadership Program Second Cohort Celebration
Students gather in virtual ceremony to commemorate a year of leadership growth
April 1, 2021 —
On March 20, the second cohort of the President's Student Leadership Program (PSLP), the James W. Burns Leadership Institute's marquee initiative, gathered in a virtual celebration to mark program graduation and achievements.
Twenty-two post-secondary students from the University of Manitoba, University of Winnipeg, Red River College and Brandon University were selected to participate in the second cohort of the unique-in-Canada immersive learning opportunity. Representing a diverse range of backgrounds and academic disciplines, the students participated in an 8-month long fully funded program that included workshops with thought leaders, engagements with senior leaders in a range of fields, peer learning, and team leadership service projects. The students explored important societal challenges while gaining insights, knowledge, and skills to contribute as leaders in their careers in any field.
The final celebration event, marking successful program completion, included more than 50 guests comprised of students and their family members, community leaders, university leaders, PLSP mentors and PLSP alumni from the first cohort.
Margaret Lavallee, Traditional Ojibway Ikwe and Elder in Residence at the Rady Faculty of Health Sciences of University of Manitoba and Dr. Gady Jacoby, Dean of Asper School of Business opened the event with welcome messages.
As an event highlight, guests were treated to an inspiring slideshow created by the PSLP graduates, where students expressed leadership through imagery and poetry.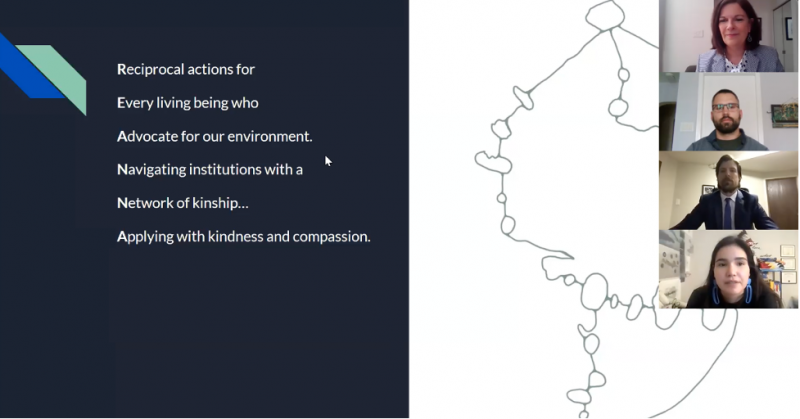 Paul Mahon [BComm(Hons)/96], President & Chief Executive Officer of Canada Life – one of the organizations endowing the James W. Burns Leadership Institute – has been a key advocate of the program. Speaking at the virtual ceremony, Mr. Mahon recounted necessary leadership traits amidst the ongoing pandemic. Sharing his valuable insights, he encouraged the young leaders to strive for authenticity and genuine care when leading other people and to leverage diversity through inclusiveness.
Luke Cecelon, a recent Red River College graduate, was elected valedictorian by his peers based on his collaborative leadership. In his acceptance speech, Cecelon emphasized the integral role of leadership during a crisis. He recalled the enriching and complex topics covered in the program and highlighted his interactions with leaders and lessons learned.
In his closing comment, Cecelon recognized his fellow participants, "I feel lucky to have met you all because it is difficult to find a group that cares about what's happening to people in society. I have not met many in my life, and I am glad that I met you here."
The ceremony also received messages of congratulations from Dr. Michael Benarroch, President and Vice-Chancellor of the University of Manitoba and Anne Mahon, Chancellor of the University of Manitoba.
"The work you did within Winnipeg and with two Manitoba First Nation communities is only the beginning of the impact you will have on our society," said Chancellor Mahon. "Through this rich experience, you have begun to learn to work in a leadership team in this ever-changing environment. The experience you gained in this program will serve you well in life because our world demands empathy, collaboration and adaptive problem-solving."
The ceremony closed with a touching video made by PSLP graduates as a thank you to Dr. Suzanne Gagnon, Associate Professor and Canada Life Chair in Leadership Education and Director of the James W. Burns Institute (JWBLI), and Melissa Gayle, Program Coordinator.
"We are proud of the commitment and the hard work of development and growth shown by our participants this year. We salute their resilience and their great contributions during an unforeseen context," said Dr. Gagnon, who designed the Program as part of her mandate as inaugural director of the Institute. "We have recently completed the recruitment process for the next cohort, and look very forward to working with them and seeing their development and impact as well."