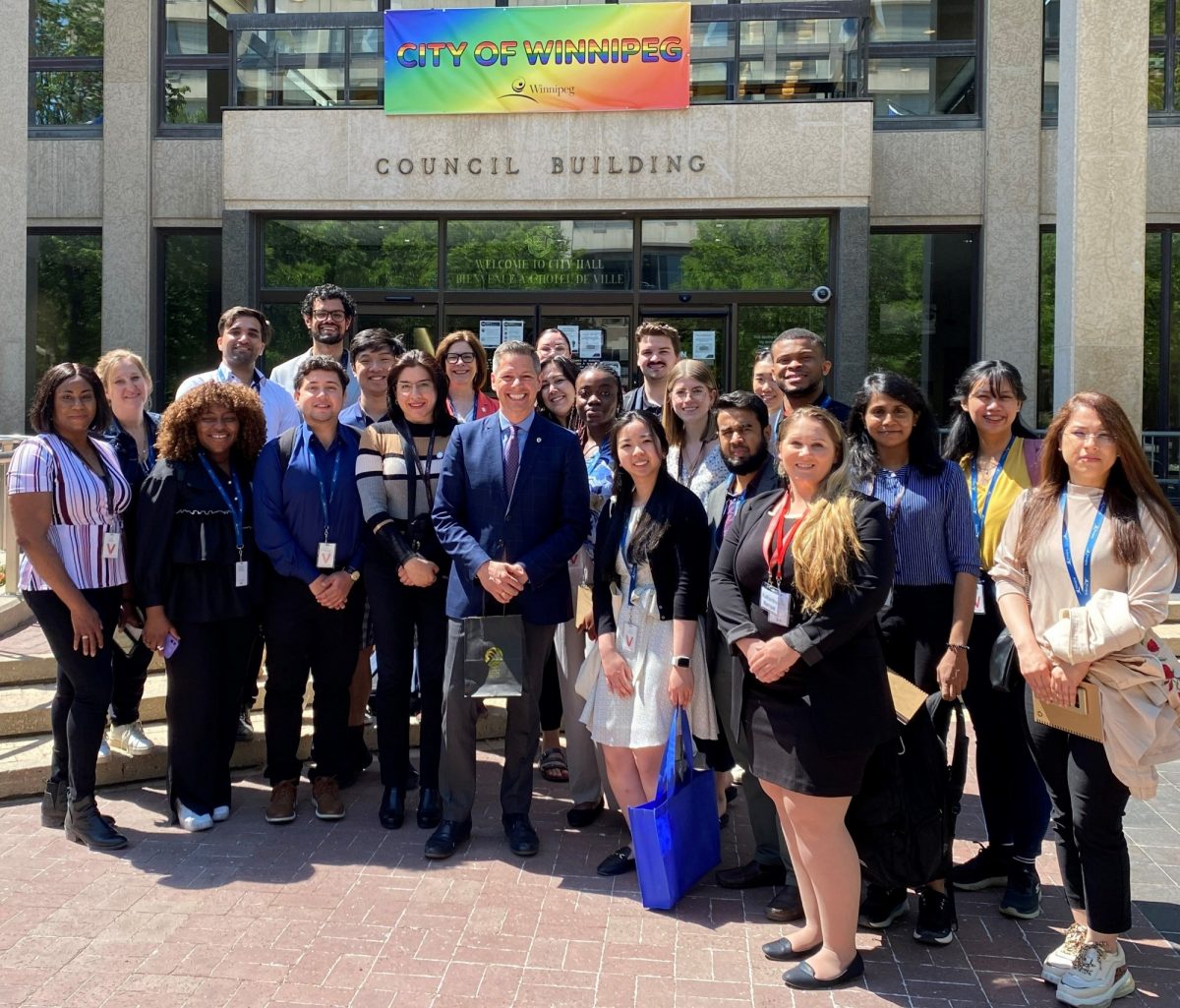 President's Student Leadership Program kicks off core week with immersive learning experience
20 students from across the province make up the new cohort of Manitoba's premiere postsecondary leadership program
June 17, 2022 —
The Burns Leadership Institute is pleased to announce the fourth cohort of the unique in Canada President's Student Leadership Program (PSLP) at the University of Manitoba (UM). 20 students were selected for this year's cohort, studying in 15 different disciplines and across four levels of postgraduate study including diploma, bachelor's, master's, and Ph.D. They represent postsecondary schools across the province including the University College of the North, the University of Winnipeg, Red River College Polytechnic and the University of Manitoba.
Participants are selected based on demonstrated leadership experience in their community or student life, dedication to learning from multiple perspectives, and commitment to applying their learning to positive change in their future careers. A PSLP fellowship fully funds their participation in the program.
The students have just completed the program's core week, an immersive learning experience involving workshops, site visits and community building. The participants heard fascinating talks with senior Manitoba leaders including Winnipeg Mayor Brian Bowman [BA(Adv)/96], CentrePort Canada President and CEO Diane Gray [BA/93, MPAdm/96], Winnipeg Boldness Project Director Diane Roussin [BSW/96], and President and CEO of Economic Development Winnipeg, Dayna Spiring [BA/98, LLB/01]. They visited the National Centre for Truth and Reconciliation with UM Elder-in-Residence Norman Meade [ExtEd/88]. Students also participated in leadership workshops with Cate Friesen [BMROT/84] (The Story Source), Keren Taylor-Hughes [BA/85] (Agile Change Consultant), Rob Nickerson (Rob Nickerson Improv) and Asper professor Dr. Lukas Neville (Negotiations for Emerging Leaders). These components and others serve to enhance and strengthen PSLP fellows' skills and knowledge, while broadening their leadership networks and community of practice.
"The PSLP is committed to developing Manitoba's future leaders by challenging them to collaborate across disciplines, backgrounds, life histories and worldviews, and to think critically about solutions to complex problems," said Dr. Suzanne Gagnon, who developed the curriculum and leads the program through her mandate as Director of the Burns Leadership Institute. "We are grateful to the community leaders who bring their experiences, challenges and leadership journeys to light to our students through talks and mentorship. We look forward to more such engagements through the coming year with some of Manitoba's most inspiring leaders, be it in business, education, technology, non-profit, manufacturing, and more."
The Burns Leadership Institute was created in 2018 with a mandate to launch the PSLP as a pan-provincial leadership program for rising leaders in postsecondary education in Manitoba. Located in the I.H. Asper School of Business. The Institute also serves as a support for curriculum development in leadership to other units across the university, and hosts three leadership seminar series open to the broad UM student body: Leadership for our Times: The Critical Issues Series; Leadership Lunch and Learns; and the Leadership Research Masterclass series.
Congratulations to the following students selected for the program this year:
Bunmi Afolabi. The University of Winnipeg, Master's in Development Practices: Indigenous Development
Dominic Audette. The University of Manitoba, Bachelor of Arts – Advanced in Psychology and History
Kimmy Chau. The University of Manitoba, Diploma in Dental Hygiene
Jennifer Cook. University College of the North, Bachelor of Arts and Education in History and Sociology
Deidre Dewar. The University of Manitoba, Bachelor of Commerce in Human Resources, and Industrial Relations and Indigenous Business Studies
Thilini Dissanayake. The University of Manitoba, Doctor of Philosophy in Food Science
Denise Huang. The University of Manitoba, Bachelor of Commerce in Marketing
Saeid Maghsoudi. The University of Manitoba, Doctor of Philosophy in Physiology and Pathophysiology
Md Nazim Mahmud. The University of Manitoba, Doctor of Philosophy in Education
Dulce Rocio Medrano Jimenez. Red River College, Diploma in Business Technology Management
Aman Mir. The University of Manitoba, Bachelor of Commerce in Accounting and Finance
Don Nguyen. The University of Manitoba, Bachelor of Education in English and History
Nooshin Noshiri. The University of Winnipeg, Master of Science in Applied Computer Science and Society
Samuel Ogunsola. The University of Manitoba, Doctor of Philosophy in Physiology and Pathophysiology
Jessica Plett. The University of Manitoba, Bachelor of Arts in Psychology
Kevin Prada. The University of Manitoba, Bachelor of Arts in Psychology
Katherine Rempel. The University of Winnipeg, Master's in Development Practices: Indigenous Development
Pauline Tayag. Red River College, Diploma in Graphic Design
Vivian Umeohabike. The University of Manitoba, Bachelor of Nursing
Erin White. The University of Manitoba, Master of Arts in Clinical Psychology
For more information about the President's Student Leadership Program, visit: https://umanitoba.ca/asper/programs-of-study/presidents-student-leadership-program
The Burns Leadership Institute was created through a visionary endowment to the UM from the Power Corporation of Canada, Canada Life, and IG Wealth Management. For more information on the Institute, please visit: https://umanitoba.ca/asper/james-w-burns-leadership-institute