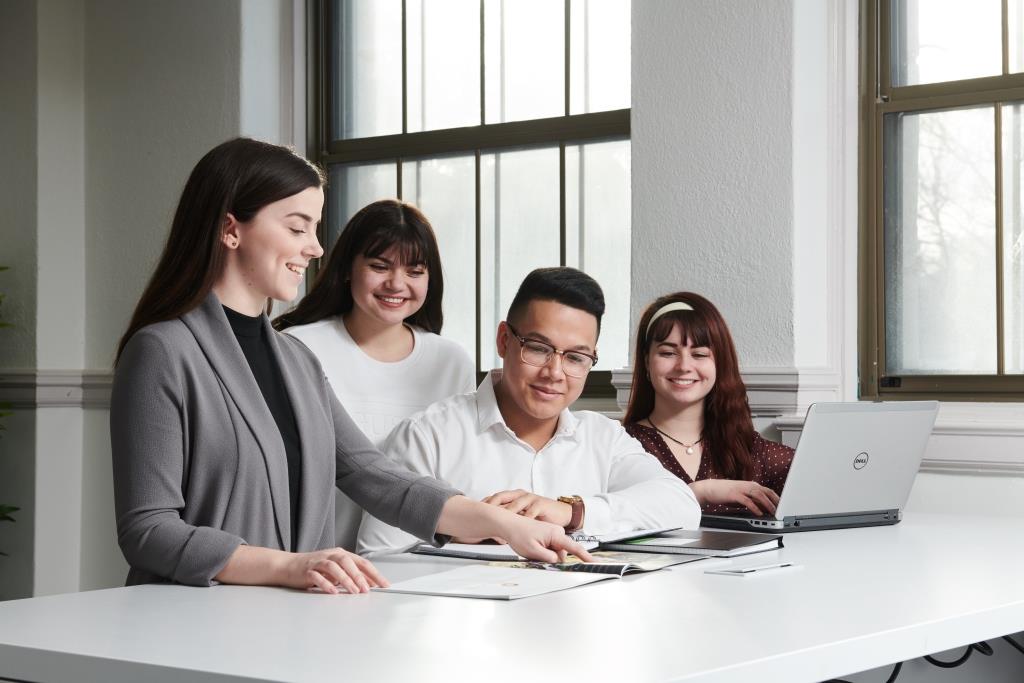 President's Student Leadership Program announces first cohort of students
Students from 18 disciplines selected to participate in unique leadership program
April 11, 2019 —
Twenty-seven successful candidates from across Manitoba have been selected to participate in the first cohort of the President's Student Leadership Program.
Students from over 20 faculties and schools across the University of Manitoba, Red River College, University of Winnipeg and University College of the North applied to participate in the first year of the program. The 27 students who will participate in the inaugural year represent 18 different disciplines and all four levels of postgraduate study: diploma (3), bachelor's (13), master's (7), and PhD (4). Each applicant was required to demonstrate strong leadership experience, commitment and impact.
"We are thrilled with the quality of applicants and the range of applications we received for this first year of the President's Program," says Suzanne Gagnon, Canada Life Chair in Leadership Education and Director of the new Institute for Leadership Development at the University of Manitoba. "We are excited to see the diversity in this group, critically important to today's leadership."
"We look forward to working with these leaders and are very pleased to welcome them to our first year. They will help us to build the program for the future. Together we will study leadership as building bridges across communities, interests and disciplines, learning from top leaders' challenges and opportunities in society, and from the diversity and experience in the group," explains Gagnon.
The President's Student Leadership Program is unique in Canada and is strategically important for Manitoba's business community and economy, in that it aims to develop future leaders in various sectors for the province. This first cohort of the program will begin in June 2019.
Congratulations to the following students:
Anthonia Aina
University of Manitoba, Faculty of Kinesiology and Recreation Management (Master's program)
Ana Maria Pereira Antunes
Red River College, School of Indigenous Education – Community Economic Development
Lindsay Bain
University of Manitoba, Faculty of Arts – Philosophy (Bachelor's program)
Kevin Boreskie
University of Manitoba, Applied Health Sciences (PhD program)
Anthony Catalano
Red River College, Mechanical Engineering Technology
Brandon Chartier
Red River College, Stevenson Aviation – Aircraft Maintenance Engineering
Caity Curtis
Red River College, Business Administration
Katherine Davis
University of Manitoba, Asper School of Business (MBA program)
Ian Dimopoulos
University of Winnipeg, Faculty of Education (Bachelor's program)
River Steele Guillas
University of Manitoba, Rady Faculty of Health Sciences, College of Nursing (Bachelor's program)
Jacqueline Hay
University of Manitoba, Applied Health Sciences (PhD program)
Ashley Hayward
University of Manitoba, Faculty of Graduate Studies – Peace and Conflict Studies (Joint Master's program wth the University of Winnipeg)
Kelly Hrabarchuk
University College of the North, Faculty of Arts, Business and Science – Business Administration
Emily Hyde
University of Manitoba, Rady Faculty of Health Sciences, College of Nursing (Master's program)
Amy Jackson
University College of the North, Faculty of Arts, Business, and Science – History
Gursevak Kasbia
University of Manitoba, Faculty of Education (Bachelor's program)
Kim Paolo Laberinto
University of Manitoba, Faculty of Engineering – Electrical Engineering
Nina Lam
University of Manitoba, Faculty of Arts – Global Political Economy (Bachelor's program)
Michelle Lam
University of Manitoba, Faculty of Education – Education (PhD program)
Justin Lin
University of Manitoba, Faculty of Science (Bachelor's program)
Calvin Loi
University of Manitoba, Asper School of Business (Bachelor's program)
Kristen McGregor
Red River College, Health Sciences – Nursing (Bachelor's program)
Marie-Jose Nadeau
University of Winnipeg, Biology Department – Bioscience, Technology and Public Policy (Master's program)
Jessica Piper
University of Manitoba, Faculty of Architecture (Master's program)
Daniel Plourde
University of Manitoba, Faculty of Engineering – Civil Engineering (Master's program)
Mohammad Azizur Rahman
University of Manitoba, Faculty of Graduate Studies – Peace and Conflict Studies (PhD program)
Antonia Ulici
University of Manitoba, Faculty of Social Work (Bachelor's program)
For more information on the President's Student Leadership Program visit: http://umanitoba.ca/leadership_institute