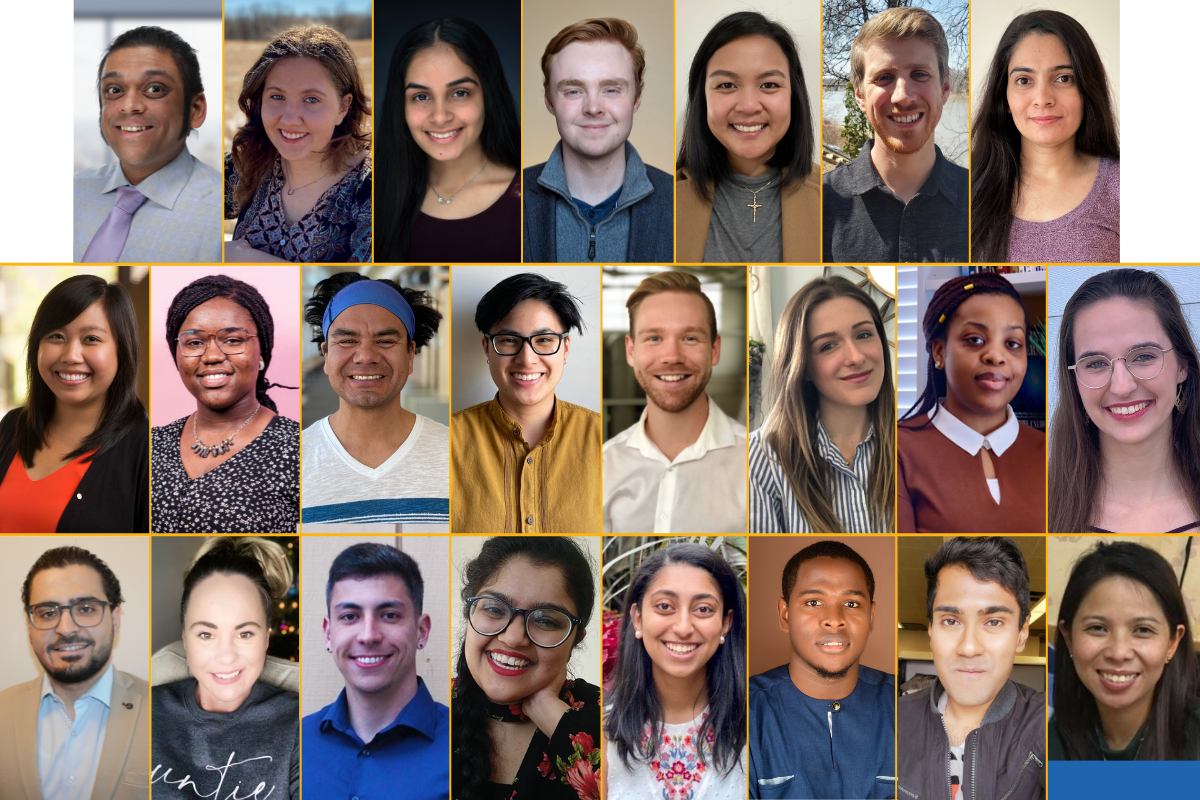 President's Student Leadership Program Announces 2021 Cohort of Students
Twenty-three students from across the province make up the next cohort of the PSLP
May 7, 2021 —
The James W. Burns Leadership Institute is pleased to announce the third cohort of the unique in Canada President's Student Leadership Program (PSLP) at the University of Manitoba. Twenty-three students were selected to form the 2021-22 cohort of the PSLP, studying in 17 different disciplines, across four levels of postgraduate study including diploma, bachelor's, master's, and PhD. They represent post-secondary schools from across the province including University College of the North, University of Winnipeg, Red River College as well as UM.
Participants were selected based on demonstrated leadership in their community or student life, dedication to learning from multiple perspectives and to applying leadership for positive social change, and to leading in their future careers.
The PSLP is committed to the development of Manitoba's future leaders by challenging the participants to collaborate with one another across disciplines, backgrounds and worldviews, and to think critically about solutions to complex leadership problems. Students complete cutting edge workshops with leadership facilitators, and learn about current leadership challenges from some of Manitoba's most renowned leaders in a wide range of sectors including business, education, healthcare, policing, government, and non-profit.
"The applicants were very impressive," says Dr. Suzanne Gagnon who leads the program within her mandate as Director of the James W. Burns Leadership Institute at the University of Manitoba. "We are excited about the diversity of the group and to start learning and collaborating together. The ongoing pandemic presents us with a real-world leadership laboratory in which to observe, apply and challenge various models of leadership. It is a particularly important time to be both developing and contributing to leadership."
The James W. Burns Leadership Institute at the Asper School of Business was created in 2019 with a mandate to launch the PSLP as a flagship, interdisciplinary and pan provincial leadership program for rising leaders in post-secondary education in Manitoba. The Institute has also developed leadership programming on a bilateral basis with other UM units and has created a new Minor in Leadership for Business and Organizations for non-business undergraduates whose programs permit a minor.
Congratulations to the following students who will participate in the program this year:
Chetachukwu Akaluka. UofW/RRC, Bachelor Rhetoric and Communications/Sociology
Ameen Alnaser. UofM, Bachelor of Science (General)
Daniel Araujo. UofM, Masters in Kinesiology and Recreation Management
Chimdinma Chijioke. UofM, Bachelor of Arts in Political Studies
Jefferson Cook. UCN, Bachelor of Arts in Aboriginal and Northern Studies/English
Megan Crooks. UofM, Bachelor of Science in Psychology
Miray Eskandar. UofM, Bachelor of Health Sciences
Avery Hallberg. UofM, Masters in Sociology
Jennifer Javier. RRC, Diploma in Business Technology Management
Meycee Kalaw-Crevier. UofM, Master of Business Administration
Karamveer Kaur. UofM, Masters in Nursing
Sasha Kullman. UofM, Bachelor in Kinesiology and Recreation Management
Alixa Lacerna. UofM, Masters in Architecture
Jude Obidiagha. UofW, Masters in Applied Economics (Policy Analysis)
Kevin Oliver. UofM, Master in Education Administration
Viktor Popp. UofM, Bachelor in Mechanical Engineering/Management
Dhanvi Prajapati. UofM, Bachelor of Science (Genetics)
Kate Ann Reyes. RRC, Diploma in Logistics and Supply Chain Management
Eric Schillberg. UofM, Masters in Civil Engineering
Shawn Singh. UofM, Juris Doctor – Law
Mainak Singha. UofM, Doctor of Philosophy in Astrophysics
Guneet Uppal. UofM, Bachelor of Science in Biochemistry
Arielle Williams. UofM, Bachelor of Science in Animal Systems
For more information about the President's Student Leadership Program please visit:
https://umanitoba.ca/asper/programs-of-study/presidents-student-leadership-program