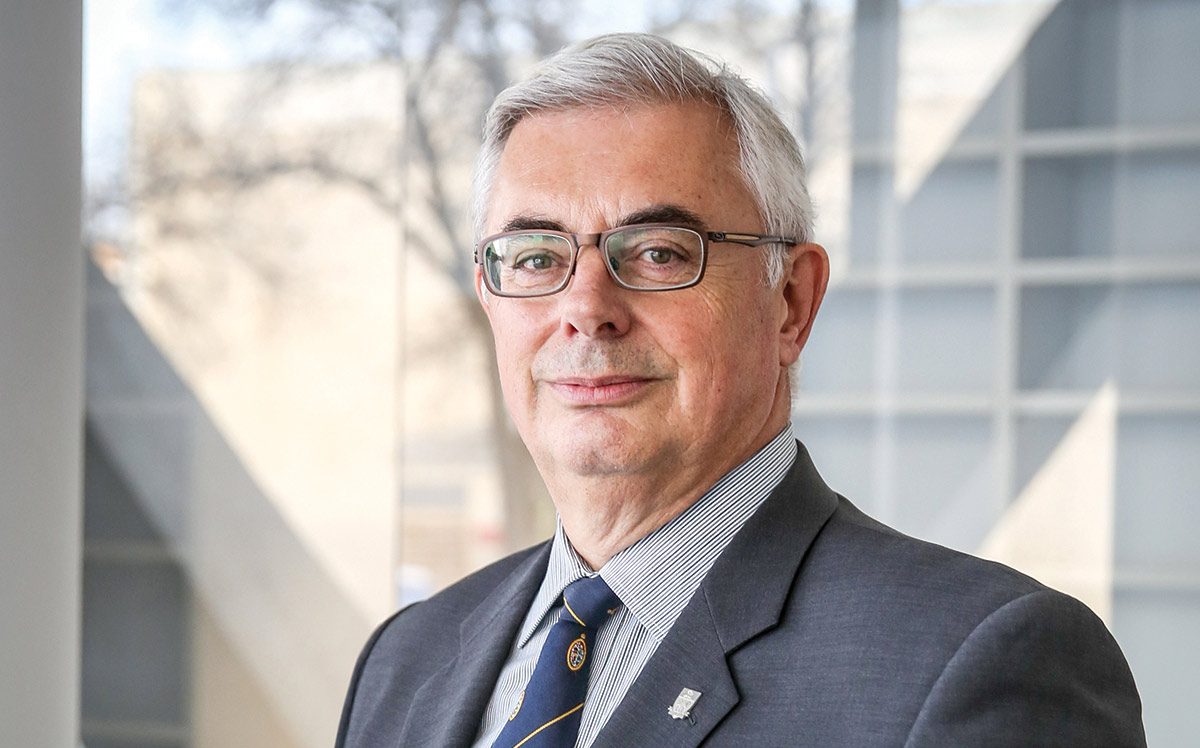 President David Barnard's response to UMFA's open letter on the provincial budget
March 28, 2018 —
The following is a letter from University of Manitoba President and Vice-Chancellor David T. Barnard to Dr. Janet Morrill, President, University of Manitoba Faculty Association (UMFA):

Thank you for your letter of March 21, 2018 regarding the recent provincial budget and its impact on the University of Manitoba planning for its 2018/19 budget. I appreciate hearing UMFA's perspective on the challenges facing us as a community. We advocate on an ongoing basis with government for increased investment in post-secondary education and welcome your support in that effort.
As you noted, we are working hard preparing a budget for approval by our Board of Governors. At present, a significant focus is in developing a full understanding of the totality of the announcements made by the provincial government; along with the reduction in our operating grant, a number of other relevant items were included in the recent provincial budget.
What we have been able to confirm thus far is that in addition to the 0.9% decrease to the University of Manitoba operating grant, the province also has reduced funding in a number of other areas. These include a $3 million reduction in support to Research Manitoba, which follows a $2 million reduction last year. This reduction affects all Manitoba universities but none more so than the University of Manitoba. Our research activity accounts for approximately 92% of the support Research Manitoba provides, meaning that we will be significantly impacted by this decision.
The provincial budget also included a reduction in support of Access programs by $500,000 – an 11% reduction in the amount of funding allocated to these important programs. Additionally, the province has announced that international students no longer will be provided provincial health benefits. We are looking at options for our students for the longer term, but a more urgent solution is needed to assist existing students in transitioning from provincial health benefits to those provided through another mechanism.
With respect to the degree to which increased tuition revenue is anticipated to offset the grant reduction, regrettably this would only be the case if these were the only two variables to consider.
We expect the financial impacts from the provincial budget to amount to over $7.3 million in the 2018/19 fiscal year considering the cumulative impact of the reductions in grant funding, provincial support for Research Manitoba, Access programs and international student health. The increase in tuition fees is anticipated to generate approximately $9 million in revenue, for a net impact of $1.7 million. More significantly, we also must provide for rising salary costs, which will increase at a rate of about $7 million in 2018/19. The net impact of all of these factors outstrips the increased revenue arising from increased tuition fees and our ability to balance our budget, as a result, is largely dependent on increased investment income and reduction in contingency funds.
In follow up to your meeting earlier this academic year, the University Comptroller, Tom Hay and Associate Comptroller, Gord Pasieka would be pleased to meet with you again to discuss inter-fund transfers in greater detail, as they tend to lead to some confusion. The largest of them relate to the accounting adjustments required to recognize the useful life of capital assets acquired using operating funds, but recorded as assets as a result of their enduring value. Doing so results in an inter fund transfer from the Operating Fund to the Capital Asset Fund. Capital addition examples in 2016/17 include library books, University College window replacement, the Churchill Marine Observatory, Max Bell Field House upgrades, and the School of Art gallery foyer.
Other large interfund transfers include student support which is funded by operating funds but paid to students from the Trust Fund, debt repayments that are funded by operating and transferred to the Capital Fund where the underlying debt is recorded, and carryover that moves in from the Specific Provisions Fund at the start of the year and back out to Specific Provisions at the end of the Year.
I was pleased to see the specific budgetary priorities that you identified for 2018/19; they are reflective of priorities that the University has been pursuing for some time and will continue to emphasize, and connect strongly to the university's strategic plan that was developed on the strength of significant input from across our university community. In an institution such as ours, supporting departments and faculties in delivering the programs our students need, researchers in conducting their work, and addressing barriers to study or work encountered by many members of our community are important goals.
We remain committed to faculty renewal and retention and we believe that the implementation of the new budget model will allow Deans greater flexibility in planning for the recruitment of new faculty members, as they will have a more complete understanding of revenues and costs, and how to best utilize their existing resources. As an example, with the implementation of the new budget model, faculties will now retain the full salary for any departing faculty member whereas the past practice had been for faculties to retain the median of the salary with the remainder going to back to central administration for other allocations. Further, in addition to the funds for critical faculty renewal allocated last year, we established the Indigenous Scholars Fund which has supported 12 new positions in a range of faculties.
Like you, I believe in the transformative power of stable and competitive funding for graduate students. Not only can this be viewed as student support, but it is critically important to fueling research at our university. As a result, increasing graduate support has been a longstanding priority for us both in our advocacy with governments, and in constructing our annual budgets.
In 2016/17, we distributed almost $10.5 million to graduate students via our internal funding programs and we have every intention of continuing to grow the funding available for this function. I would like to clarify that we have not rolled back GETS funding, it continues to be funded at approximately $4.3 million per year. It does, however, require a tri-council funding match from the advisor. The remaining programs that we have in place to support graduate students – which distribute about 61% of total funding – do not require a funding match. I should emphasize that, from a timing standpoint, support already can be offered to graduate students at the time an offer of admission is extended.
I understand your stated wish that faculty may "strike a better balance between doing research and chasing research funding." I recognize that applying for grant funding can be time-consuming, yet it is very important; the funding that is sought is what ensures that research actually can be done. We have put in place a number of supports to assist with this process: research facilitators who can assist faculty with the content of their applications, research grant officers who can ensure that applications are compliant with agency policies, and training workshops.
Researchers' success in receiving tri-agency funds determines the University's allocations for Canada Research Chairs, CFI funding, graduate student fellowships and our allocation of research support funds from the Tri-Agencies. When researchers do not apply for funding, it can therefore have a significant negative impact on our ability to generate and support research. We of course are committed to all forms of research, scholarly work and creative activities and have put in place internal grants and other supports to recognize, support and advance research excellence.
We are excited about the progress that has occurred on our Fort Garry campus in expanding our child care offerings, which would not have been possible without the hard work and leadership of the Campus Childcare Initiative Committee.
As you're likely aware, the Bannatyne Campus Master Plan contains a commitment to child care facilities at the Bannatyne campus. The Campus Childcare Initiative has been exploring options of where a child care facility could be housed or built on the Bannatyne Campus since 2013. Several potential sites have been evaluated but have not been determined to be appropriate, either due to size, location or cost to renovate to meet provincial code.
A critical aspect of considering the establishment of a child care facility is ensuring that it is affordable, particularly for student parents and staff with lower incomes. Accordingly, we would need a commitment from the province to subsidize any new child care spaces we may create, given that providers which operate without a subsidy often charge nearly $100 per day. Once such assurances were made and an appropriate site identified, we would be in a position to estimate the likely capital costs and the longer term financial implications of opening a new facility. Based on our experience with the expansion of child care on the Fort Garry Campus, we would anticipate an approximate four-year timeframe for completion. We are committed to offering childcare on the Bannatyne campus and will continue to pursue it as a priority for our community.
Thank you again for sharing your perspective. We will be certain to keep the priorities and concerns you have identified in mind as we work to finalize the budget for 2018/19.
Sincerely,
David T. Barnard, Ph.D.
President and Vice-Chancellor