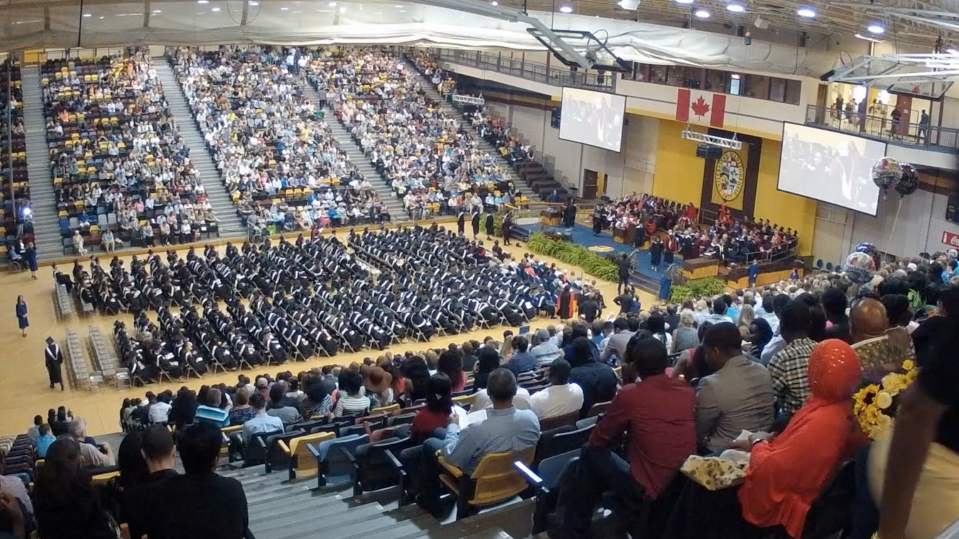 President Barnard's address to graduands
October 15, 2019 —
The following is the address University of Manitoba President and Vice-Chancellor David T. Barnard delivered to graduands at the 52nd Annual Fall Convocation:
Good afternoon graduands, family and friends, alumni, colleagues, esteemed guests, and everyone gathered today to celebrate the achievements of the Fall Class of 2019.
I'd like to share some news with you.
Earlier this month, the University of Manitoba became the first university in Canada to establish the position of Vice-President (Indigenous). This means that at the most senior level of our administration, the Indigenous voice will be present.
Today's convocation ceremony began with a drum song and the acknowledgement that we are holding our celebrations on Treaty 1 land. The acknowledgement is intoned; a solemn recited pledge that we move forward in the spirit of reconciliation, as one Canada: Indigenous and non-Indigenous together. The history of Manitoba and of our university community is uniquely informed by the Indigenous perspective and voice.
The drum song is another powerful voice; a pure, poignant voice of the Indigenous people that echoes through the centuries. Drums are common to almost every culture; their voice is a language that is universally understood.
Like the handmade drum, we all have a unique voice. I want to speak to you today about the development of your own voice: the instrument that expresses your thoughts and knowledge, your understanding of the world and your deepest yearnings and desires for your future.
One of the gifts of Indigenous voices in our world is a growing knowledge of the enduring relationship between humankind and nature; a spiritual connection between humans and the ecosystem: plants, animals, deserts, oceans and plains. Perhaps there has never been a time when the connection between human beings and the natural world has reached a more critical crossroad.
Over the last few months, hundreds of acres of the Amazon rainforest have burned. Microplastics continue to poison our oceans, and both humans and animals have become climate refugees without homes or habitats. At times, we seem to have lost our sense of stewardship over our planet; our sense of responsibility to help it thrive for generations to come.
But we have not lost our voice.
University of Manitoba students joined hundreds of others for a day of protest against climate change in downtown Winnipeg in September. Around the globe, protestors supported Swedish environmental activist Greta Thunberg and her school strike for climate. People around the world watched transfixed, no matter what their reaction, as this 16-year-old girl chastised world leaders for their neglect. Thunberg's actions remind us: our voice is important.
Your voice matters.
What you think and do is critical on campus in our city and in our country. As we approach a federal election, many of you will be voting, perhaps for the first time, and your voice will be heard and make an impact on a national level.
With our new logo, developed after productive conversations with the extended University of Manitoba family, we have done our best to represent these notions. The flame of reconciliation lights the foundation. The bison resolutely carves a personal path, wending always upward, and the sky reflects colour and brightness, open to difference, open to variety and inspiration: open. Through you, that logo, those ideals, come to life.
One glorious example of how far we can reach took place just last week, when one of your fellow alumni, astrophysicist Jim Peebles, was named as the 2019 recipient of the Nobel Prize in Physics.
We hope you've felt inspired to express your voice here at the University of Manitoba. You have worked hard since your first day on campus. Through determination and perseverance, you have accomplished much. Congratulations.
We're here to recognize how far you've journeyed and to celebrate your success. Today you join our alumni family. As you make your own way in the world, remain in touch with your roots and at the same time discover new places, new people, new ways of seeing and appreciating the world.
We are always here to listen if you care to share.
Be bold as you move forward into the next exciting chapter of your life. May you find your voice and let the whole world hear it.