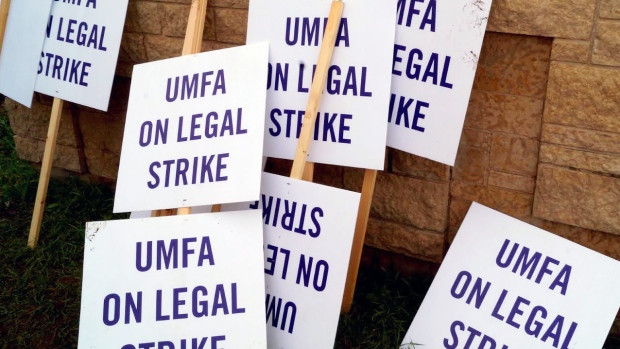 President addresses strike situation
Appeals to community to remain respectful, unified
November 9, 2016 —
The following is a message issued by President and Vice-Chancellor Dr. David T. Barnard:
I am deeply troubled by the reality we find ourselves in as a university community. The current strike by the University of Manitoba Faculty Association (UMFA) is in week two – and the risks to our entire community increase each day the strike continues.
We will continue to try to find a solution that will result in a new collective agreement with UMFA and resuming the work we do so well in classrooms, laboratories and the community.
First, I want to assure our more than 29,000 students affected by UMFA's strike action that the University of Manitoba is committed to your academic success. You've asked many questions and offered a variety of perspectives. We are listening. We are doing everything possible to navigate a successful academic term for you. You've worked hard to get to this point and I don't want this strike to impede your success and future plans.
I also believe it is important to acknowledge that faculty members presently walking the picket line are our colleagues, our friends – individuals whom we admire and respect. They represent all of us locally, nationally and internationally through their teaching, research and community service. I respect each member's right to strike as well as the rights of those who choose not to strike.
I understand that in outlining positions we may appear adversarial, but I hope all of us refrain from making this debate personal and strive to achieve a constructive tone. My efforts are focused on resolving this situation as soon as possible.
Unfortunately, we have arrived at a situation having potentially very harmful impacts on this institution and its community of faculty, staff, alumni, friends, and students.
How we deal with these challenges – collectively and within our respective peer groups – will test the depth of our commitment to this institution's ideals and our ability to see beyond immediate interests.
I know the university community is united in its dedication and sense of responsibility to the core functions of teaching and learning, discovery and engagement. All of us at the University of Manitoba care deeply about our mission to create, preserve, communicate and apply knowledge contributing to the well-being of the people of this province, Canada and the world.
It is my sincere hope that at this trying period in our institution's ongoing development, we can pull together as a community, face these circumstances with intelligence, reason and compassion rather than from entrenched positions, and rise above our challenges. And I urge us not to lose sight of our shared mission, our shared commitment, and the success of our students.
When we work together as a united community – as is our normal mode of interaction – we experience transformational results.
Photo courtesy of CBC