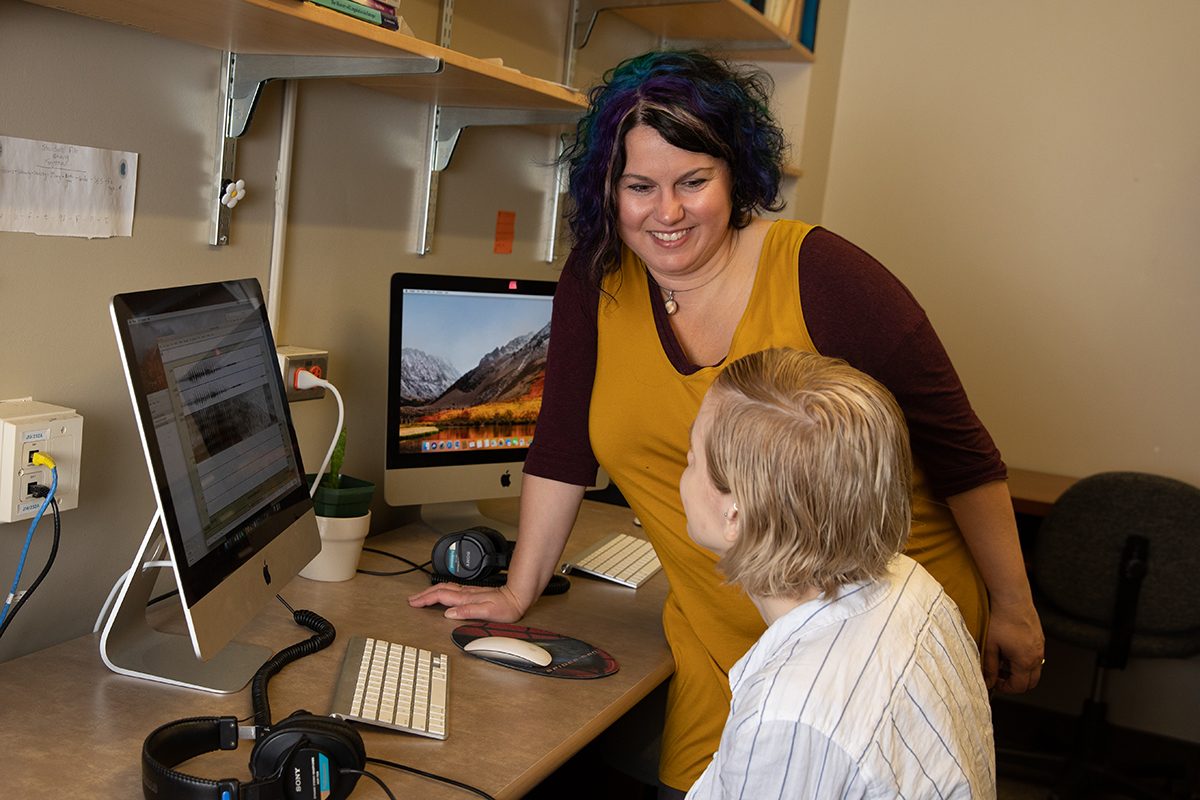 Preserve and predict
February 4, 2019 —
Some instances of language variation are definitely simpler to spot than others. We know an eighty-year-old uses language differently than an eighteen-year-old. We can hear and recognize clear differences in what males and females say and between groups in rural and urban settings.
The number of slang, translation or pronunciation variations just across Canada is staggering.
The study of linguistics reminds us that there is more to language than just the accents or the words used.
Differences in language can impact what we hear and understand.
They can also influence attitudes, behaviour, education and even lead to discrimination.
Nicole Rosen, associate professor of linguistics and Canada Research Chair in Language Interactions in the Faculty of Arts, is leading the charge to dispel longstanding Canadian language myths and add Prairie languages and language differences to the overall Canadian language atlas.
Rosen has always been interested in the study of language. From the very beginning however, she knew that she wanted to investigate language beyond the context of literature.
"I have always liked both sciences like chemistry and math and arts like English and French. I discovered that Linguistics was the best way for me to marry my interests in language and math," says Rosen.
"Linguistics provides the opportunity to scientifically analyze language and its structure, predicting patterns and changes in language and studying the social implications that result."
"People have a view of what language is and how to use it in the standard way or 'right' way. Linguists look at language in context to the situation. There is no better language, no right language. I want to help break down the view of people thinking that something different is wrong. It's not wrong.
It's just different and worth documenting."
STUDYING SOCIAL SCIENCE
Sociolinguists, like Rosen, are interested in more than just the words each group uses. They study differences in pronunciation, accents and how words are formed in the mouth.
Software is used to transcribe interviews and to measure the acoustic parameters of the sounds, that are then displayed on spectrograms, a visual representation of the spectrum of frequencies of the sound signal as they vary with time. Distributional and statistical analyses help to plot and define speech differences as well as predict future changes to language.
Then, consideration is given to differences in sentence structure, the phonetic transcription and meanings of words and how this all relates to the individual's social status, economic status, ethnic background, religion, geography or age.
The findings often make an important impact on other fields as diverse as psychology, philosophy, education, language teaching, sociology, anthropology, speech pathology, computer science and artificial intelligence.
PRESERVING LANGUAGE
Perhaps because of the geography, settlement patterns and ethnic make-up of the Canadian Prairies, very little is known about Prairies English and how it fits into the standard template of Canadian English nationally. Rosen's research focuses on Canadian Prairie Settler Populations, both new and old, including Filipinos, Mormons, Mennonites, Hutterites and Ukrainians, investigating the influence of geographic, social and linguistic isolation on language variation, change and transmission on the Canadian Prairies.
Early Prairie settler populations were largely isolated, developing their own linguistic and social identity over decades, but switched to English mid-twentieth century, due primarily to societal and economic pressures.
"We are currently at a point in history where we can still interview generations who spoke a heritage language as their first language," says Rosen, "but this population is aging. It is urgent to gather data on second language transfer, language use, and identity now, before only standard Canadian English speakers remain."
It is hoped that this research will break new ground in the study of Canadian English, as the bulk of sociolinguistic work in Canada has traditionally taken place in urban areas or in the Maritimes.
OBSERVING DIFFERENCES
Rosen and her team augment their study of early settler groups with recent immigrant groups who tell us very different things about language and society today. Rosen explains that "Filipinos are a huge part of Winnipeg's current fabric, as the largest immigrant group, and the population is growing. Tagalog is by far the next most-spoken language after English in Manitoba.
We have Winnipeg-born Filipino Canadians with English as their only language, others that have recently immigrated who are just learning English, and others who immigrated decades ago who speak both Filipino language(s) and English regularly. This is an extremely rich and interesting sociolinguistic situation where we hope to learn about developing language change at an earlier stage rather than what we find after generations of change."
DISPELLING MYTHS
In addition to the dialect maps and language dictionaries produced, Rosen hopes her work can provide a bridge between differences in pronunciation and standard versus non-standard language. "If someone speaks with an accent or uses non-standard language," says Rosen, "it's important to identify and remind both professionals and the public that this is not wrong."
"We can help reduce discrimination, influence educational direction, lower the misdiagnosis of speech deficits in children, educate the public and change attitudes so that language is no longer a limiting factor socially or economically for these groups."
---
DOCUMENTING ENDANGERED LANGUAGES
In the discovery and mapping of language differences, Linguistics has found a role in the documenting and preservation of endangered languages.
This includes working with groups such as Filipinos in Winnipeg, Mormons in Southern Alberta and Mennonites in Southern Manitoba as well as Manitoba Michif, Algonquian, Innu and Cree peoples.
The U of M has led the way publishing research, dialect maps and dictionaries of Prairie and Indigenous languages helping to not only capture and record the languages before they are gone, but also use the findings to help predict the future of the language and its place in society.
Support from the CRC Program and SSHRC is instrumental in bringing this research to life. The CRC award has been crucial for collecting the amount and breadth of data necessary to do such
large-scale cross-linguistic and cross-cultural comparisons.
It has allowed researchers to collect large amounts of data and to then bring the local interplay of Prairie linguistic diversity to an international audience. It has permitted Rosen to offer research assistantships to 14 undergraduate students and fund eight graduate students. The support continues to provide the opportunity for collaboration with researchers from across Canada including collaborations with researchers in Ottawa to create exciting new methods in data visualization that will help bring linguistic variation into the public sphere.
As a result, Prairie languages now hold a place in the overall fabric of Canadian language. And, the university has become a hub for Michif language and linguistic research, attracting graduate and postgraduate students to work on this endangered contact language, helping to preserve and revitalize it for generations to come.
– From the Winter 2019 edition of ResearchLIFE
Research at the University of Manitoba is partially supported by funding from the Government of Canada Research Support Fund.