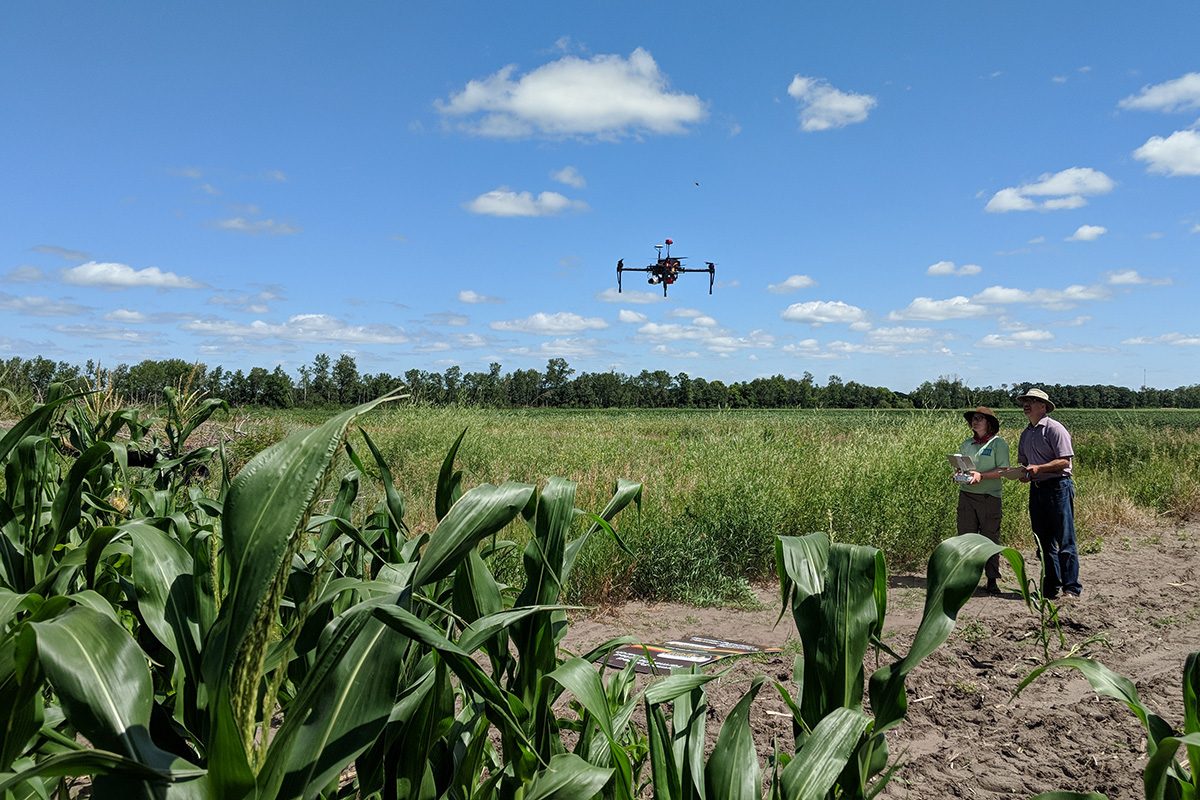 Preparing for Prairie Agriculture 2050 in a Climate of Change
Editors revisit predictions made in 2014 in the green paper "Moving Toward Prairie Agriculture 2050"
June 12, 2019 —
In 2014 the Alberta Institute of Agrologists (AIA) approached the National Centre for Livestock and the Environment to write a green paper on Climate and Food: Is There a Future? The result was the visioning document "Moving Toward Prairie Agriculture 2050" where 23 agriculture scientists and experts from varied backgrounds reflect on the possible changes to our Prairie agricultural systems over the coming decades.
Recently the AIA asked editors Brian Amiro and Karin Wittenberg to check in at the five year mark to see how the predictions were playing out. They shared their "Still Moving Toward Prairie Agriculture 2050" review with professional Agrologists in Manitoba, Saskatchewan and Alberta earlier this year. The following are excerpts from this follow-up paper.
Synopsis of 2014 Report on Moving toward Prairie Agriculture 2050
The 2014 green paper emphasizes the need to adapt in response to likely scenarios for our future climate. Alongside concerns of water shortages and rising temperatures in the Prairie region, we are likely to see more extreme weather events, with greater risks of crop-damage, soil erosion and new pest and disease threats for crops and food-producing animals. The pace of change is accelerating on all fronts, whether it is geopolitical, societal, technological, economic or environmental. Adaptation in the future requires dealing with complex risks within the interconnected systems that underpin the global food supply chain, namely organizations, country economies, societies and the environment. Our future resilience will be affected by the many variables that impact agriculture's ability to adapt. Our best strategy for preparedness going forward is ongoing dialogue based on what we know today, evolving as we learn more. It is likely there will be many surprises and the Prairie agriculture sector will need to be aggressive in identifying and implementing a broad range of coping strategies.
Samples of what has changed in the past five years
The global climate warming trend is continuing.
Temperatures in each year from 2014 to 2018 have been higher than any of the preceding 130 years. A 2019 Environment Canada report on climate change shows Canada warming at twice the rate of rest of world. Within this long-term trend, inter-annual variability and within-season weather events will continue to be important for Prairie agricultural production. Holding global temperatures to an increase of only 1.5°C would require severe changes to current economic and social activities. Success at such a major change at the global level is unlikely, so our need to adapt will become increasingly important in future decades.
Producers across all agriculture sectors have been successfully coupling economic resiliency with greenhouse gas mitigation strategies.
For example, the footprint of Canada's beef herd is decreasing. A recent multi-institutional survey and life-cycle analysis established a 15% reduction in greenhouse gas emissions and 17% reduction in water use over the 30-year period from 1981 to 2011. Additionally, research has shown that if all beef cow/calf operations had the same emissions as the lowest 25% of farms, the reduction in emissions would increase to 31%. The current world (and social media) view that cattle are environmentally bad is not consistent with Prairie ecosystems. For much of the Prairie land base, large ruminants make the most ecological sense for food production when considering biodiversity, soil carbon and water holding capacity.
Examples of innovation and technology advancements and their potential to influence the future of food production systems abound.
According to a 2019 forecast of the International Data Corporation, worldwide spending on the Internet of Things (IoT) is predicted to be over US$1 Trillion by 2022. In the future, IoT coupled with Artificial Intelligence technology could link production agriculture resource use and practice to social values and public trust.
The importance of people and social drivers was not emphasized as strongly as it should have been five years ago.
Human behaviour and human adaptation to innovation and opportunity are driving the changes we are living through. Human behavior in response to change, and by extension, societal responses to change are also changing.
With the advent of the internet many people have developed two distinct identities; namely the physical person that has face-to-face interactions, and their virtual identity that interacts with others through social media, or non-face-to-face communication. These two entities behave differently. The platforms underpinning public education and communication are struggling. Human-made chaos can be found at all levels of society and there are signs of strain in many of these systems, influencing global trade, economies and political stability.
This is an important signal for the agriculture and food sectors, which have relied heavily on innovation to be successful in past decades. If agriculture is to be successful in 2050, we must consider how the sector can better engage the public on the journey of adaptation; as we rewrite practices and products; as we negotiate future sharing of natural resources; and in our interpretation of social values ("social license").
Growers/producers have improved communication of their stories and values, but this is not engaging the majority of Canadians. Innovation will continue to be important, but it is the ability to engage with people, be they the farm operators or the general public, that will influence the impact of innovation investments and the long-term sustainability of our shared food systems.
Generational drivers have changed.
The Millennial generation, today's 19-35 year olds, know that they make up North America's largest demographic. They connect globally on a daily basis and they are creating a historic shift in social values. This generation is calling for systemic change because they are the generation that will be most impacted by climate change. Whereas we proclaimed five years ago that economic values override social values which override environmental values, the millennial generation is rejecting a capitalism that is only about profit and democracy's political systems that are driven by false ideologies.
The time to engage the public is now. Canadian agriculture would benefit from an investment in long-term strategies to address greenhouse gas mitigation, efficient resource use and economic stability in the face of adaptation to Climate Change. If farm operators, scientists and the public were to define production models with goals of Resistance, Resilience, or Proactive Transformation of our food production systems, what practices would be put in place to test and what should be monitored over time? This approach could well be one of the most important decisions made in our effort to nourish the world's people in a time of change.