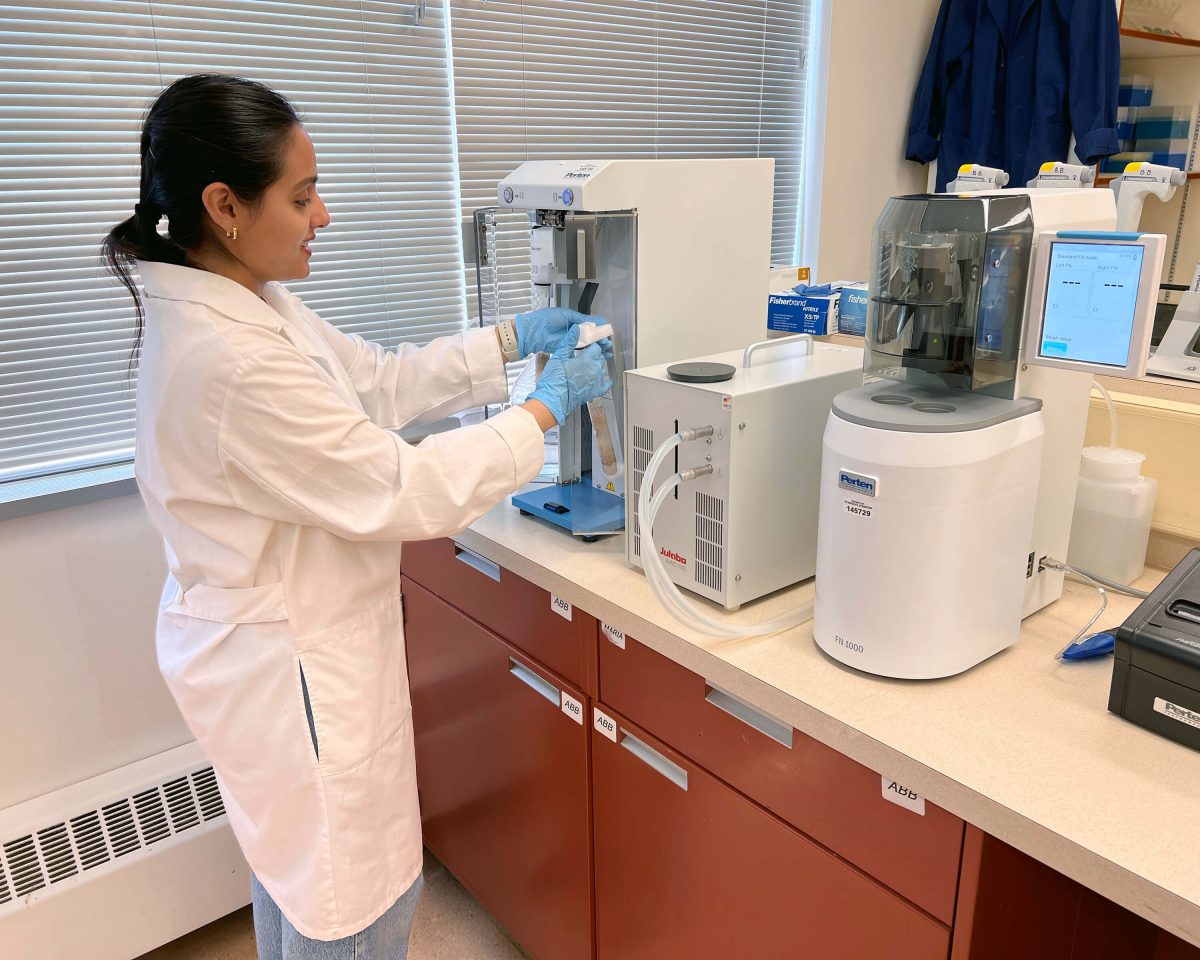 Pre-harvest sprouting research at UM enhanced with equipment support
June 13, 2023 —
Dr. Belay Ayele is a professor in the Department of Plant Science in the Faculty of Agricultural and Food Sciences. Dr. Ayele's research program has been generously supported by Manitoba Crop Alliance, most recently with the purchase of a Falling Number machine. We chatted with him to learn more about how this piece of equipment will advance his team's work in grain quality.
What sort of research are you conducting?
One of the major focuses of my research is investigating the molecular, genetic and genomic bases of pre-harvest sprouting. This is the germination of seeds on the mother plant prior to harvest during humid and cool conditions, in cereal crops mainly wheat and barley that are important to Manitoba. Pre-harvest sprouting induces degradation of grain starch into simple sugars, a process catalyzed mainly by alpha amylase, and this causes significant yield and quality losses in wheat and barley. We use different approaches in our experimental materials including the study of germination kinetics, molecular, biochemical and analytical methods to characterize the way sprouting appears and resulting sprouting damage.
Tell us about the equipment
Through financial support from the Manitoba Crop Alliance, my lab has acquired Falling Number machine, which measures alpha amylase activity and thereby determines the degree of sprouting damage. This equipment will enable us to incorporate an additional approach to enhance and validate our analysis of sprouting damage. Given that Falling Number is a global standard and a practical method used by grain companies to determine sprout damage when buying and selling wheat and barley grains, the Falling Number machine is an important addition to our existing research facilities as we study preharvest sprouting in many varieties and breeding lines of wheat and barley.
What impact will this research have on Manitoba producers?
This piece of equipment will enhance our research of identifying genes or molecular markers that can be deployed by breeders to speed up the development of wheat and barley cultivars that are resistant to preharvest sprouting. The availability of such cultivars will make significant contributions toward mitigating yield and quality losses and there by help wheat and barley growers continue to produce the quality products our customers demand even through less than ideal harvest conditions and to maximize their farm income.
Read more about Dr. Belay Ayele on the Manitoba Crop Alliance site.