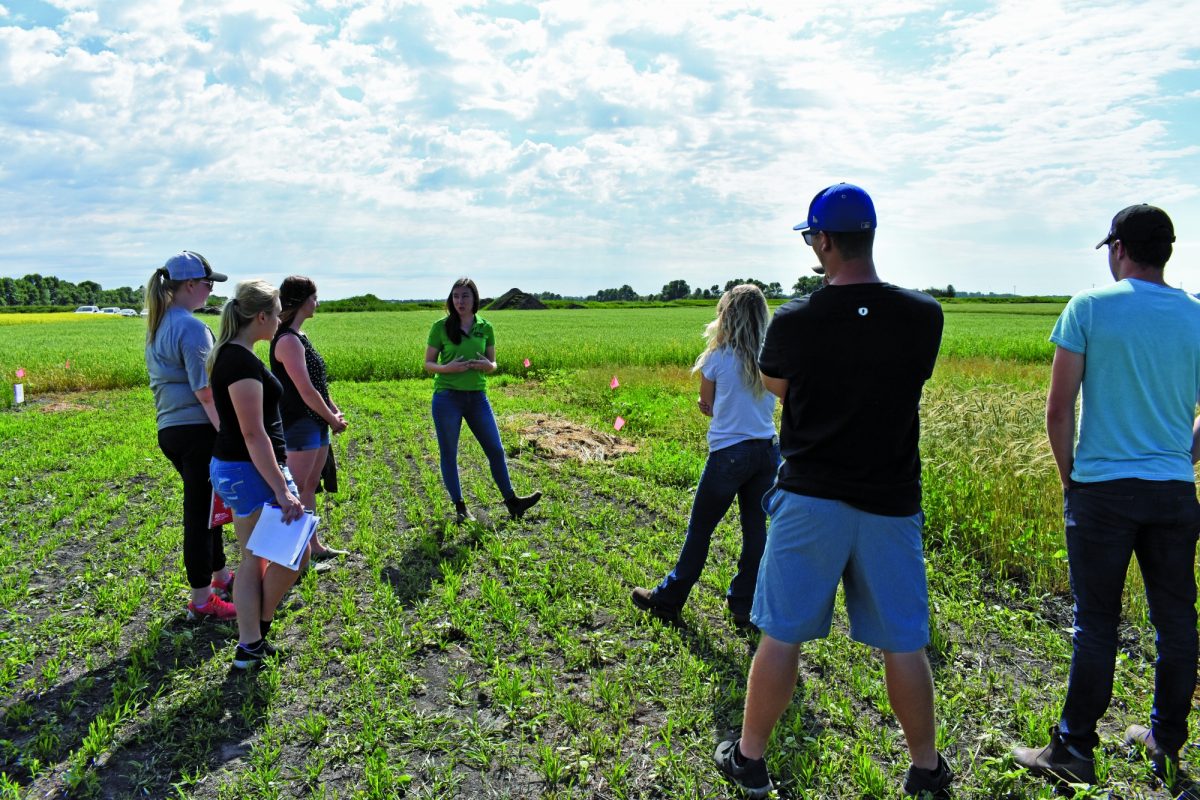 Practical, hands-on education for modern agriculture
June 3, 2020 —
The agri-food industry is rapidly changing and graduates from the 2-year Diploma in Agriculture are ready for the challenge. The Faculty of Agricultural and Food Sciences is preparing to welcome another crop of new students this fall, and is accepting applications until July 15 for this program.
Since its beginning more than a century ago, the Diploma program which is offered through the School of Agriculture has changed dramatically, shifting its emphasis from technical training toward a broader education in the scientific principles that underlie modern farm production and agribusiness management practices.
The program provides not only technical and academic knowledge in a wide range of subjects, but also practical experience. You will learn about resource management, finance, communication and leadership. And you will develop critical thinking skills and an awareness of diverse perspectives, so that you are prepared to work effectively in today's global community where international events affect local prices and trends.
Year 1 provides an overview of the production, marketing and management of agricultural products. In Year 2, you will choose one of four streams:
Business Management
Crop Management
Livestock Management
General Agriculture
Graduates are eligible for professional membership in the Manitoba Institute of Agrologists as Technical Agrologists.
Alumni from the Diploma in Agriculture shared their advice to those considering the program:
Jackie Dudgeon – Territory Sales Manager, Canterra Seeds
"You don't have to have everything figured out right now. Explore your options and find something you love and are passionate about. Everything else will fall into place."


Lyndsey Smith – Agricultural Communications Consultant
"The Diploma program is practical and hands-on, with smaller class sizes and an accelerated learning curve. All of that appealed to me – I very much wanted to learn the real-world stuff and get out into the workforce as soon as possible."
Kelvin Friesen – Agricultural Account Manager – Access Credit Union
"Right after graduation from Diploma, I started my career as a lender with the credit union, where I am still at today. In my role, I work with farmers and businesses, creating relationships, and develop financing packages to help them succeed."


Jake Ayre – Second Vice President, Keystone Agricultural Producers
"The opportunity for 2nd Vice President at KAP came up and I went for it. I am honoured to serve and represent Manitoba farmers in the role to help KAP carry out important policy work at provincial and national levels."


Quinn Friesen – Commercial Banking Manager, CIBC
"I liked the financial management focus of the Diploma program the best. For nine years, I was the Agricultural Banking Specialist for CIBC covering much of Manitoba – they were hiring grads that were mobile. I am still there today."

Start your application today to the Diploma in Agriculture program.