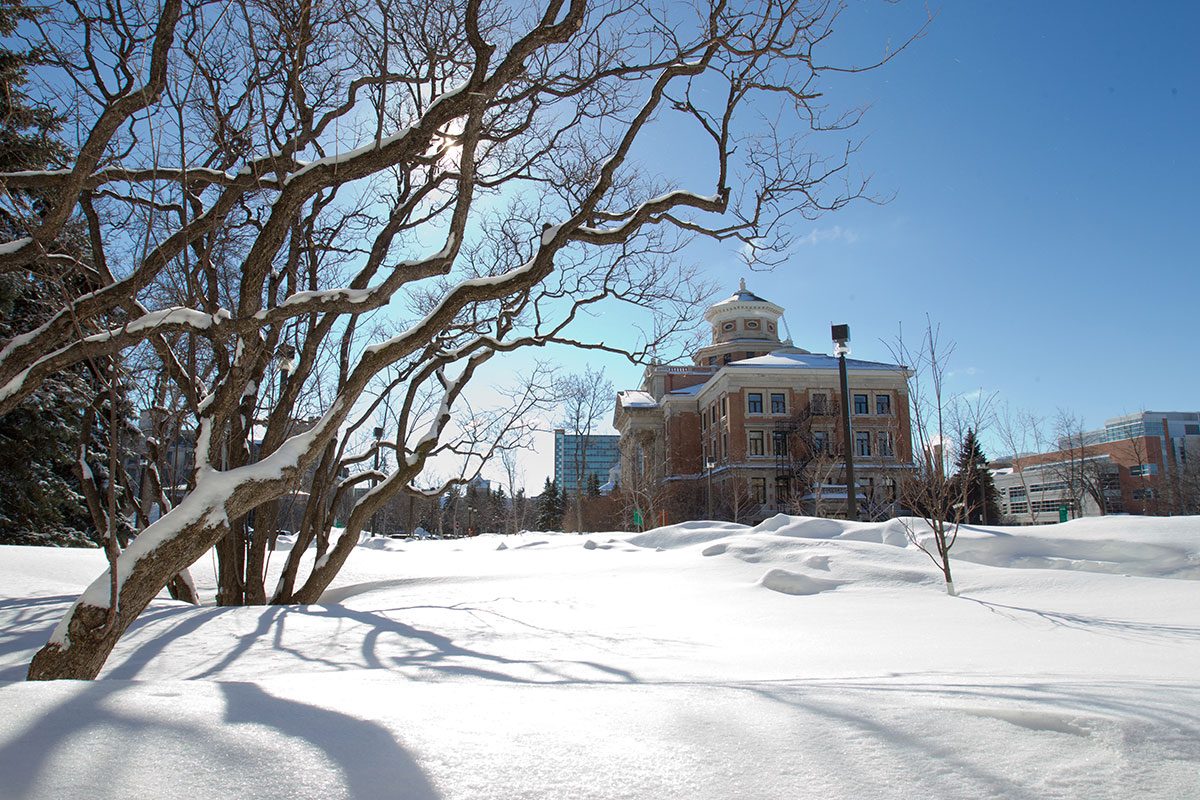 Power stars
Major power outage tests the university's response systems
February 27, 2018 —
Last week's major power outage affected many buildings across the Fort Garry campus, and tested the university's emergency response, electrical repair response and communications systems. It also tested people's patience as they waited for the power to be restored so that they could get back to work.
Andrew Konowalchuk, associate vice-president (admin.), lauds staff for its effective response in finding and fixing the problem and keeping everyone apprised of timelines in an uncertain situation. He notes many campus members worked on various aspects of the response. The size and age of the university's power grid can make repair challenging, and he adds that Physical Plant is completing a study reviewing upgrades to create a more stable electrical grid.
"I'd like to acknowledge all involved and thank them for their readiness and the work they did — especially given the large scale of the outage. The electrical team coordinated well to find the fault and get building groups up and running again," says Konowalchuk. "It was all hands on deck.
"We also thank those affected for their patience," he says.
Some employees were unable to access their workplace, and others were unable to work due to the lack of power. As power was gradually being restored to some buildings, others were without power for several hours. Other precautions were necessary to ensure that buildings that were without power were not negatively impacted by additional damage or lost research.
The human resources side of it
Greg Juliano, associate vice-president (human resources), says that when work is interrupted for short periods, the University generally tries to avoid the disruption having an impact on employees' pay. Employees should work with their manager or supervisor to determine what to do while the situation persists.
Options for managers in such situations include:
Asking employees to find an alternative place to work on campus
Sending employees home who are able to work remotely for the day
Sending employees home and asking them to check in with the manager in a few hours. Most full-time staff with regular hours should be considered as working during this time (i.e., normal worked code when reporting time in VIP).
Staff who are already booked to be away on vacation or sick time, he notes, should continue to be recorded as such. Any questions can be directed to HR Consultants.
The power outage started in the early hours of Wednesday, Feb. 21. Buildings affected were: Physical Plant; Stores Building; Mary Speechly Hall; Pembina Hall and Residence; Drake Centre; Tier; Isbister; Fletcher Argue; Biological Sciences; Max Bell; Investors Group Athletic Centre; Education Building;; Migizii Agamik – Bald Eagle Lodge; High Voltage Lab; Engineering 1; Engineering 2; Engineering 3; St. John's College; St. Paul's & Sinnott; Wallace; Helen Glass Centre for Nursing; the Parkade; and Fitzgerald Building.
Most buildings were back online by late afternoon, with all power restored by 6:00 p.m. Drake Building did suffer a large flood due to damaged infrastructure and lost a classroom for the week.
Read more about the outage. Keep up to date on any construction and status of buildings with the U of M's service disruption page.