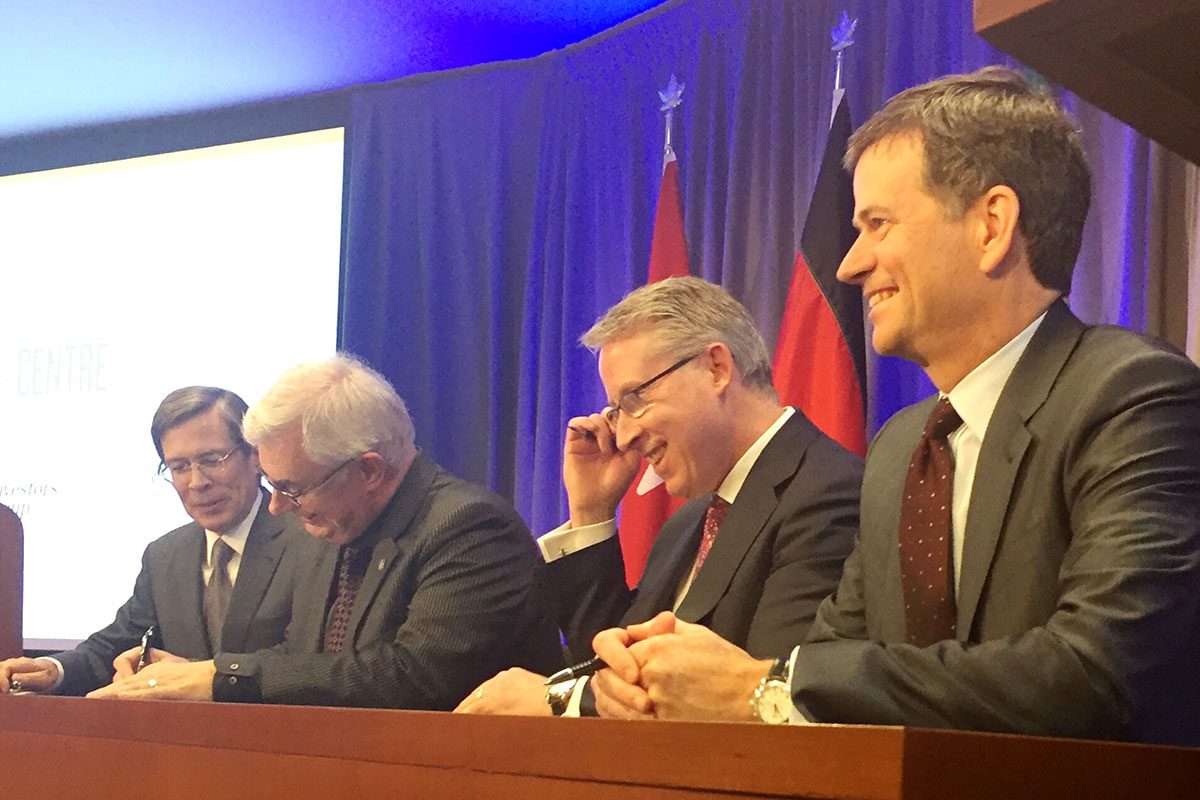 Great-West Life, Investors Group and Power Corporation investing to create unique leadership institute at U of M
Institute will develop future leaders
May 3, 2017 —
Great-West Life, Investor's Group and Power Corporation of Canada, along with their leaders, have announced a commitment of $12 million through the University of Manitoba's Front and Centre campaign to create the Institute for Leadership Development, a new teaching and research institute focused on developing leaders in Manitoba. $2 million of this investment will come from a Leaders Fund for past and current leaders who would like to personally invest in the future of their successors.
"As we reflected on great Manitoban leaders of the past, many of whom had graduated from the University of Manitoba, we honed in on the importance of leadership in the development of great companies and great communities," says Paul Desmarais Jr., Chairman and Co-Chief Executive Officer of Power Corporation of Canada. "The Institute for Leadership Development holds the promise to transform leadership development in the province and beyond."
The Institute for Leadership Development will build on the University of Manitoba's proven capacity to produce leaders in every industry. Students across all disciplines will have the opportunity to develop the skills they need to lead in any field they choose. This is a unique approach when compared with other leadership institutes across the country, which focus on business students, and will have a transformational impact on leadership locally, nationally and globally.
"Leaders of tomorrow will face a much more challenging environment than we do today," says Jeff Carney, President and CEO, IGM Financial. "That is why we are investing today to create this leadership institute, which will help prepare future leaders to successfully face those challenges."
The new institute will enhance the U of M's existing teaching and research by establishing the Chair in Leadership Education, the Chair in Leadership Research, and the President's Student Leadership Program. The latter is a novel and innovative program open to students from all Manitoban post-secondary institutions. Through deep engagement with its partners the Institute will serve as an accelerator to foster the potential of our province's brightest young leaders.
"Our companies have benefited incredibly from so many leaders from Manitoba," says Paul Mahon, President and CEO, Great-West Lifeco. "Today's contribution is about investing in future leaders, not only for our companies, but also for our communities because we'll all benefit immensely from the lessons this next generation of leaders take away from this Institute."
The Institute will address new and emerging areas of leadership in the 21st century by integrating learning on diversity, including multi-generational workplaces, the use of digital technologies, and trends in innovation.
"This transformative donation is a recognition of the University of Manitoba's ability to develop leaders, something we have excelled in for 140 years. The exciting news we announce today means we can continue to elevate our strengths and unlock the potential of young leaders across all disciplines and program areas province-wide," says Dr. David Barnard, President and Vice-Chancellor at the University of Manitoba. "The University of Manitoba thanks Great-West Life, Investors Group and Power Corporation of Canada for this visionary investment in our province's future. Their support will grow our capacity to develop the next generation of leaders who will drive the province forward economically, socially and culturally."
The Chair in Leadership Education will oversee the Institute and its student programming, including the integration of leadership programs into curricula across the university. The Chair in Leadership Research will, among other duties, bring together thought leaders from across disciplines in order to conduct and disseminate research that will contribute to the design of more effective leadership development programs.
"This is great news for our students who will benefit from the unique opportunities the Institute will provide, such as developing relationships with mentors through partner organizations and studying meaningful and relevant leadership courses," says Tanjit Nagra, President of the University of Manitoba Students' Union.
This donation from Great-West Life, Investors Group and Power Corporation of Canada supports two strategic pillars of Front and Centre, the campaign for the University of Manitoba: Outstanding Student Experience, and Research Excellence.
An exceptional student experience has always demanded an ambitious combination of strong academic programming, innovative teaching and learning strategies, a learning environment that is responsive to the needs of our society, and supports that reduce barriers and reward achievement.
By supporting an outstanding student experience, Great-West Life, Investors Group and Power Corporation of Canada are unlocking the potential of students so that they can lead our province to new heights of economic and cultural success.