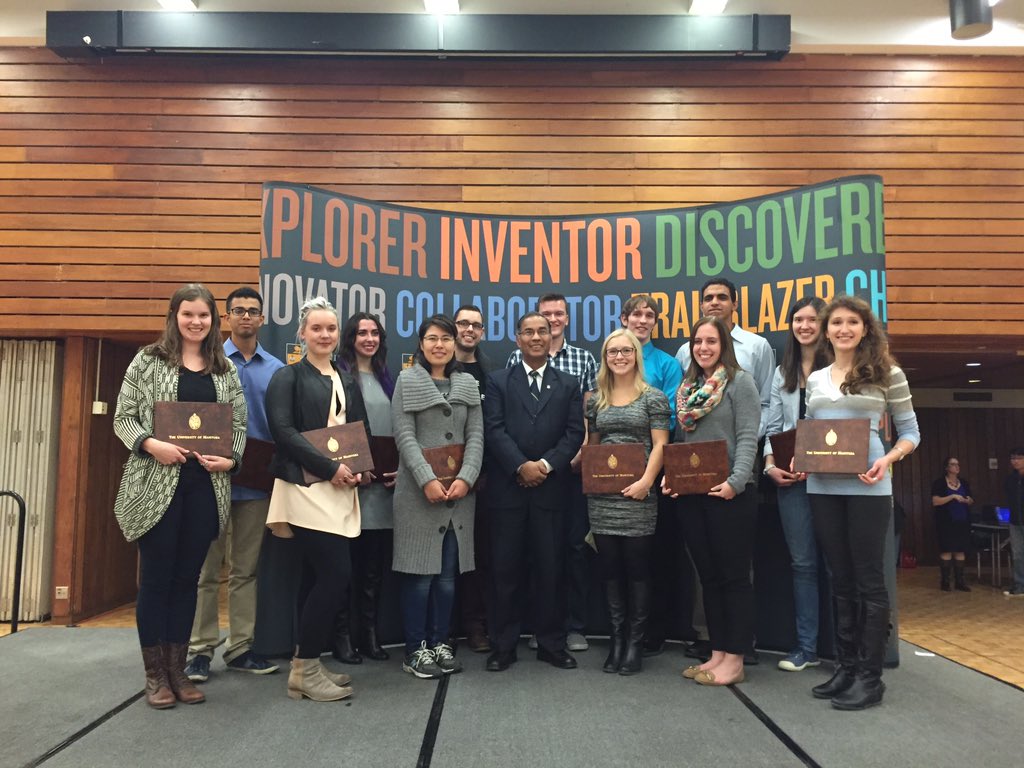 Poster competition showcases exciting research
October 30, 2015 —
From diabetic mice to 19th century music to humpback whales the Undergraduate Research Poster Competition covers a diverse range of topics. The annual competition took place on Thursday, October 29 with over 100 participants displaying their work in five different categories and vying for cash prizes.
The event gives undergraduate students who have participated in research an opportunity to showcase their projects. Judges assess each project and winners in each of the five categories are chosen based on official judging criteria.
The 2015 Undergraduate Research Poster Competition winners were named in the following categories:
Applied Sciences:
1st – Andrew Laban (Mechanical Engineering)
Project: Investigating the Mixing Properties of Twin Jets Influenced by a Free Surface
Research Supervisor: Dr. Mark Tachie
2nd – Katie Whyte (Biosystems Engineering)
Project: Comparing nitrate reduction in wood chip bioreactors under saturated and unsaturated conditions
Research Supervisor: Dr. Sri Ranjan
3rd – Alexa McAdam (Biological Sciences)
Project: A comparison of methods to detect E. coli and coliform contamination of drinking water in First Nations communities
Research Supervisor: Dr. Annemieke Farenhorst
Creative Works:
1st – Madeline Rae (Fine Arts)
Project: In pursuit of the other: Our internal labyrinth
Research Supervisor: Ms. Dominique Rey
2nd – Rachel Dueck (Music)
Project: A journey to the late 19th century Europe: Exploration of music, literature, fine arts in Italy, France and Germany
Research Supervisor: Dr. Laura Loewen
3rd – Curtis Wiens (Education)
Project: Harmony through melody: Listening as an educational tool
Research Supervisor: Dr. Charles Horton
Health Sciences:
1st – Taylor Morriseau (Microbiology)
Project: High glucose impairs energy regulation in the diabetic mouse brain
Research Supervisors: Dr. Paul Fernyhough & Dr. Benedict Albensi
2nd – Rajas Tipnis (Biological Sciences)
Project: Co-inhibition of Xrcc1 and TDP1 chemosensitizes pediatric medulloblastoma
Research Supervisor: Dr. Sachin Katyal
3rd – Matthew Bernstein (Psychology)
Project: Gathering opinions on information needs and preferences: Samples and opinions in paper vs online surveys
Research Supervisor: Dr. John Walker
Natural Sciences:
1st – Mikala Epp (Biological Sciences)
Project: Let's talk whale: Previously undescribed vocalizations of humpback whales on their North Atlantic foraging grounds
Research Supervisor: Dr. Gail Davoren
2nd – Yana Tyomkin (Geological Sciences)
Project: Modelling of bulk crustal properties of the North American mid-continental rift system, Minnesota and Wisconsin, USA, via Z-R transfer function analysis and H-k stacking
Research Supervisor: Dr Andrew Frederiksen
3rd -Viktoriya Vasylkiv (Psychology)
Project: Reorientation strategies of an Alzheimer's mouse model
Research Supervisor: Dr. Debbie Kelly
Social Sciences:
1st – Jacquelyn Klassen (Psychology)
Project: Vowel discrimination in German/English and French/English bilingual infants
Research Supervisor: Dr. Melanie Soderstrom
2nd -Tyler Eschenwecker (Psychology)
Project: Knowledge of historical injustice improves feelings and attitudes towards harmed groups
Research Supervisor: Dr. Katherine Starzyk
3rd – James Urquhart (Social Work)
Project: Masculinities and older men in a community program
Research Supervisor: Dr. Corey Mackenzie
Research at the University of Manitoba is partially supported by funding from the Government of Canada Research Support Fund.