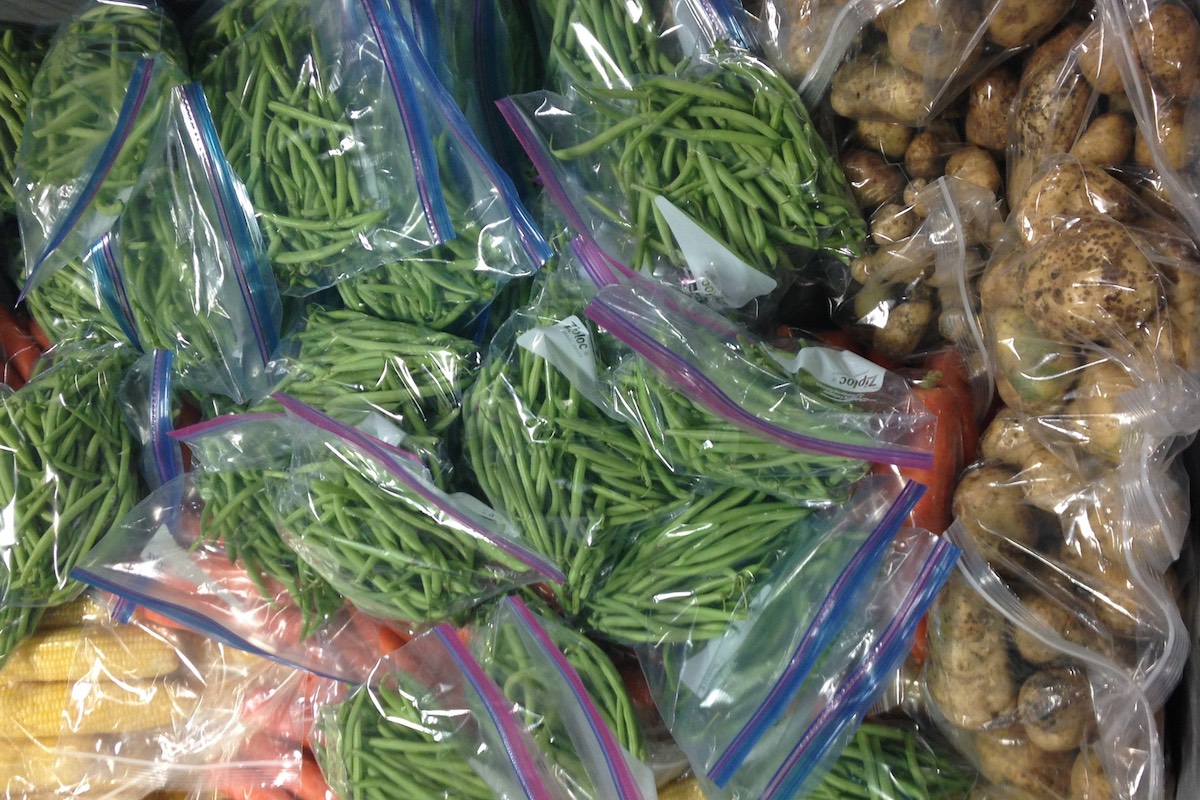 Policy Options: How gleaning food addresses greenhouse gas emissions and food insecurity
February 3, 2023 —
Robert Parsons, a sessional instructor at I.H. Asper School of Business whose focus is in the areas of sustainability economics, mathematical methods and supply chain management, and Paul D. Larson, professor of supply chain sustainability, whose research is on various sustainability issues, including food insecurity and food waste, have co-authored a new article for Policy Options.
Canada faces two pressing and related sustainability issues: food insecurity and greenhouse gas (GHG) emissions. The pandemic, food price inflation, the Russian invasion of Ukraine and other disruptions have combined to push food insecurity to record levels, while Canada also struggles to meet emissions commitments made under the 2015 Paris Agreement.
Fortunately, there is an important but little-known connection between food insecurity and GHG emissions that involves food banks across Canada. There is also a relatively simple policy shift that could help on both fronts. Food banks have long been recovering edible items and keeping them out of landfill sites, thereby reducing GHG emissions from decomposing. It seems reasonable for this important environmental work to be recognized financially by the federal government.
Our research team based at the University of Manitoba has been awarded a grant through the competitive "One Planet. One Health" initiative of Danone Institute North America (DINA), a non-profit established by international food manufacturer Danone.
The project merges supply chain, carbon-footprint and nutrition perspectives to promote more sustainable food distribution. Our purpose is to identify practices and policy options that ease food insecurity and reduce GHG emissions, while providing affordable and balanced nutrition to Canadians. Our team includes Maria Baranowski, a registered dietician, and Marjorie Bencz, executive director of Edmonton's Food Bank. For her tireless work in the fight against food insecurity, Marjorie was invested into the Order of Canada in 2007.
Food banks are the last line of defence against food insecurity for many Canadians. Despite the messages in publicly available mandate letters to the federal ministers of agriculture and health, there is a lack of consistent policy support or funding from federal or provincial governments for food banks. Meanwhile, demands on food banks keep rising. For instance, at Edmonton's Food Bank, the average number of delivered monthly hampers has doubled since 2013. Canadian food banks continue to endure the twin perils of surging demand for food and declining donations.
Their counterparts in the United States are shocked to learn that Canadian food banks pay federal taxes, including the GST and carbon taxes. Carbon taxes follow from essential energy use: electricity to operate coolers; diesel and gasoline to move food around; and natural gas to heat warehouses and operating spaces. These taxes mount up, with carbon taxes also progressively increasing. For Edmonton's Food Bank alone, we estimate an annual net tax bill of more than $50,000 for GST, and around $30,000 in carbon tax, with the total rising to more than $110,000 by 2030. The tax burden imposed on food banks across Canada easily exceeds $1 million – money these non-profits could be instead using to provide food to Canadians.