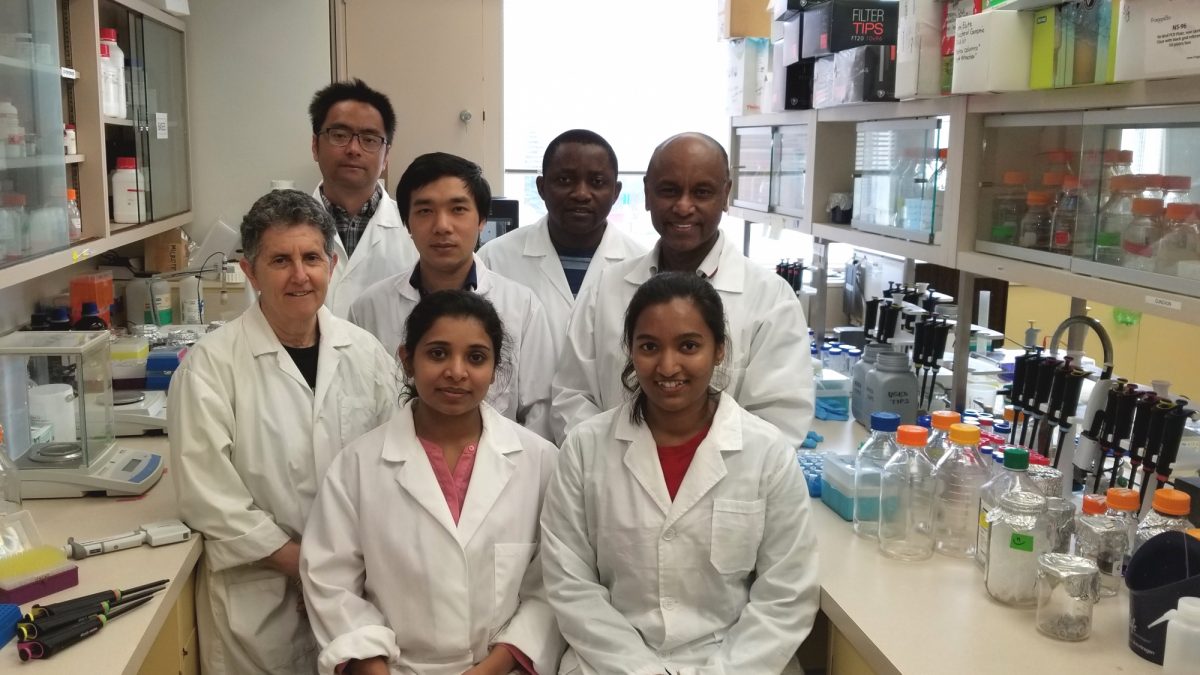 Plant scientist honoured for phytopathology contributions
May 27, 2019 —
Internationally renowned University of Manitoba plant scientist Dilantha Fernando has been elected a Fellow of the American Phytopathological Society (APS). He will receive this award in early August in Cleveland, OH, at the APS annual general meeting.
APS is the premier scientific organization for plant pathologists from around the world. The APS Fellow is presented in recognition of distinguished contributions to plant pathology or to the APS. Phytopathology or plant pathology is the study of plant disease.
"I am humbled by this selection as the nomination came from five American scientists who are Fellows themselves. I am proud to bring this honour to the Faculty, the U of M and Canada," said Dr. Fernando, who is the only Canadian among the recipients this year.
Dr. Fernando is a world authority on blackleg of canola, and was the first to report new races of the blackleg pathogen in North America, Brazil, Hungary and Iran. His research characterized the race structure of the pathogen, defined R-genes and adult plant resistance in canola varieties and documented the breakdown of R-gene mediated resistance to blackleg in canola grown in Western Canada.
This research has led to the development and industry-wide implementation of R-gene rotation in Canadian canola cultivation to reduce the disease occurrence and R-gene breakdown. His findings enabled seed companies to breed for new sources of resistance, add new R-genes to cultivars, and label cultivars for the R-gene content.
Dr. Fernando's expertise played a pivotal role in 2009 when the Chinese government imposed a 100% restriction on canola seed imports from Canada, a $3.0 billion annual loss to Canada's economy. The government of Canada selected Dr. Fernando as the lead scientist to address this crisis, and his work was instrumental in removing a large portion of the restrictions.
In addition to his work on blackleg, Dr. Fernando has also had significant impact for his research on Fusarium head blight. His studies of the epidemiology of this important disease and recent efforts in understanding the population structure of F. graminearum and the spread and increase of more potent toxin-producing strains in the Prairies have led to an awareness in increased vigilance in grain inspection and safety of the food and feed industry.
Equally, Dr. Fernando is a pioneer in advancing biological control in Canada. He and his collaborators developed the first successful biological control in field crops in Canada. His findings in phyllosphere biology have led to collaborative research on mechanisms of biological control and resulted in the full genome annotation of the two biocontrol agents. Industry has joined Fernando and collaborators to commercialize this system through a NSERC-CRD grant.
Dr. Fernando has been recognized with several awards for service to growers, regional schools, scientific societies, and international agriculture, including the U of M Outreach Award. He has mentored and trained 14 Ph.D., 15 MSc, 23 postdocs, 22 visiting scientists and 68 undergraduates. His former students are working in academia, industry, and government throughout Canada and around the world.
In 2017, he was appointed as Dean of Studies at St. Paul's College, University of Manitoba, recognizing his strong commitment to student education.