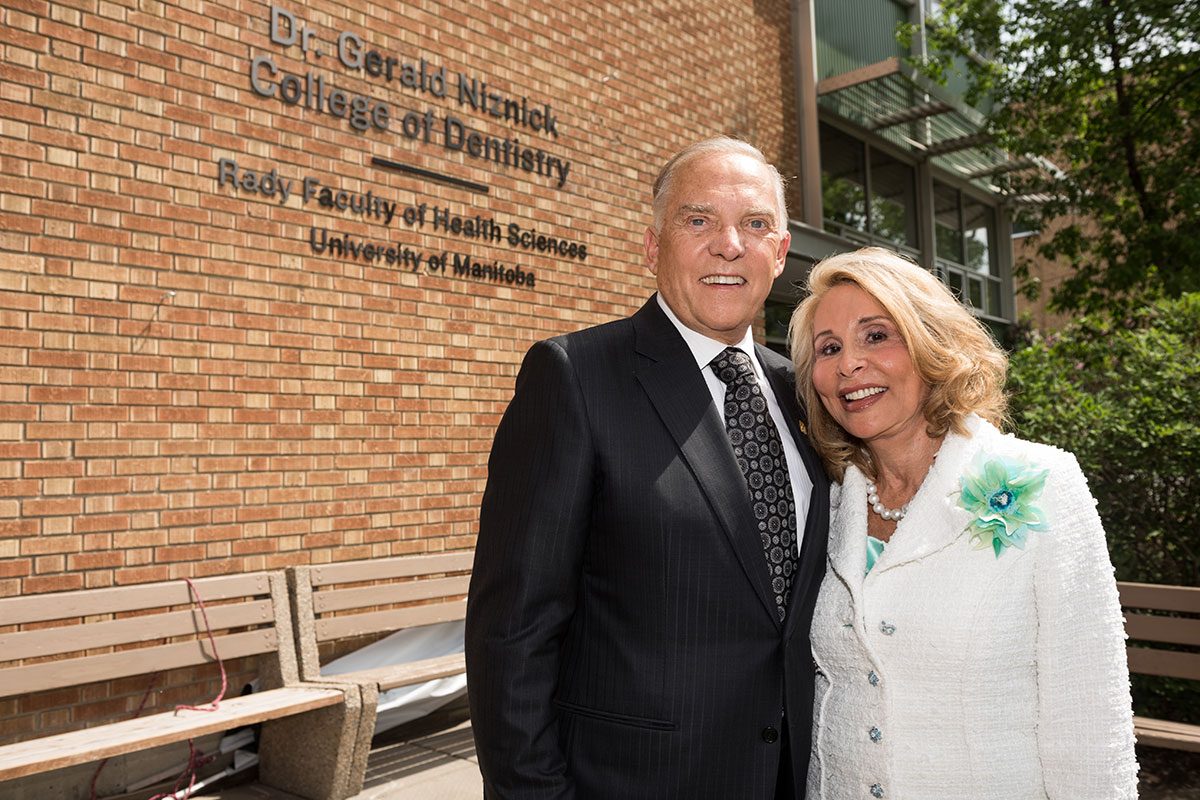 Pioneer of dental implants gifts $7.5 million
May 29, 2018 —
The College of Dentistry has received the largest gift in its history, from Dr. Gerald and Mrs. Reesa Niznick.
Recognized as the originator of modern implant dentistry, Dr. Niznick [DMD/66, LLD (Hon)/02] today announced a historic $7.5 million donation towards his alma mater through the Front and Centre campaign.
Speaking to an enthusiastic crowd in the Bannatyne campus' Brodie Atrium on May 29, the internationally-successful entrepreneur and dentist said, "The University of Manitoba dental faculty instilled in me appreciation of the trust patients put in us as dental professionals. I believe we need to continually learn so we can fulfill our ethical responsibility to deliver state-of-the-art treatment. Investing time, energy and money to learn better ways to treat our patients is a dentist's moral obligation."
The Niznicks' gift reflects the breadth of innovative teaching, research, and community outreach found in the College of Dentistry. Their $7.5 million will enhance clinical training space, fund special initiatives that enrich our community's health and wellbeing and create reliable endowed funding for the College.
"Our alumni continue to make an important impact on the health of our nation, and in Dr. Niznick's case, internationally," said Dr. Anthony Iacopino, dean of the College of Dentistry. "We are honoured that Dr. Niznick has chosen to invest today in the instructors, support staff and students of dentistry who carry on that legacy of impact and innovation."
In recognition of this transformative gift, the University of Manitoba has renamed the college the Dr. Gerald Niznick College of Dentistry.
Born to immigrant parents, Niznick grew up in Fort Frances, Ontario, before moving to Winnipeg to attend high school, then the University of Manitoba, in the 1960s.
He set up his own dental practice soon after, which, as Chancellor Harvey Secter noted, is where he saw a deficiency and turned it into an opportunity.
"In the 1970s, when dentures and bridges were the norm, Gerry began looking for a better alternative for his patients, sensing a reliable dental implant would be the solution," explained Secter. "Finding none, he did what all trailblazers do: he forged his own path."
By the late 80s, Niznick had developed four different implant designs. His first, the Core-Vent Implant System, in less than a decade became the most widely used dental implant system in the world.
Through innovative business practices, such as all-in-one packaging, he could sell them at about one third of the price that major implant companies were charging. Niznick was a pioneer in 24/7 manufacturing and using the Internet for marketing, technical support and online ordering, all of which made implant dentistry more affordable for dentists and patients.
President David Barnard remarked on Dr. Niznick's impact on the field of dentistry, saying that, "Today, you show that same innovative spirit: this time by investing in the immense potential of University of Manitoba students and their ability to change the face of health care here in Manitoba and beyond."
Dr. Natasha Holder, from the dentistry class of 2018, expressed "As a new graduate, I personally look forward to seeing the opportunities that will arise for all dental students for years to come thanks to this investment in the College. At the College of Dentistry our students support our wider community directly through the clinic at the College, and through community outreach programs. This gift will go even further for those patients in need."
Following the formal announcement attendees walked outside to join the Niznicks at the College building as they unveiled the new Dr. Gerald Niznick College of Dentistry sign.
Thanks to the Niznicks' $7.5 million donation and all of our 59,000 donors, U of M Vice-President (External) John Kearsey announced the Front and Centre campaign has reached a new milestone of $466,495,719.