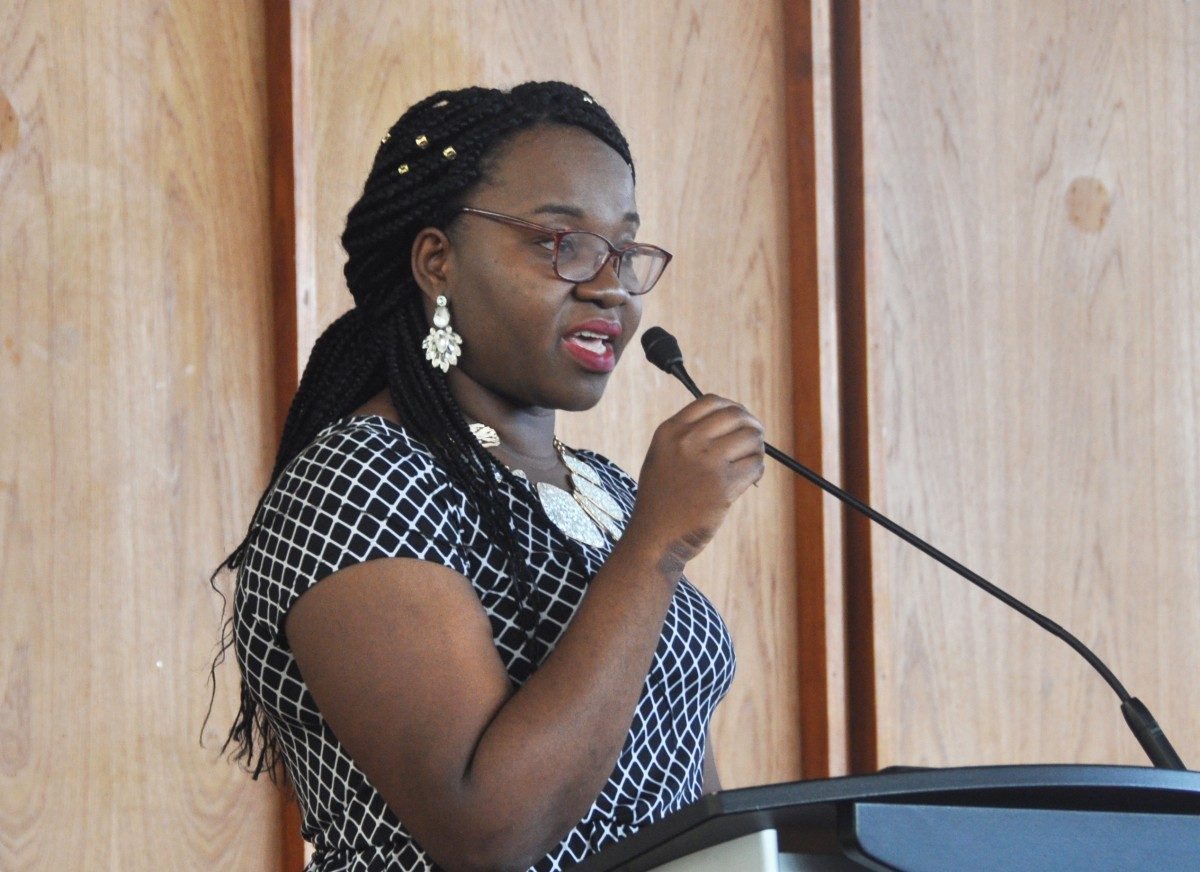 Pinning ceremony welcomes new nurses to the profession
October 20, 2017 —
Wanting to care for others cannot be the sole reason to become a nurse, there must be a deeper purpose, according to Constance Amadi, valedictorian for the College of Nursing Class of 2017.
Addressing her fellow graduates at the nursing pinning ceremony on October 19, Amadi shared how the loss of her father to asthma was the catalyst that gave her the push to go into nursing.
"I didn't plan to do nursing but I found there is a deeper purpose for any career choice," she said. "I am a nurse because I want to care for others but also because I don't want to see people die needlessly."
Amadi, who is from Nigeria, came to Canada and the University of Manitoba in 2013 and hopes to one day become a nurse in neurosurgery. She thanked her fellow graduates, their families and the faculty and staff of the College of Nursing and encouraged her classmates to continually try to improve in their profession.
"The day we stop learning is the day we stop making progress. Find your voice, don't stop speaking out and don't stop demanding the truth," she said. "A nurse is not what you do, but who you are. A carrier of comfort, compassion and care."
Close to 110 Bachelor of Nursing grads took part in the morning Pinning Ceremony, which officially welcomed them into the nursing profession.
The ceremony is organized by the U of M Nursing Students' Association. Participants recite the U of M Bachelor of Nursing Pledge, which was inspired by the 1893 Florence Nightingale Pledge and has been adapted by the university.
By reciting the pledge, nurses vow to practise with integrity, uphold the standards of the profession and dedicate themselves to confidentiality, collaboration and quality patient care.
Following the pledge, each newly minted nurse receives a pin from the College of Nursing, Rady Faculty of Health Sciences.
James Teitsma, member of the legislature for Radisson, represented minister of health Kelvin Goertzen who was attending a nursing conference in Alberta.
"As nurses you are going to have an opportunity to impact every single Manitoban," Teitsma told the graduates. "We value the contributions of nurses and all the healthcare professionals working in our system."
Beverly O'Connell, dean of the College of Nursing, asked the graduates to reflect on their achievement and view it as the start of a professional journey rather than the completion of one.
"You are now part of the special profession. Nurses play a vital role with the sick and the vulnerable. The outcomes of our work can have immense effect on patients, families, recovery and wellbeing," O'Connell said. "Your education and nursing degree has prepared you well to deliver care using the best available evidence, to use health data, to drive decision making and to manage the changing world we live in."