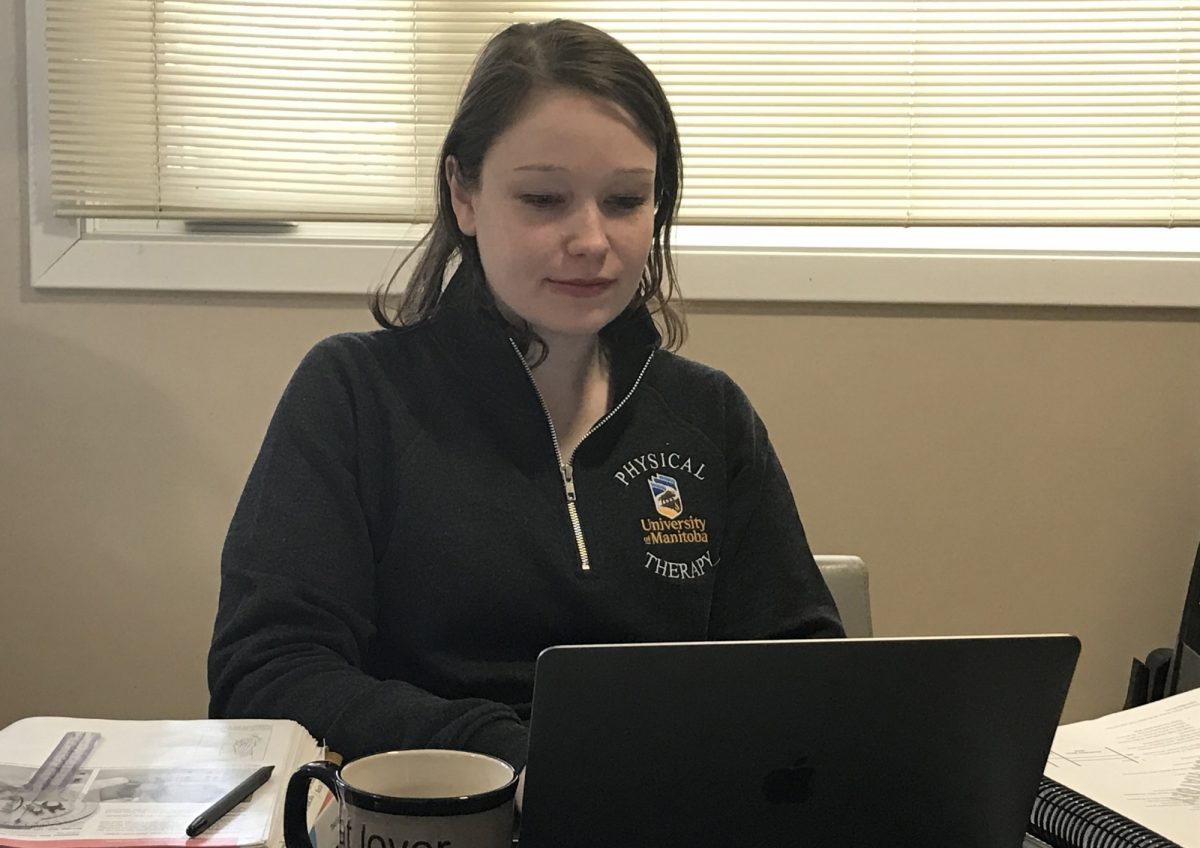 Physical therapy department revamps clinical exams to ensure graduation
April 29, 2020 —
When the COVID-19 pandemic hit Manitoba in March, UM students were soon facing a "new reality" of online exams from home. For some health-related programs, where students also needed to be tested on practical skills to graduate, it was particularly challenging.
Students in the physical therapy program at the College of Rehabilitation Sciences, Rady Faculty of Health Sciences, were set to start exams on the week of March 16. But when the university announced March 13 that classes would be cancelled for two days while alternate forms of instruction were explored, the department had to find a new plan to deliver four sets of exams to 100 students spread over the program's two years.
"We were fortunate in the sense that we were already using UM Learn for all our written exams, so planning the written exams was easy," said physical therapy associate professor Brian MacNeil.
He noted the program's exams had been proctored on locked down computers in classrooms at the Bannatyne campus for the last few years. Students now had to do the exams at home, but still using the same software that locks messaging and Internet usage while the exam was in progress.
"The tricky part was the clinical exams," he said. Normally these exams are taken at the Clinical Learning and Simulation Facility, a state-of-the-art sim lab designed and equipped to mimic an actual hospital ward. "Our clinical exam process usually takes two days to get all our students through six stations of clinical scenarios, where they go in and assume the role of physiotherapist, assessing standardized patients, who are actors trained to portray specific ailments."
The department had only days to decide how to continue the exams, all while the simulation facility was closed and no trained actors were available. Quickly, faculty members were tasked with new roles as standardized patients, camera operators and editors, as they produced a series of videos that could be viewed online.
"Our faculty had to play the roles of patients and students, while our students evaluated them, rather than showing off their clinical skills as they usually would," he said. "There were five faculty members appearing in videos and others, such as myself, processing the videos and reworking into the UM Learn format. It was very much a team effort."
Faculty member Sarah Conci, who was involved in designing the scripts and questions, as well as playing the role of a student, said that once the change of focus was decided on, the videos came together quickly.
"It was a real mindset-shift to go from them demonstrating their skills and us observing to the reverse," she said, noting that it wasn't too much of a stretch for her to appear on camera. "We do a fair bit of role-playing normally, especially in clinical teaching, so that part wasn't unusual for me."
Second-year student Lisa Haydey said she appreciated the different perspective that was offered by the evaluation videos.
"Normally we're focused on how to perform the technique correctly, whether it is mobilizing a joint or helping someone transfer into a wheelchair, but this required us to visually recognize correct or incorrect techniques and then translate that into words," Haydey said. "I think it's great practice for when we graduate and mentor students ourselves, because it's one thing to be able to perform a skill correctly, but another to analyze someone else's performance of that skill and talk about it."
Haydey noted that the usual exam, called an objective structured clinical examination (OSCE), is an important part of the program and prepares students for a national exam that is required for them to graduate and become licensed physiotherapists. Normally, students take the exams twice in both their first and second year.
"Being exposed to the format repeatedly ahead of time is a major bonus going into the national exam," she said. "But I have total trust in our faculty and I was really amazed as to how quickly they adapted our program to the situation."