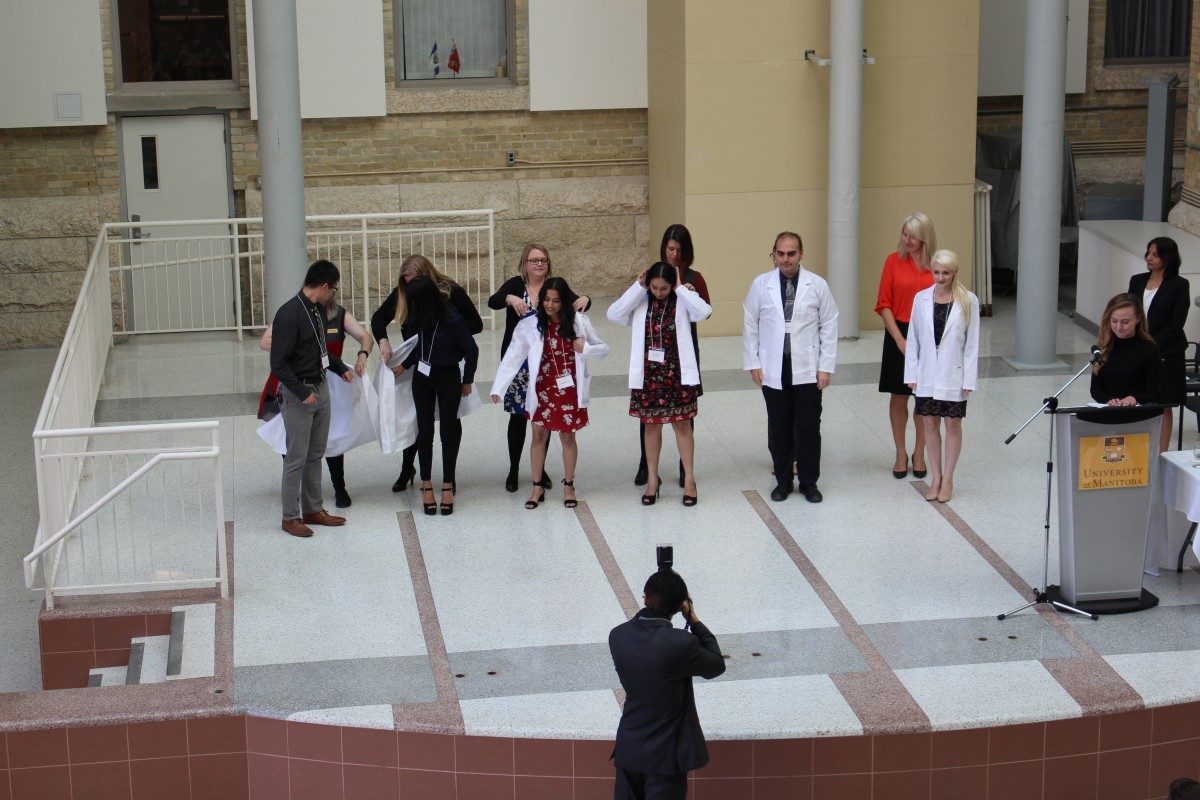 Pharmacy White Coat Ceremony
October 5, 2017 —
The College of Pharmacy, Rady Faculty of Health Sciences, welcomed 54 first year students Sept. 29 with a white coat ceremony in which they donned the mantle of their profession.
Though still at the start of their journey to a career in pharmacy, keynote speaker Dan Sitar (Pharm/66 and Pharmacy Alumnus of Distinction/17), advised that it is never too soon to start thinking about their patients.
"The greatest skill you will need is critical thinking," he cautioned. When he started in the profession, no one could have imagined the birth of the internet – often a go-to source for those nervous about their illnesses and prescriptions. "But remember, information is not the same as knowledge. Your patients will bring you less critically evaluated information. It will be your job to help advise them."
First-year student Snimar Bali is looking forward to every minute of it. "Ever since I was little, I knew that I wanted to be involved in a profession that was going to bring happiness and comfort to others," said Bali, recipient of the William G. Eamer/College of Pharmacists Manitoba Undergraduate Scholarship. "Pharmacy seemed like the perfect fit for me."
She's also excited about entering a career that can grow with her as her interests and needs change. "All these opportunities for pharmacists mean that people of this profession can stay flexible, pursuing the career that will respond to all their requirements related to their interests, schedule or other lifestyle choices."
Cole Janke, also a first-year student, says he's grateful to be recognized, but he doesn't plan to rest on his laurels. "It was a relieving, feel-good moment to be officially inducted into the College of Pharmacy," said Janke, who received the Marguerite Hulme Scholarship in Pharmacy. "At the same time, being surrounded by so many accomplished individuals, friends and family reminded me that there is a long road ahead and I will have to keep up my efforts if I want to grow as a person and make a difference in the health-care field."
First-year award recipients include:
Snimar Bali – William G. Eamer/College of Pharmacists Manitoba Undergraduate Scholarship
Marynea Bautista – Pharmacy Class of 1966 Scholarship
Cole Janke – Marguerite Hulme Scholarship in Pharmacy
Sarah Landry – Pharmacy Class of 1966 Scholarship
Awards for pharmacy students in later years of their studies will be presented at the end of October.