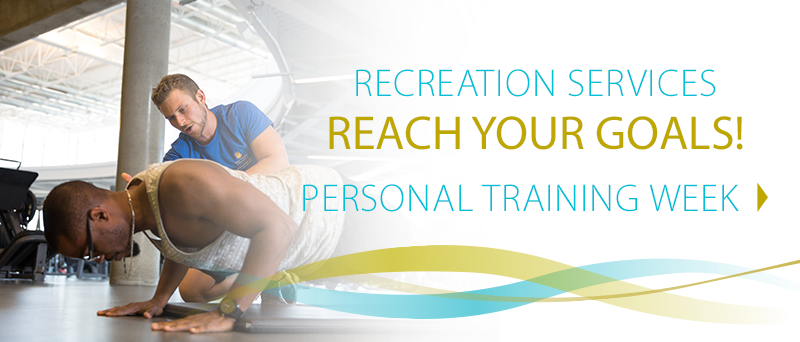 Amp up your routine with personal training week
September 29, 2016 —
Recreation Services would like to invite you to take advantage of the Personal Training Week promotion from Oct. 3-7.
All new and current clients will receive 15 per cent off of all purchases during the week, and will also be entered into a draw to win a package of three personal training sessions.
Stop by on Tuesday, Oct. 4 between noon – 1 p.m. in the Active Living Centre (by the third floor fitness attendant desk) for a Q&A session with one of our personal trainers and have your fitness questions answered by a professional.
Join us for a sample HIIT workout on Thursday, Oct. 6 from 12:10 p.m. – 12:45 p.m. (third floor Active Living Centre) to see how a personal trainer can amp up your routine.
Personal training can help improve the quality of your workouts and therefore can improve your fitness results compared to self-directed exercise. Some of the benefits of personal training include:
Accountability
Efficiency
Personalization
Safety
Variety
Routine
Results
Take advantage of this promotion to invest in yourself and book a session with one of our certified personal trainers. For more information on our personal training and assessment programs, please call 204-474-7976 (Fort Garry campus), 204-789-3858 (Bannatyne campus) or visit us at uofmactiveliving.ca.