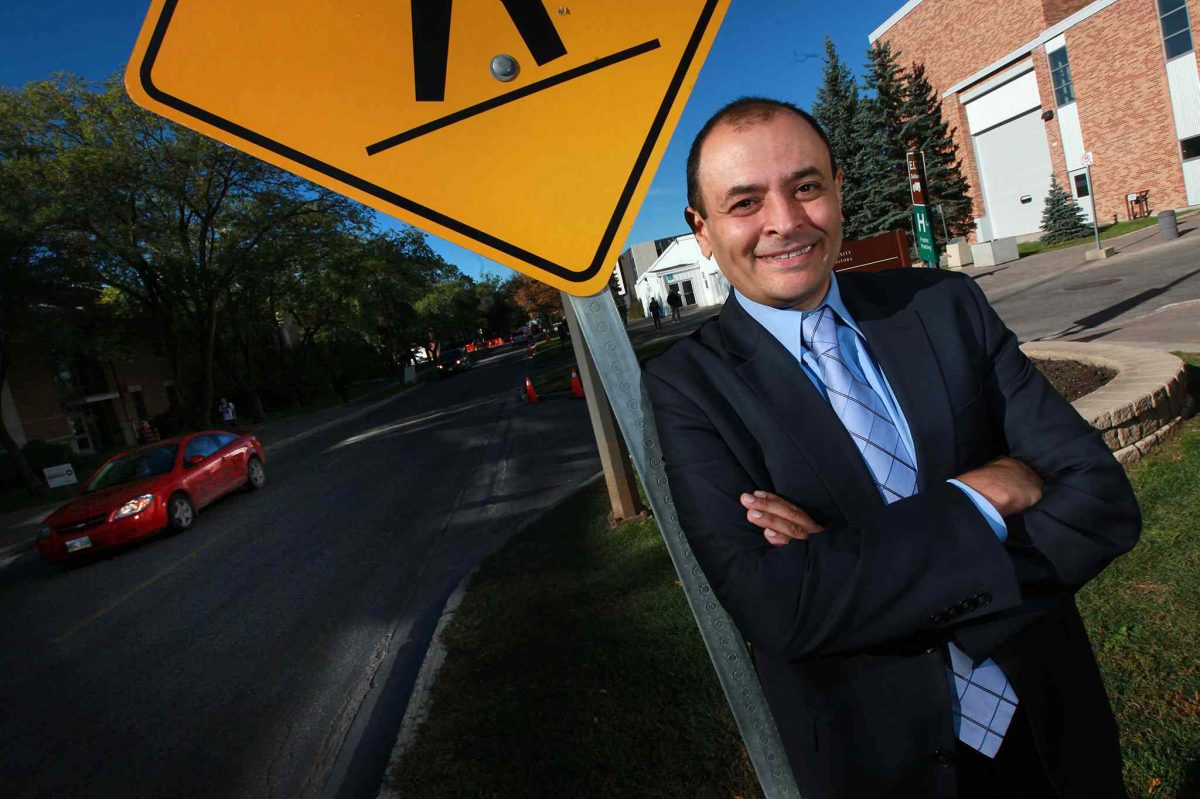 Paving a better way, Province and City support new chair in municipal infrastructure
October 25, 2016 —
The Province and City of Winnipeg today announced funding for a new research chair at the University of Manitoba that will build better, more efficient city infrastructure.
Ahmed Shalaby will hold the new Municipal Infrastructure Chair. He is a professor of civil engineering who specializes in pavement design and highway materials. In this new role he will focus on improving the materials and design of municipal infrastructure elements, ensuring roads are built at optimal life-cycle cost with the most appropriate and innovative materials. You can read more about Shalaby's role here.
"I'm honoured and excited to begin this research program," Shalaby says. "This is a great opportunity for my students, my fellow researchers and myself to work closely with our research partners: the Province of Manitoba, the City of Winnipeg, and 14 construction industry contractors and suppliers. Together, we will advance the ways we design, build, and repair municipal infrastructure. This is a truly exciting time."
The Province is providing $500,000 over five years to support the new chair, and the City is providing $250,000 over five years. Fourteen Construction Industry contractors, suppliers and associations are also partners in this innovative program, contributing $255,000 in funding to the chair.
"Investing in infrastructure and education helps build the foundation of a stronger economy," says Manitoba Infrastructure Minister Blaine Pedersen. "This initiative will directly contribute to our goal of becoming Canada's most improved province. We're pleased to support the University of Manitoba in appointing a new Municipal Infrastructure Chair and would like to congratulate Professor Ahmed Shalaby on his new role."
The chair and its partners will work together to develop and test innovative solutions that will extend the life and durability of infrastructure, improve and harmonize design and construction practices, and reduce the risk of implementing new innovations to infrastructure owners and contractors.
"My commitment to help establish a Municipal Infrastructure Chair with the University of Manitoba was to support and help further the leading edge research and technology developments that have been undertaken for many years," says Mayor Brian Bowman [BA(ADV)/96]. "I look forward to building on our many years of research partnerships with the University of Manitoba, in our quest to find more efficient, cost effective solutions to our infrastructure challenges that will benefit our City now and into the future."
The Municipal Infrastructure Chair will accelerate research and development in the areas of design, construction, maintenance, and management of municipal transportation infrastructure including roads and active transportation facilities.
"We are thankful for the support of our local governments and community partners for the University, and appreciate their confidence in the ability of our researchers to contribute to a prosperous future for us all," says Dr. David Barnard, president and vice-chancellor at the University of Manitoba. "Professor Shalaby and his students are now better equipped to ensure we build our cities with the best materials in the best ways to achieve optimal long-term gains."
The new chair will also offer specialized training opportunities for engineering students and professional engineers, and increase the supply of highly-qualified professionals to the job market.
Research at the University of Manitoba is partially supported by funding from the Government of Canada Research Support Fund.