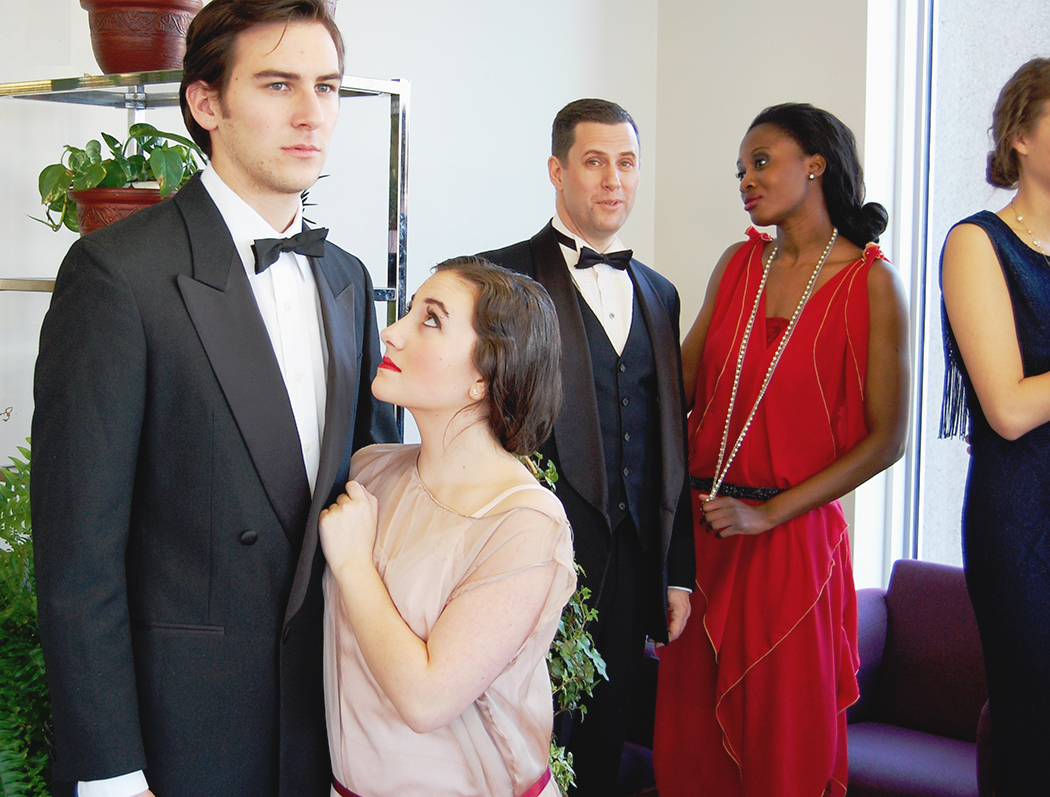 Party games: 'Glittering comedy' charms the stage for CowardFest
January 26, 2015 —
Playwright Noël Coward called it "far and away one of the most difficult plays to perform" — but according to Margaret Groome, professor in the department of English, film, and theatre, this "glittering comedy" about charming people acting badly is also one of his best-loved, a "perennial favourite."
The play is Hay Fever, and the Black Hole Theatre's production opened Friday at the Gas Station Theatre as part of CowardFest, MTC's annual Master Playwright Festival. It's directed by Groome, a Coward expert and aficionado who will give the introductory lecture for the festival on Wednesday, Jan. 28. Hay Fever continues until Jan. 31.
---
WE ARE GIVING AWAY TWO PAIRS OF FREE TICKETS TO A FRIDAY OR SATURDAY PERFORMANCE. FOR MORE INFORMATION, SCROLL DOWN TO THE END OF THE STORY (AFTER READING IT, OF COURSE).
---
Between its dazzlingly quick pace and strict form, the play's intricacies come down to technique, says Groome. "Every single word counts and can make a difference, if it's not exactly right. And the pacing is very particular. Coward has actually spoken about his plays being like music, and there's a kind of rhythm there that you have to find and respect or you won't capture all of the comedy."
The oft-quoted description of Hay Fever as "a comedy of bad manners" is tempered by English critic John Russell Taylor's observation that the characters' lives "go on under and behind and around what they are saying."
These larger-than-life characters have to be believable, Groome says, which adds to the challenge of performing the play.
Party games: A favourite scene
There's a delicious scene in Hay Fever that epitomizes Coward's style, says Groome. The play begins with the arrival of weekend guests at the Bohemian Bliss family's country home, and Act 2 opens with an after-dinner scene — "they're all in glamorous gowns and tuxedos and it moves very quickly," she says. "It's an after-dinner game, a party game … and much of his work deals with … game-playing and social games."
The play is at its highest point, she continues, "and it's high, high comedy." The gathered assembly start to play a word game, an adverb game — "one person goes out of the room and they decide on an adverb and when the person comes back, they have to do something in the manner of the word."
Groome notes that Hay Fever originated in just such a game, experienced by Coward while visiting New York in his early twenties. At the home of former actress and socialite Laurette Taylor, guests played after-dinner games — "and the games would go awry; the guests would be confused. Laurette Taylor and her family would yell and [guests] would feel incredibly uncomfortable and then often the family would storm out of the room, leaving the guests totally confused.
"Then the family would be found later — [after] having been shrieking at each other — all just sitting happily together playing bridge or something," laughs Groome.
Coward decided this "would make a marvelous core situation for a play — and that he should write it before anyone else does did. And he went ahead, and that was the genesis of Hay Fever."
The scene is, according to Coward himself, "to be played at lightening speed," and as Groome says, although difficult, "it's the kind of scene that, when you get it working … it's great fun for the actors to play it and it's riotous fun for the audience.
"It took a lot of hard work for the actors, to get it at pace. And there's a showstopping moment, in the middle of it, but I won't give that away."
The characters and subtext
It's not just all superficial, says Groome. These over-the-top characters have layers to them.
"The family are hiding behind masks, and these personas that they've created. They rely on glamour — they really are afraid to face the realities of life. But now and then, some realities peek through."
Groome calls the "self-dramatizing" Judith Bliss, a recently-retired actress (modeled on Laurette Taylor), a prime example. Judith, she says, "takes everything into drama, melodrama and layers of melodrama — all the way to playing a scene from a melodrama she used to perform. But then moments of reality peek through, where we see her vulnerabilities about growing old.
"She has a wonderful line, 'If you troubled to look below the surface, you'd find a very wistful and weary spirit. I've been battling with life for a long time.' Judith admits this, and immediately goes back into self-dramatization," says Groome.
Despite the play's quick clip, high comedy and melodramatic characters, says Groome, there is subtext — and that's partly what makes Hay Fever challenging. "Negotiating all of these technical demands and the comedy and the timing of the comedy, yet developing these characters which are convincing in their eccentricities and over-the-top reactions to things, is extremely demanding."
 The surprise and delight of Coward's work
This tension exemplifies Coward's "wonderful range," says Groome, which is what she loves about Coward. "You have these glittering comedies but they're not just on the surface — there are characters that are larger than life — but they have to be believable. They do reflect genuine vulnerabilities and concerns, in among their self-obsessions.
"And they're charming characters, although they treat people badly — there's all of that," she says.
But she first came to Noël Coward through his songs.
There are satirical songs as well as ballads that are very bittersweet, she says, citing examples such as "Someday I'll Find  You," "I'll Follow My Secret Heart" and "I'll See You Again."
"There's a real nostalgia there, and a subtle, quite subtle, and sophisticated sense of the challenges of living in the twentieth century."
Coward's screenplay, Brief Encounter, "a brilliant, brilliant piece of writing, adds Groome." The 1945 movie starring Celia Johnson and Trevor Howard — the Guardian called it the best romantic film of all time —  is being shown as part of the festival.
"To look at someone who can write Hay Fever or Private Lives and then Brief Encounter — there's a far greater range than I think people give Coward credit for," Groome says. "When his name is mentioned, people sometimes think, 'Oh, well, a conservative, he's out of date; [these are] drawing room comedies, they don't really have anything to say to us.'"
But his ouevre is wide-ranging, she says.
"Within the glittering comedy, you really do have wider concerns. [The song]  "World Weary" describes a sense of the ennui with this glittering life — he both portrays a glittering life and is showing its emptiness, its hollowness."
The Black Hole production
The Black Hole production is a visual feast, says Groome, with glamourous 1920s costumes and a "glorious" set — "the best set, I think, we've ever had."
In it, the audience can see "some wonderful young actors who've really taken full grasp of these challenges and have risen to the occasion," she notes. "The actors give fine, polished performances. We also have a marvelous production team and the production values are just superb."
Groome says the audience "will come out feeling they've really enjoyed themselves. There's a lot to feast the eye upon — as well as this wonderful, glittering comedy.
"And then you just hope — it's almost at the subliminal level — that these realities will have peeked through. They're not meant to hit the audience in the face. But they are meant to be there to give texture and give the play depth."
–Mariianne Mays Wiebe
 ***
Hay Fever runs the Gas Station Arts Centre, 455 River Avenue in Osborne Village, until Jan. 31.
Upcoming showtimes:
Tuesday, Jan. 27 – 7 p.m. (talkback follows)
Wednesday Jan. 28 to Saturday, Jan. 31 – 8 p.m.
Saturday, Jan. 31 – 2 p.m.
Tickets: $15, $12 Students and Seniors
Tickets can be purchased at the door or in advance.
For reservations and group discounts contact the 24hr Box Office at 204-474-6880.
---
FREE! TICKETS! GIVEAWAY!
That's right, folks! We're giving away two pairs of free tickets to your choice of one of these performances at the Gas Station Theatre:
Friday, Jan. 30, 8 p.m.
Saturday, Jan. 31, 2 p.m.
Saturday, Jan. 31, 8 p.m.
Here's how to enter for your chance to win one pair of FREE tickets:
Add a comment to the story — telling us if you've ever been to a Black Hole Theatre performance before. If you have, tell us which one. If not, tell us why you'd like to go to this play!
>> Hint: There is no wrong answer. It's a random draw that doesn't depend on the nature of your anecdote or comment.
The draw:
Takes place Friday at noon.
The two winners will be announced online and contacted via email with more information.
---