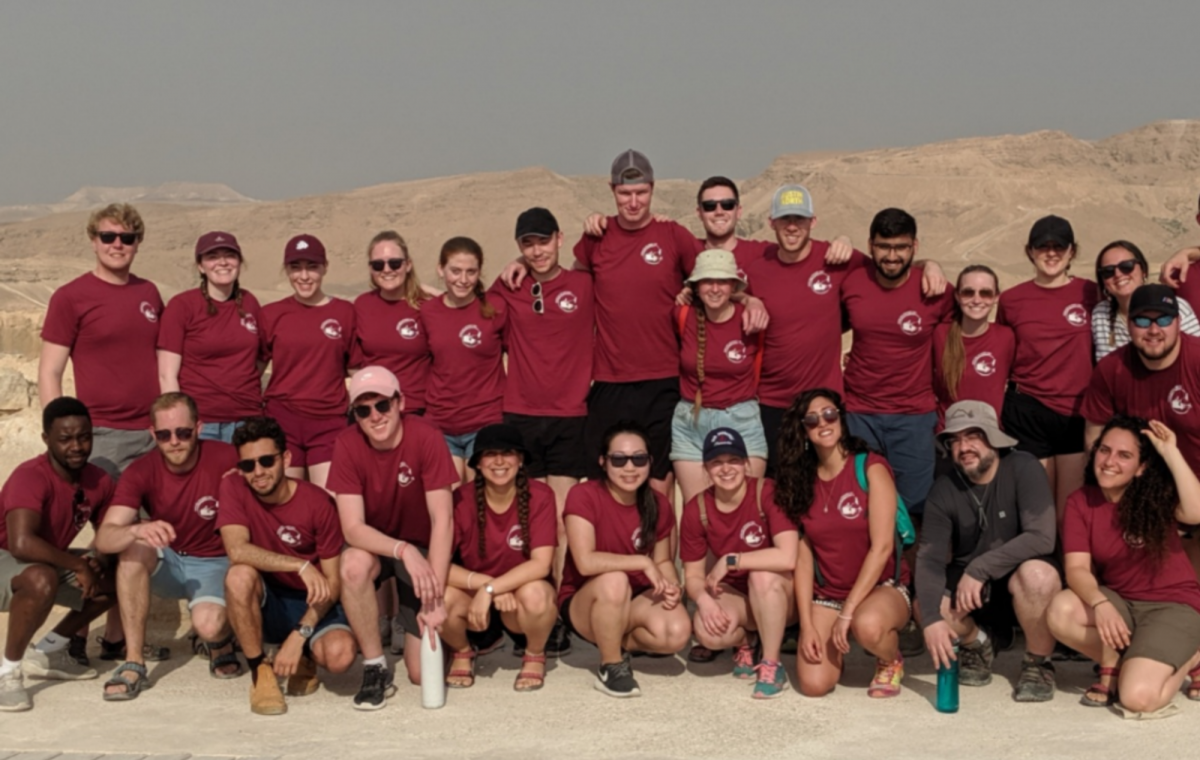 Pandemic-inspired initiative enhances Asper global connections
ATSEP Connect initiative finds ways to keep alumni connected virtually
May 10, 2022 —
While the pandemic kept many of us confined to our homes and limited our ability to make new connections over the last two years, the Asper School of Business Arni Thorsteinson Study Exchange Program to Israel (ATSEP) found ways to keep alumni connected. ATSEP allows Asper students to participate in an annual academic and cultural exchange with the Guilford Glazer Faculty of Business and Management, Ben-Gurion University of the Negev in Israel.
"ATSEP is more than just a class, and it's more than just a trip" says Amber Pohl, Exchange Coordinator and ATSEP Lead at Asper. "It's all of these community initiatives that have been built over the years… It's a once in a lifetime thing for our students."
Thanks to a generous donation from The Gerald Schwartz & Heather Reisman Foundation, Asper is able to subsidize a significant amount of students' travel costs to Israel, as well as corresponding accommodation and some meal costs while studying in Canada and Israel.
When the pandemic hit, university exchange programs around the globe were cancelled for safety purposes and students were sent home. ATSEP was one of the many exchanges to be postponed due to the pandemic, and keeping people engaged and connected without in-person activities was a challenging process for Pohl. But she also saw opportunities to engage alumni from this group in exciting new ways that spanned across the globe.
Pohl created the ATSEP Connect initiative to allow individual alumni to connect virtually. Program alumni from different cohorts leading back to 2008 were paired up based on mutual professional and personal interests. Students were able to meet online across the two countries and make connections over things they had in common.
"We've made some really successful connections, matching almost 60 alumni across Canada and Israel this year," says Pohl.
One match was Asper alumna Paige Small [BComm(Hons)/19] and Ben-Gurion alumna Amit Kataby.
"Paige and I connected through our love of well-being," says Kataby, a 2009 ATSEP participant from Israel who connected online with Small, a 2019 participant.
"It has been great to bond with Amit over our shared ATSEP experience, and to learn about her passions in life and work," says Small. "I'm so grateful to ATSEP for creating an environment of ongoing collaboration, connection, and learning."
Pohl plans to retain the initiative even when in-person activities return as a strategy of connecting alumni from Winnipeg and Israel, an ideal way to maintain the sense of international community built during the program even after it ends.
ATSEP is scheduled to return in August 2022 for the first time since 2019. Participants will take Leadership and Cross Cultural Management, a customized course taught by Asper Associate Dean and James W. Burns Leadership Institute Director Dr. Suzanne Gagnon for the duration of the program — which is spent in Winnipeg, Toronto, and Israel. Past programs included industry visits to ONEX, Google, Intel, and Soda Stream. Cultural and tourist activities have included museum visits, a weekend retreat to Clear Lake, and swimming in the Dead Sea.
"Participating in ATSEP was an amazing experience that has lasted far beyond the initial exchange," says Small. "I feel so lucky to be part of this community."
—