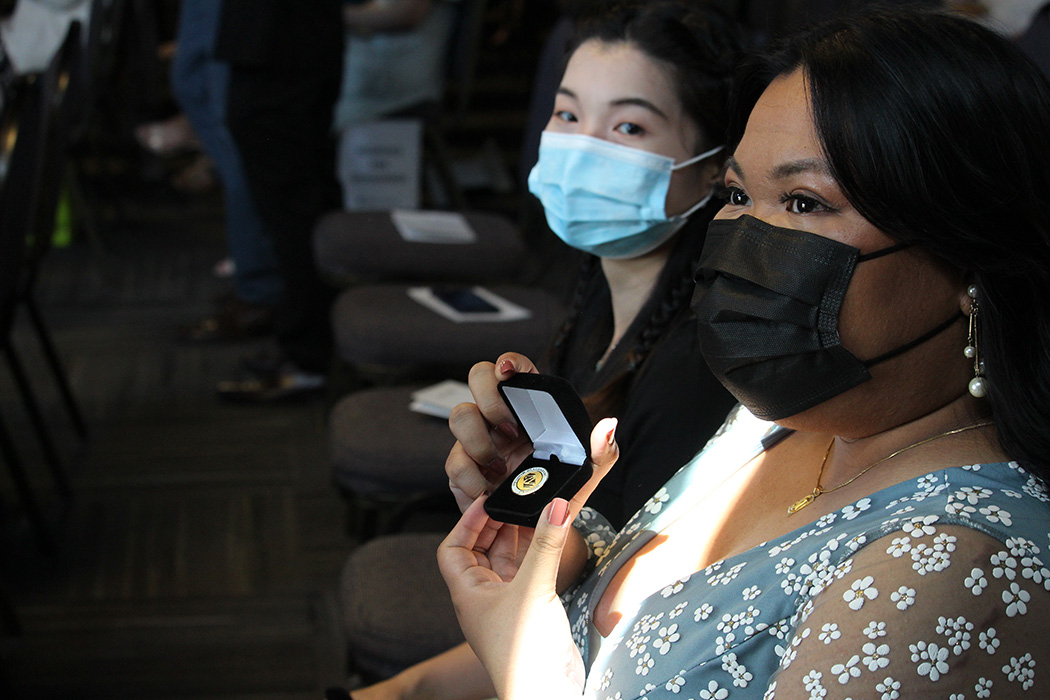 Over 100 new nurses graduate, join profession at Pinning Ceremony
June 15, 2022 —
For the first time in over two years, the University of Manitoba's newest nursing graduates were welcomed to the profession at an in-person ceremony on June 9.
The annual Pinning Ceremony is organized by the UM Nursing Students' Association (NSA) and the College of Nursing, Rady Faculty of Health Sciences. This year, 106 new graduands received their nursing pin and recited the UM Bachelor of Nursing Pledge, which was inspired by the 1893 Florence Nightingale Pledge and has been adapted by the university.
The event, held at the Pinnacle Club at IG Field, was emceed by Dr. Netha Dyck, dean of the College of Nursing, and included greetings from the Province of Manitoba's Hon. Jon Reyes, Minister of Advanced Education, Skills and Immigration and Hon. Audrey Gordon, Minister of Health.
"The job you're about to embark on is not an easy job. It often requires long hours imposing great physical and emotional demands. Manitoba has recognized that those challenges increased during the COVID-19 pandemic. However…it is a rewarding and fulfilling career," Gordon said.
Other speakers included Lanette Siragusa, vice-dean, education for Rady Faculty of Health Sciences, Joyce Kristjansson, acting executive director of the Association of Regulated Nurses of Manitoba, and Class of 2022 valedictorians Zachary Rawluk and Gary Regis.
"I cannot imagine another cohort of students that has lived through what you have lived through," Siragusa said. "Besides the pandemic, there has also been social unrest, historical trauma that has been unearthed, and now a war in Ukraine. You are graduating at a time of monumental history for all of us collectively."
College of Nursing instructor Danielle Yaffe received her third consecutive teaching excellence award, which is awarded twice annually by the NSA.
Yaffe said, in a keynote address, that she was reluctant about online teaching when the pandemic hit and thanked the students for making the transition easier. "You changed my perspective, ultimately proving me wrong. You were the light in the darkness and reignited my passion for teaching by engaging and connecting."
The 106 BN graduands and four master of nursing graduands received their degrees that afternoon at UM convocation at the Investors Group Athletic Centre.
Honorary degree
The University of Manitoba conferred an honorary Doctor of Laws degree on retired nursing leader Jan Currie at convocation. She called the new nursing graduates "pioneers" for the way they adapted the majority of their education during the COVID-19 pandemic.
"New processes, new roles and a general disruption of your education will always be what you remember that led you to today," she said.
Currie also reflected on how interprofessionalism and gender equality have evolved in health care over the 50 years since she received her UM bachelor of nursing degree.
She said that when she graduated, the bachelor degree program was new and it wasn't easy for grads to get jobs in hospitals, as those facilities often had their own diploma programs and would usually hire from within.
She thanked the two "visionary nurses" – Diane Letwin and UM alumna Doris Setter – who hired her for her first position at the rehabilitation hospital at what is now Health Sciences Centre.
"They took a chance on me and influenced my success from that day on. We never know how significant it can be to give someone a chance," Currie said.
Currie went on to administrative roles as a head nurse and program manager, and later advanced to executive roles as CEO at Deer Lodge Centre and vice-president and chief nursing officer at the Winnipeg Regional Health Authority. She has won many awards and remains committed to providing service to the community. She currently serves as a member of the College of Nursing Advisory Council.
The ceremony also included two Distinguished Professor Awards for College of Nursing faculty members Dr. Tom Hack and Dr. Roberta Woodgate.