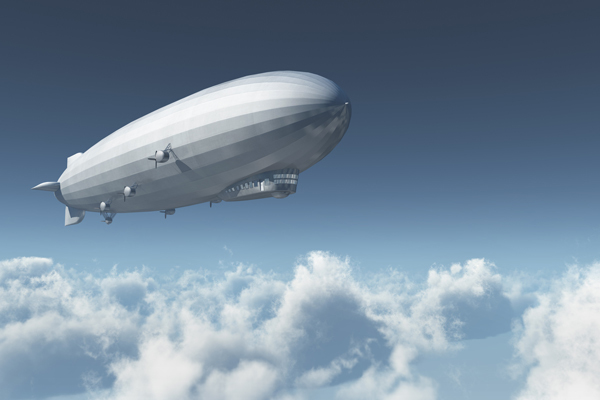 Op-ed: Transport Canada 2030 strategic plan missing a key plank
February 24, 2021 —
The following is an op-ed written by Barry Prentice, professor of supply chain management in the Asper School of Business. It was originally published in the Hill Times on Feb. 22, 2021.
In 1936, Prime Minister William Lyon Mackenzie King observed "that if some countries have too much history, we have too much geography". Transportation accessibility is a chronic problem for northern Canada. When Mackenzie King made this statement, giant airships were still flying across the Atlantic Ocean. 84 years later, similar airships could play an important role in the national strategy for transportation, as set out in the five themes of the Transport 2030 vision.
Economically, Canada is like two countries. About 30% of the landmass has low-cost access by all modes of transport and a highly developed economy. The other 70% is an impoverished frontier that depends on seasonal ice roads for inland transport and annual sea lifts for communities on the coast. Transport 2030 addresses this area under the theme "Waterways, Coasts and the North".
Enhancing Northern transportation infrastructure is a stated goal of this theme. The challenges are costs and climate change. On average, construction costs $3 million per kilometre to built gravel roads in the Canadian Shield and the Arctic. Just to convert the ice roads to gravel in Ontario would cost over $1 billion. The large number of ports required in the North is similarly unaffordable.
Lack of reasonably-priced, year-round cargo transport leads to dire living conditions in the remote northern communities. The pandemic has shone light on its consequences. Food insecurity, overcrowded housing and underlying health problems (diabetes, mold aliments, tuberculosis) make this population extremely vulnerable to Covid19. Without a change in transport, these terrible conditions will persist.
Cargo airships could provide year-round service and cut freight costs in half. This would enable housing construction to continue throughout the year and make nutritious food affordable. The Government of Canada spends over $100 million each year to subsidize the transport of food to the North, and food prices are still sky-high.
"Green and Innovative Transportation" is a second theme of Transport 2030. Electric airships powered by hydrogen fuel cells can carry tractor-trailer loads with zero carbon emissions. Some ground infrastructure is needed, but the footprint in the North would be minimal. Airships are a green technology that will create new supply chains for investment and employment.
Climate change is demanding action on adaptation. Since 2000, the ice roads have lost half their season and the risks of accidents are increasing. Even existing roads and landing strips are under threat as permafrost zones become more active. Impassible sections of sinking and buckling infrastructure are disrupting Northern transport as the climate becomes warmer.
"The Traveller" theme focus is on air passengers who want greater choice, better service and lower costs. Nowhere in Canada is better air service more pressing than in the North. An air ticket to Churchill, Manitoba costs more than a flight to France. Combi-airships that could carry passengers with freight could provide this service at less than half the cost of current airlines.
The "Trade Corridors to Global Markets" theme speaks to transport's role in growing the economy. Known mineral deposits that dot the North could be opened up using airships to gain access. This would bring prosperity to the North, and mineral exports would contribute directly to the balance of payments.
Ocean-crossing airships could also establish new international trade corridors. For example, airships could deliver fresher fruits and vegetables from the Caribbean and South America. And, on the return trips deliver Canadian agricultural exports to these tropical populations.
"Safety" is the final theme. Contrary to popular myth, airships are inherently safe. Yes, accidents occurred during the 1930s, but technology has come a long way in the last 9 decades. Airworthiness regulations guarantee that only safe aircraft are permitted to fly.
Airship technology can provide the basis for a strategic plan that offers a safe, green, innovative and integrated transportation system that serves the whole nation. Transport 2030 has five themes, and combi-cargo airships check all the boxes.
As our current Prime Minister, Justin Trudeau, observes "The way to build a strong future is by both protecting the environment and creating good jobs." Electrically-powered cargo airships meet this criterion. They should be included in the Transport 2030 policy vision for the future of transportation in Canada.