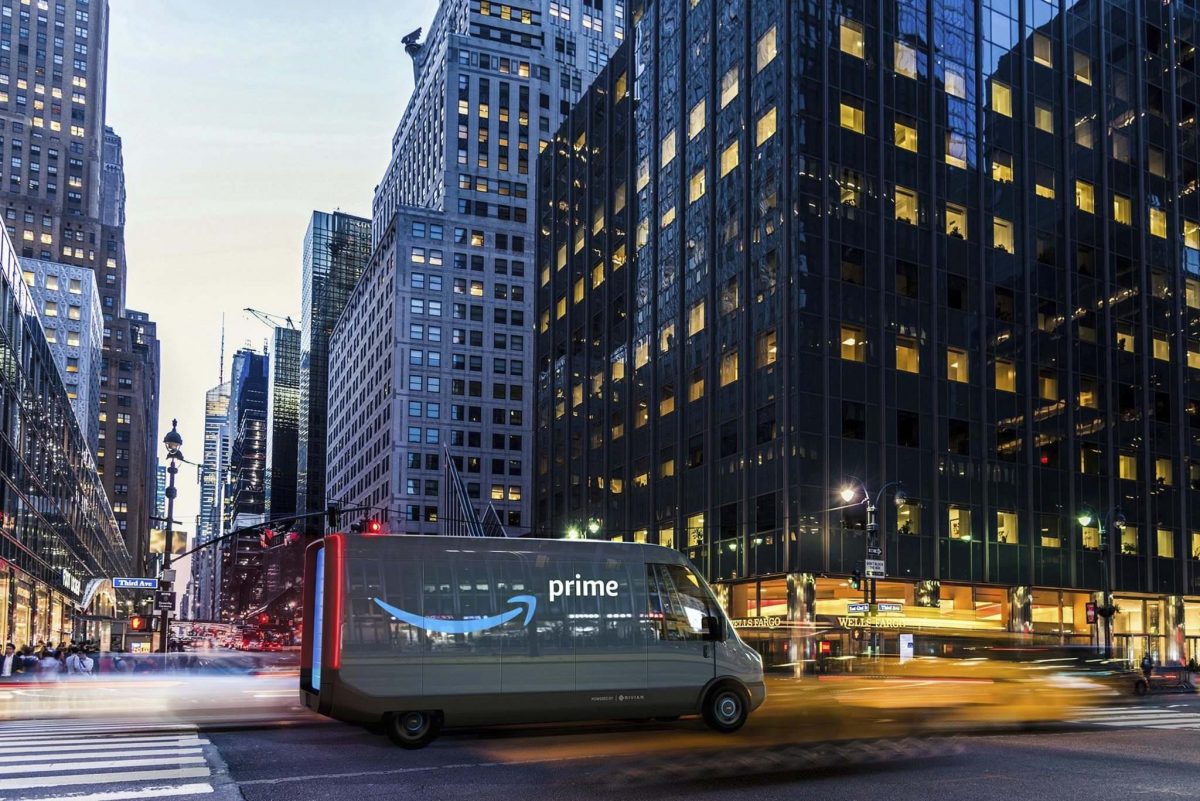 Op-ed: Driving toward a rechargeable world
February 25, 2020 —
The following is an op-ed written by Nazim Cicek, professor and associate head of the department of biosystems engineering at UM. It was originally published in the Winnipeg Free Press on Feb. 25, 2020.
An artist's rendering shows an electric delivery van. Amazon announced last September it has ordered 100,000 electric delivery vehicles from Rivian. Delivery of the custom vans is scheduled to begin next year.
The 2019 Nobel Prize for chemistry went to three scientists who were instrumental in the development of the lithium-ion battery. The Nobel committee credited them for creating a "rechargeable world" by allowing the powerful lightweight batteries to be used not just for mobile electronics (such as phones and laptops), but also for applications in transportation (electric vehicles) and energy storage for renewable but intermittent sources of electricity, such as solar and wind.
When we finally ordered our first electric vehicle last fall, what tipped the balance for our family was that the Hyundai Kona EV had a range of 420 kilometres per charge, thanks to its 294 packs of lithium based-batteries, and was relatively affordable. The cost of batteries has dropped by a staggering 87 per cent (from $1,183/kWh to $156/kWh) in real terms over the last 10 years, making electric vehicles with long-range capabilities much more affordable for families like ours.
It is expected that the cost of batteries will further drop below $100/kWh by 2023, due to efficiencies in mass production, process optimization and technological improvements.
This has driven a profound and unprecedented transformation in vehicle electrification. Beyond the headline-grabbing stock market valuations of Tesla, announcements from General Motors, Ford and Volkswagen on new manufacturing facilities devoted 100 per cent to electric vehicle production drive this point home.
Battery electric pickup trucks by GM and Ford should be on the market in 2021, while 27 new electric models are going to be offered by VW over the next three years, including the iconic VW microbus.
Amazon, now the world's largest retailer by some measures, has recently announced that it will order 100,000 electric delivery vans over the next 10 years, with the target of 10,000 on the road by 2022. These will be produced by Rivian (in which Amazon is a major investor), which markets itself as a maker of electric SUVs, pickup trucks and delivery vans.
UPS announced recently that it placed an order of 10,000 delivery vans from new electric vehicle maker Arrival (in which UPS is a minor investor).
These developments pale in comparison to the fastest-growing segment of electric vehicles: battery-electric transit buses. Although China has dominated this segment, with over 400,000 e-buses on the road, it seems not a day goes by without an announcement by a major city in Europe or North America of an order of electric buses or a pledge to fully electrify their fleet in the near future.
The city of London, with its signature red double-decker buses, has recently announced the purchase of 78 battery-electric double-decker buses, and has pledged to be fully zero-emission across its entire fleet by 2037. London currently boasts of 200 electric buses, which are lauded by their ridership for allowing a smoother, quieter ride and providing USB charging at each seat.
In January, King County Metro in Seattle announced its order of 40 new electric buses from New Flyer Industries (NFI), with plans of ordering 80 more next year. This marked the largest electric-bus order for NFI, which is headquartered in Winnipeg. The city of Seattle aims for a zero-emission fleet by 2040. Similarly, the city of New York purchased 15 battery-electric buses and 16 fast chargers from NFI and is committing to purchasing only electric buses by 2029.
The largest Canadian orders for NFI battery-electric buses to date have come from Montreal and Laval for 40 such vehicles, and from Toronto for 20 electric buses and depot chargers. Depending on the options chosen, the latest NFI electric buses (variations of the "Xcelsior Charge") have a range of 120 km to 360 km per charge, allowing night-time depot charging for the entire duty cycle.
NFI has a new division (New Flyer Infrastructure Solutions) dedicated to the sale and installation of charging stations for its electric-bus customers.
The federal government has laid down a marker in this area through the prime minister's mandate letter to the minister of infrastructure and communities on Dec. 13, in which specific direction is given to "ensure that new federal investments in public transit are used to support zero-emission buses and rail systems starting in 2023 and work with municipalities to address any exceptional circumstances."
This should mean added financial resources from the government of Canada to enable this transition.
When it comes to the transit fleet in Winnipeg, the home of North America's leading bus manufacturer, isn't it time for the three levels of government to come together around a fully electrified transit fleet? Considering that each electric bus would be equal to taking 40 gasoline vehicles off the road, the environmental benefits are obvious, let alone the wider economic benefits of using locally generated electricity over imported diesel.
In Manitoba, the fastest way to reduce greenhouse gas emissions is through electrification and efficiency improvements. We should strive for deep electrification in all aspects of society, whether in home heating (through air-source or ground-source heat-pumps and electric water heaters), transportation (electric cars, trucks, buses, tractors, vans, recreational vehicles) or industrial and commercial activities.
A public sign of transitioning to a "rechargeable world" could start with a commitment to a fully electric transit fleet in our own city. It will be a point of pride for our community and a source of inspiration for future innovation.