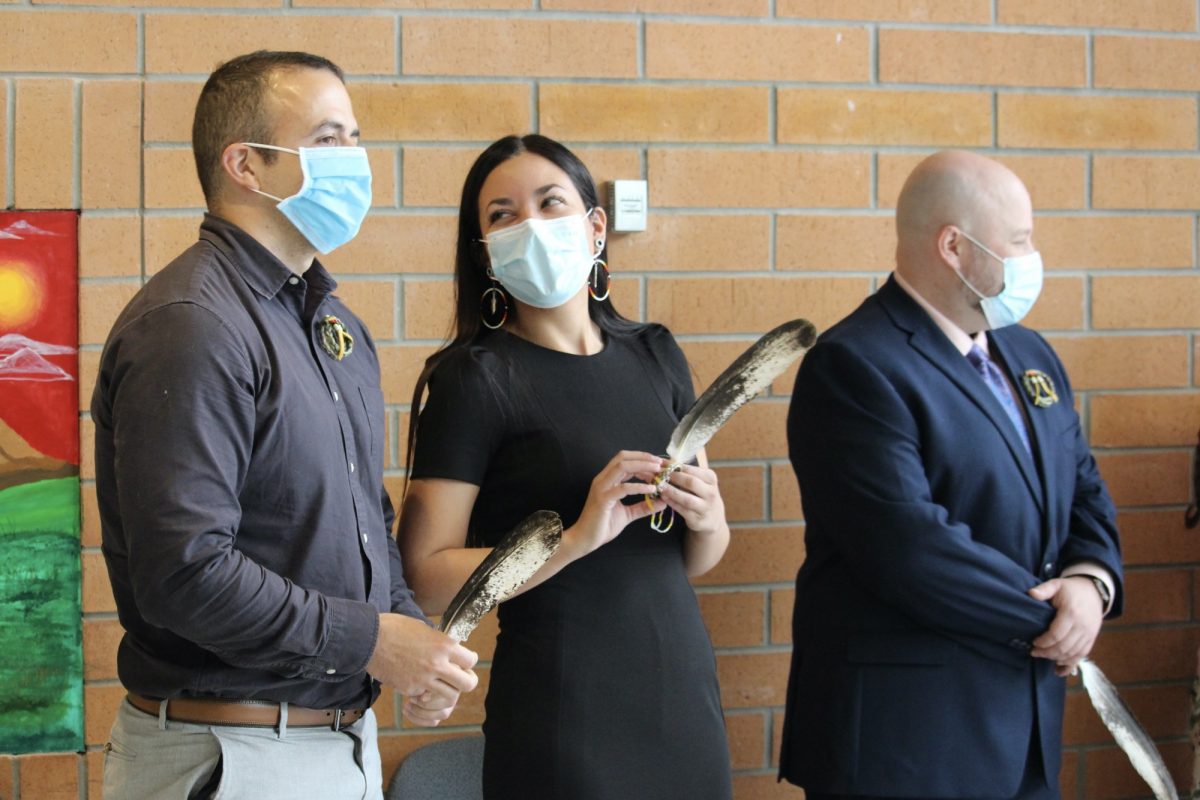 Ongomiizwin celebrates medical grads, Elder Margaret Lavallee
June 9, 2022 —
The group of new doctors stood before the audience and smiled proudly. Each held an eagle feather and wore a braided sweetgrass lapel pin.
The feather and pin were gifted to them by Ongomiizwin, the Indigenous Institute of Health and Healing in the Rady Faculty of Health Sciences, to recognize their hard work over the last four years as students in the Max Rady College of Medicine.
The gifts were presented at Ongomiizwin's graduation event on May 31 to celebrate the nine Indigenous Class of 2022 medicine graduates and to recognize Elder Margaret Lavallee, Elder-in-residence at Ongomiizwin, for receiving an honorary degree at convocation. The celebration took place in the Buhler Atrium on the Bannatyne campus.
"We're so proud of our graduates and so pleased to see them as they set out on their post-medical school journeys over the next few years," said Kimberly Hart, senior lead, Indigenous health student affairs, Ongomiizwin Education. "It's really important to be able to have the chance to get together and really celebrate all their hard work."
Leslie Spillett, knowledge keeper with Ongomiizwin Education, gave the opening prayer. Dr. Marcia Anderson, vice-dean Indigenous health, social justice and anti-racism, Rady Faculty of Health Sciences, and Melanie MacKinnon, head of Ongomiizwin, congratulated the graduates and Lavallee on their accomplishments. Roger Green performed an honour song and a travelling song.
Dr. Gabriel Dmytryszyn, who is Métis and a member of the St. Norbert Métis local, said that it's both daunting and a huge honour to now be a physician.
"I feel I want to do my very best, to pay respect to my grandparents and hopefully make them proud," said Dmytryszyn, who will be doing his residency in rural family medicine in Medicine Hat, Alta. "It took a lot of support to get me here. I definitely would not have been able to do it by myself."
Dr. Lindsay Bristow, who is First Nations, will be starting a residency in psychiatry in Winnipeg. She said she was honoured to attend the event.
"Receiving an eagle feather is the highest honour," she said. "It's nothing that I've experienced before. I feel so fortunate and thankful."
Dr. Fernando Villaseñor, who is Haudenosaunee-Cree and a descendant of the Michel First Nation, will be doing his family medicine residency in UM's northern and remote program. He said it's kind of surreal to be finished medical school and he's excited for what comes next.
"It's very humbling to be honoured today, and it goes to show how involved Ongomiizwin has been in really nurturing and fostering a sense of community amongst the Indigenous graduates," he said.
The other honourees from the Class of 2022 include Drs. Liam Barrett, Thomas Boyko, Diana Craig, Hailey Hildebrand, Jordan Thisdelle and Gabrielle Wilson.
The event also celebrated Lavallee, who received an honorary Doctor of Laws from UM at Convocation on May 19.
"To see our Elder Margaret receive the highest honour for her work and dedication in expanding knowledge and supporting learners is well deserved," MacKinnon said. "We are so grateful and fortunate to have her in our collective circle."
Lavallee said it was exciting to share the day with the medical graduates.
"I'm so happy for them because I saw them come in, and four years down the road, they're graduating," Lavallee said. "My dream is to have more Indigenous students coming in to become doctors or enter into health care."