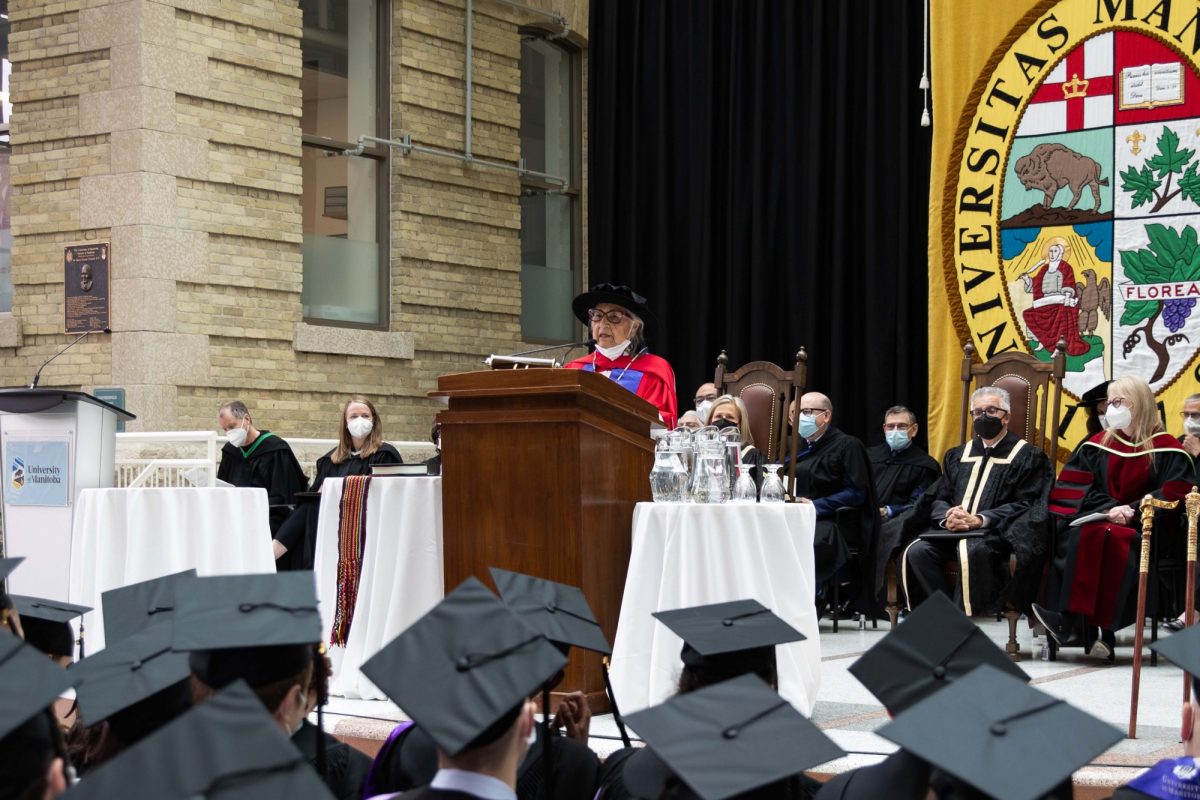 Treat patients with respect, revered Elder tells medical grads
May 24, 2022 —
An Ojibway Elder called on newly graduated doctors to follow the Seven Sacred Teachings – love, courage, humility, wisdom, honesty, respect and truth – as they leave the UM medical school and start their residencies.
Be humble and treat every patient with respect, Elder Margaret Lavallee told the Max Rady College of Medicine Class of 2022 at Convocation on the morning of May 19.
"When you walk into a [hospital] ward and come face-to-face with your patient, [remember] that special humility….
"Respect those that you come across. No matter what happens, no matter who you see as a patient – it could be someone from the streets, or it could be someone from other places – you must always remember that respect."
The university conferred an honorary Doctor of Laws degree upon Lavallee at the ceremony in the Brodie Centre Atrium on the Bannatyne campus.
Melanie MacKinnon, head of Ongomiizwin, the Indigenous Institute of Health and Healing in UM's Rady Faculty of Health Sciences, presented Lavallee with a medallion necklace carrying her spirit name.
Lavallee, a survivor of the residential school system, has dedicated more than 50 years to the goal of attaining equitable, culturally safe health services for Indigenous people. Among her many roles in health care, she was the first program director of Aboriginal Health Services at Health Sciences Centre.
Now a respected Elder in Residence at Ongomiizwin, Lavallee is committed to sharing Indigenous culture and knowledge, mentoring students and working toward reconciliation.
Another significant honour presented at the ceremony was the UM Board of Governors' Distinguished Service Award, given to Dr. June James, who was the first woman of colour to be admitted to medical studies at UM.
The 1967 graduate became an innovator in the fields of asthma and allergy. In 2003, James became president of the College of Physicians and Surgeons of Manitoba – the first Black president of a provincial medical college in Canada.
The Spring Convocation ceremony was the first to be held in person on the Bannatyne campus since 2019. Speakers paid tribute to the Class of 2022 for showing resilience under difficult conditions, and for pitching in to fight the pandemic.
"Many, if not all of you, were on the front lines," said UM President and Vice-Chancellor Michael Benarroch. "You were a key part of our province's effort. Thank you for the sacrifices you made, the extra work you put in, the stress you overcame.… It is tremendous."
"You showed up as volunteers," said Dr. Brian Postl, who was attending his final Convocation before retiring as dean of the Rady Faculty of Health Sciences and Max Rady College of Medicine. "You participated when people needed help…. You adapted remarkably."
UM Chancellor Anne Mahon, attending her first in-person medicine Convocation, told the graduates, "You are extraordinary students, forged during extraordinary times." She called on them to follow the counsel of Mahatma Gandhi: "The best way to find yourself is to lose yourself in service to others."
The Medicine Class of 2022 included 113 graduates, 84 of whom will pursue their residencies in Manitoba. The class included nine students of self-declared Indigenous ancestry and seven French-speaking students who graduated in the college's bilingual stream.
Rachel Rudney, the class valedictorian, is a 42-year-old mother of two from Winnipeg. She will do her residency in dermatology, spending two years in Manitoba and three years in Toronto.
"We began to learn the art of medicine during an unprecedented time," Rudney said in her address. "We worked together through a global pandemic when there was so much uncertainty.… We did so with compassion and resilience, caring for our community and each other."
Gabrielle Wilson, 26, is an Indigenous graduate who participated as a mentor in the Gekinoo'amaaged Indigenous Student Mentorship program. She is headed to Victoria for her residency in Indigenous family medicine.
"I recognize with humility that I could not have done this alone," Wilson said in an interview. "One of the foundational supports that I had throughout this whole journey was the resources in the community at the University of Manitoba, specifically Migizii Agamik [Bald Eagle Lodge] at the Fort Garry campus and Ongomiizwin at the Bannatyne campus.
"Without them, I wouldn't have had the foundational identity to grow into who I am today."