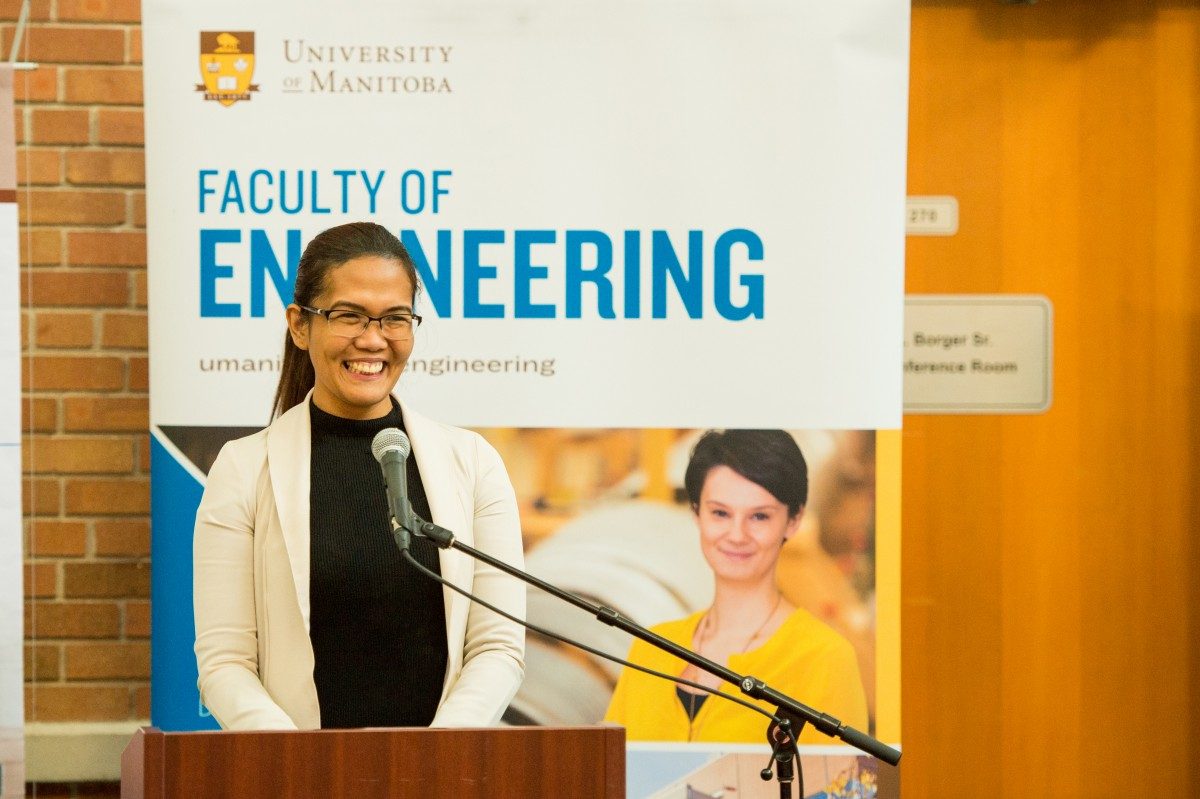 IEEQ Grad Reflects on Time Spent in Program
December 5, 2018 —
Ethel Fernandez [P.B.Dip.Eng 2013] was willing to take whatever job she could get, so long as it meant she would be in Canada and with her family. Seeking, like most other immigrants, a better life for her and her family, she left her job in the Philippines working for a Japanese-owned electronics manufacturing firm and decided that better was possible in Canada, but at what cost? Not deterred by the possibility of settling for less in the hopes of a better future for her children, she took the leap and moved to Winnipeg in 2006 with her husband and their two children. She was willing to do whatever it took to ensure a better future for her children, even if that meant washing dishes or cleaning floors.
Thankfully for her, she was lucky enough to land a job as a technical services representative here in the city; something related to her degree in Electronics and Communications Engineering but not exactly the right fit. After working there for a few years, she and her husband had their third child in 2009. It was while on maternity leave that she came across her bachelor's degree from back home. At that time her degree was nothing more than a piece of paper filed amongst others in a file folder, but at that moment something changed for Ethel. After reading through the degree in its entirety, word by word, line by line, she reflected on how hard her parents had worked to send her to university and to get her degree. Much like the sacrifice she made for her children in moving to Canada, her parents had also sacrificed a lot for her attend university. That's when she knew it was time to have her education and experience formally recognized here in Canada.
Shortly after contacting Engineers Geoscientists Manitoba, Ethel applied to become an IEEQ student here at the University of Manitoba. Weeks and months passed until one day, her husband phoned her while at work.
"I remember my husband calling me at work telling me there was a 'big envelope' for me from the University of Manitoba. I knew then it was from the IEEQ program and knew that if it [was] a 'big envelope' that would mean I was accepted into the program." stated Ethel, "What else could be in there, surely there wouldn't be a package of rejection letters, right?"
Ethel was right, she had been accepted into the IEEQ program and was to begin studies in 2011. She came home from work and read through the enclosed documents which were the key to her unlocking her full potential as an engineering here in Manitoba.
"It was one of the happiest moments of my life – it gave me hope and started my journey to P.Eng."
Unlike the many other choices she made in the years previous, Ethel's choice to join IEEQ was a simple one. Some of the reasons were obvious, such as the co-op component of the program which would enable her to get first-hand work experience in her field for the first time in Canada, as well it would allow her to build her network of contacts. Her time in the program also allowed her to update and upgrade her existing engineering knowledge and learn about Canadian workplaces, customs, and culture.
But perhaps the most important reason was to experience a graduation ceremony. When she first graduated university in the Philippines, she couldn't go to her convocation as just three days earlier, she gave birth to her son. Her IEEQ graduation, on the other hand, was attended by her family and the feeling of walking across the stage, knowing that they were watching was a feeling unlike any other. She says that walking across the stage was not just a celebration of her accomplishments, but it was an opportunity to show her children that if they work hard and stay focused, they too can achieve anything.
"I wanted to show my children that age is not a hindrance to go back to university and in pursuing your dreams."
Five years later, Ethel has not only achieved her P.Eng. credentials and a career in her field working for the Royal Canadian Mint, but she has also found time to give back to the province and the community that helped her reach her dreams.
She has gone on to become the first female president of the Filipino Members Chapter here in Winnipeg, has her own column in the Pilipino Express where she writes about topics that are of interest and inspiration to Philippine-trained engineers, and now volunteers with Engineering Geoscientists Manitoba – the very organization where her journey began.
While her time as an IEEQ student may be over, Ethel says she still remembers her time in the program well and all that it taught her. She credits the program for her success today and her story continues to inspire many students both inside and outside the program. As for how she feels about her own story, she said she is "truly humbled and honoured" to have her remarkable story told.