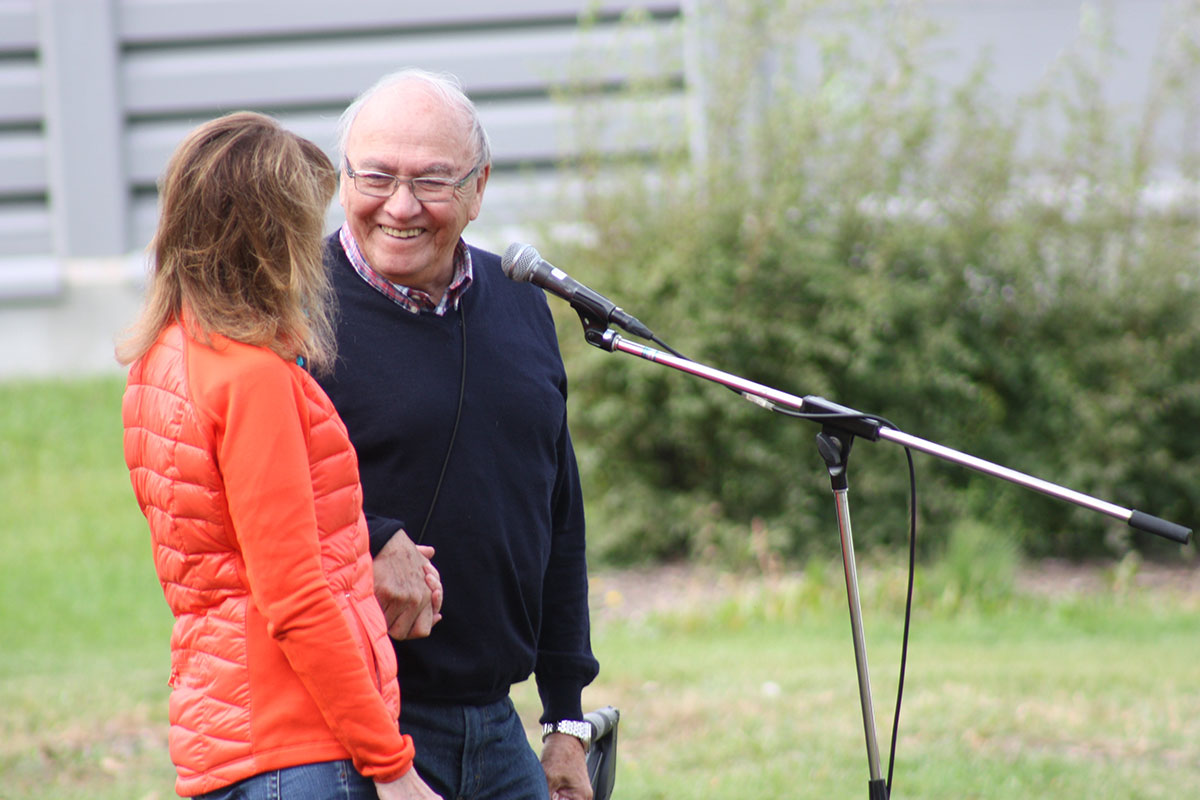 On the passing of Ted Fontaine
May 12, 2021 —
The University of Manitoba community is saddened to hear of the passing of Theodore (Ted) Fontaine on May 10. A member of the Sagkeeng First Nation, Elder Fontaine was an inspirational leader and as a residential school Survivor, dedicated much of his work to the advancement of truth and reconciliation. He gifted his talents and knowledge to numerous initiatives at UM and profoundly touched the lives and work of many UM community members.
Christine Cyr, Associate Vice-President Indigenous – Students, Community and Cultural Integration:
Ted Fontaine was a beloved member of the University of Manitoba community. He supported the work of the National Centre for Truth and Reconciliation, led numerous presentations, classes and projects, and spent time with us at events like the Annual Elders and Traditional Peoples Gathering. His reputation as a residential school Survivor, an author, an educator, and a leader in the community was known and respected by many. It was a really big deal if Ted Fontaine was coming to your event! He was so passionate about family, about our cultures, about our healing journeys, and about telling our stories.
My own experiences with Ted go back to the early 2000's when our two families were connected through a business project and I got to spend lots of time listening to his stories and being mentored in the ways of community and leadership principles. Ted was very kind to my family and so generous with his knowledge.
We travelled to places like Minneapolis and Wisconsin Dells for events and I was so proud to be with him and his wife, Morgan, because they were such loved and respected pillars of the business. He always reminded us to walk and work with courage. Ted was also feisty and had the best sense of humour – he loved to tease people and I will always remember the way he would throw his head back and laugh when reminiscing about funny situations.
Our community of students, staff, and faculty mourns this great loss. Ted's legacy will live on through the stories that we share about him and what he taught us. Rest in peace dear friend, uncle, teacher.
Stephanie Scott, Executive Director, National Centre for Truth and Reconciliation:
Ted was very passionate with a fire inside to inspire change and educate Canadians on the truth of residential schools. I met him years ago as a journalist and he took me under his wing, he continued to support me during the TRC and NCTR. I will personally miss his guidance, wisdom and passion. The empty chairs our Survivors leave behind are a stark reminder to us all that we need to take the time to listen, learn, and honour those impacted by the residential school system. Our prayers are with Ted's family, friends, and community at this time.
Niigaan James Sinclair, Associate Professor, Department of Native Studies:

No one has overcome more violence and battles while emerging with a fierce belief in community like Ted Fontaine did. The man was an uncle to all; literally embodying change and reconciliation while showing us how to be better people by never giving up on the simple belief that love and kindness can change the world. He left giant footsteps to walk in.
Andrew Woolford, Professor, Department of Sociology and Criminology:
Theodore (Ted) Fontaine was first and foremost my friend. This is an important fact because Ted taught me to place emphasis on relationship rather than research. I first reached out to him after being moved by reading his memoir of residential schooling, Broken Circle.
Through his writing he captured the genocidal violence of Canadian assimilation policy more forcefully and poignantly than any scholarly work could hope to achieve. Soon, we were meeting regularly for breakfast and dreaming up ways to do research differently. He did not hesitate when I invited him to head up a Survivor Advisory Council for the Embodying Empathy project, which created a virtual reality replica of the Fort Alexander Indian Residential School. This is the school where Ted suffered many atrocities but now it has been rendered as a space for knowledge transmission and empathy formation.
During our meetings about Embodying Empathy, he told me "Something needs to be done about Assiniboia. People don't know that there was a residential school in Winnipeg." This was the origin of our current work on the remembrance and reclamation of the Assiniboia Residential School. It is not a project about traditional scholarly outputs – our first accomplishment was a reunion event in 2017 that brought together Survivors and their families with River Heights neighbours to connect with and learn from each other. Since then, an edited volume of Survivor remembrances and a commemorative site for the school grounds have been our focus.
Respect and relationships have been at the centre of all this work. For Ted, real reconciliation came through everyday acts of generosity and kindness. Our breakfast meetings were often punctuated by Ted recognizing passers-by and stopping them for a quick hello and always a joke.
No matter how long ago he had met them, he recognized them, knew their names, and remembered something about them. He connected, related, and celebrated their shared existence, and in doing so he cultivated knowledge and nurtured learning – just as he did with hundreds of young people through his frequent school presentations. Through all his convivial and lively interactions, he was a "Victor," as he liked to say, rather than a Survivor, overcoming a system that sought to sever him from community, identity, and hope.