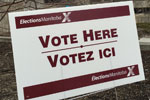 October 3rd and 4th, UM experts lend insights on #Mbpoli
October 4, 2023 —
By now you already know, the NDP won a majority vote in the provincial election on October 3rd, 2023. The NDP won 34 seats, PC's 22 and the Liberals won one seat.
The win also added a new chapter to Manitoba's history books with it's first First Nations leader as Premier with Wab Kinew.
Here is some of the coverage on election night and the day after with contributions from some of the University's political experts.
Christopher Adams, adjunct professor of political science with CBC: Dougald Lamont concedes to NDP in St. Boniface, steps down as Manitoba Liberal leader
Royce Koop, professor of political studies with CityNews: Expert predicts NDP victory in final hours of Manitoba election
Niigaan Sinclair, Indigenous Studies professor with Your Morning: Manitoba NDP wins majority government
Royce Koop, professor of political studies with The Globe and Mail: NDP wins Manitoba election as Wab Kinew set to become first First Nations provincial premier in Canada
Réal Carrière, an assistant professor at University of Manitoba who specializes in Indigenous politics spoke with Reuters and was shared in the Daily Mail UK: Kinew to be Manitoba's only First Nations premier as province elects NDP government
Christopher Adams, adjunct professor of political science with CBC Manitoba Radio One: Wab Kinew says his party will be there to help you when you need it but you need to take the first steps