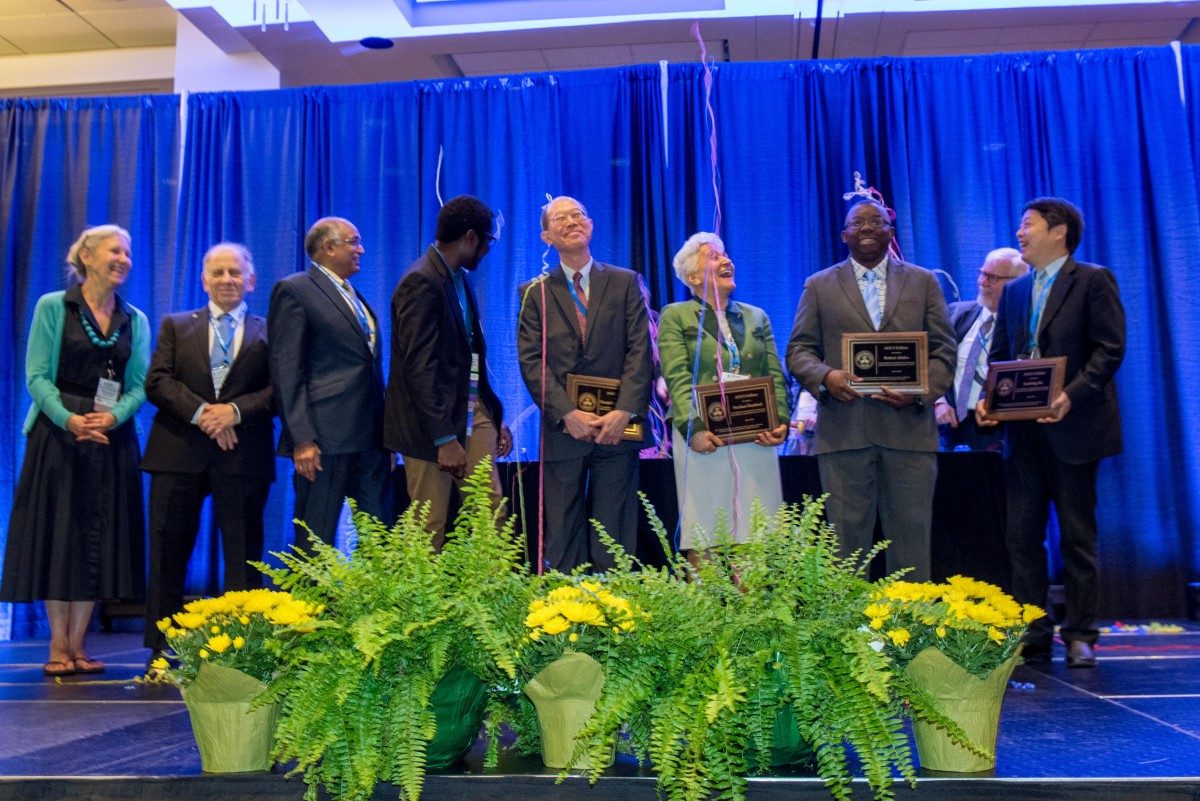 Nutritional scientists recognized for oil chemistry contributions
June 8, 2018 —
Two members of the Department of Food and Human Nutritional Sciences were recognized recently for their research accomplishments and contributions to their industry at the American Oil Chemists' Society annual meeting held May 6-9 in Minneapolis, MN.
Dr. Rotimi Aluko was presented with an AOCS Fellow Award, a category of AOCS membership that recognizes achievements in science, or extraordinary service to the Society. Such contributions are not limited to research, but may include such areas as industrial achievement, leadership, education, administration, communications, or regulatory affairs.
Rotimi's work focuses on the structure-function properties of food proteins and peptides with special focus on oilseeds and pulses. In addition to over 160 journal article publications, he also has 4 patents. Rotimi has trained 12 PhD, 8 MSc and 9 postdoctoral fellows in addition to several undergraduate summer research interns. The excellence of his research program was recently acknowledged when he was named a "Highly Cited Researcher" in the Agricultural Sciences category, which is recognition given to researchers with peer-reviewed journal citations in the top 1% in the world. Rotimi has been involved with AOCS as a regular conference attendee as well as a technical session organizer and oral paper presenter in the Protein and Co-Products (PCP) Division for the past 13 years. During this period, he has regularly sponsored his staff and students to enable them to attend the AOCS conference and make oral or poster presentations at both the PCP and Nutrition Divisions. His students have won several poster awards during the AOCS conferences and 3 of them are past recipients of the AOCS Honored Student Award. Rotimi also served as Chair of the PCP Division from 2008 to 2010.
Dr. Michael Eskin was presented with the Stephen S. Chang Award which recognizes scientists or technologists who have made decisive accomplishments in research for the improvement or development of products related to lipids. As part of his award, Michael provided a lecture on the topic "From Canola to Hempseed Oil: A Long Fat Journey" which detailed his research conducted over the past 40-years on edible oils.
Michael was being acknowledged for his extensive research on edible oils and his involvement in the early development of canola oil. In 2016, he received the Order of Canada, the highest civilian honor, for his scientific contributions that led to the success of the Canadian canola oil industry. Michael has published over 130 research papers and 60 chapters and is the author, co-author, and editor of 15 books, a number of which were translated into German, Japanese, Malay, and Portuguese. His current research focuses on the production and antioxidant properties of canolol from canola as well as improving the stability of hemp oil. He has been a member of AOCS for over 40 years, having served as Chair of the Lipid Oxidation and Quality Division, the first Chair of the newly formed Division Council, Associate Editor of JAOCS, as well as Chair of the Flavor Quality and Stability Committee. Michael has also been active on the Education Committee and is currently Associate Editor of Education for the AOCS Lipid Library. He is the recipient of many awards and was made a Fellow of AOCS in 2004. This year marks his fiftieth year at the University of Manitoba, where he has served as Department Chair and Associate Dean. Last year, Michael was voted the Outstanding Professor by the students of his faculty. He is also known for his lipid rap songs, which are used in universities across North America as well as shown in a Nutrition Centre in Moscow.
OTHER AWARDS
At the AOCS awards ceremony, University of Manitoba alumnus Chibuike Udenigwe was presented with the AOCS Young Scientist Research Award, which recognizes a young scientist that has made significant and substantial research contributions in one of the areas represented by an AOCS Division.
Two Food and Human Nutritional Sciences students were award winners at the conference:
Temitola Awosika (M.Sc. student) received the second place in the place in the Protein and Co-Products Division Student Poster Competition for her work titled "Inhibitory activities of pea protein-derived protein hydrolysates against α-amylase and α-glucosidase".
Adam J. Franczyk (M.Sc. student) received the third place in the Protein and Co-Products Division Student Poster Competition for his poster titled "Protein Digestibility and Quality Determined using Two in vitro Methods in Cooked, Baked and Extruded Pulses."
Dr. Jim House, head of the Department of Food and Human Nutritional Sciences, provided the plenary lecture "Positioning Plant Proteins to Consumers: What Innovations are Needed Along the Value Chain?"