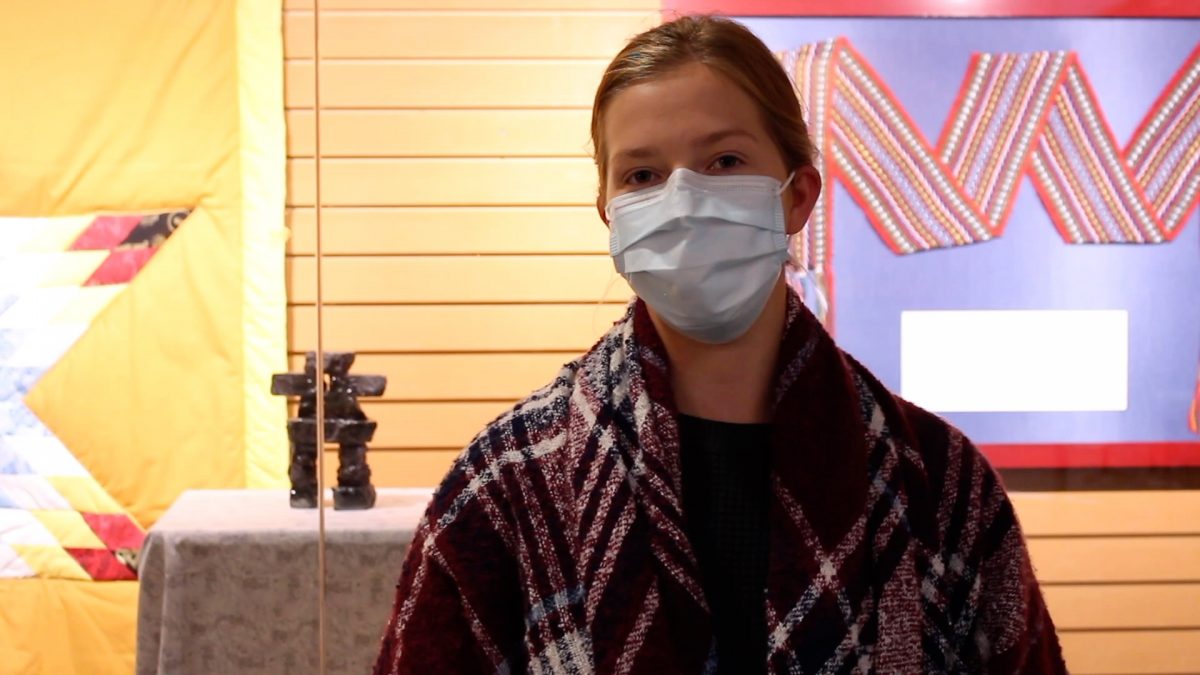 Nursing students renew Orange Shirt Day pledge through video
September 29, 2020 —
Organizers of an annual Orange Shirt Day walk at the University of Manitoba were not going to let a pandemic stop them from honouring those affected by Canada's residential school system in 2020.
Every Child Matters – Orange Shirt Day is held annually on Sept. 30 in honour of Phyllis Webstad, a residential school survivor who had her new orange shirt taken away on her first day of school in Williams Lake, B.C.
The annual walk from the Helen Glass Centre of Nursing to the National Centre for Truth and Reconciliation (NCTR) is organized by the Nursing Students' Association (NSA), College of Nursing, Rady Faculty of Health Sciences and students from the Faculty of Education. Approximately 200 people attend every year.
This year, due to COVID-19 restrictions, the organizers decided instead to have a video produced to commemorate the event.
In the four-minute video, NSA senior stick Kelsey Tonn recites the pledge to practice culturally-safe nursing care – an important part of the annual Orange Shirt Day event.
The video also features an honour song performed by Elder Carl Stone and interviews with Margaret Lavallee, Elder In-Residence, Ongomiizwin – Indigenous Institute of Health and Healing, whose family experienced the trauma of the residential school system first hand, and second-year bachelor of nursing student Kristen Pratt, of Dakota Nation.
Pratt said she observes Orange Shirt Day annually, sharing the day with her own children as a family tradition.
"I just feel it's so important to pass down the history and the knowledge that we have of residential schools, to pay respect to our grandparents, great-grandparents, aunts, uncles and others who have a history within the residential school system," she said. "I feel we need to remember those who attended the schools and those who never made it out of the schools, because this is a big part of our Indigenous culture and history."
College of Nursing dean Dr. Netha Dyck congratulated the organizers on finding a way to acknowledge the day, even though it couldn't be in person.
"This event serves to affirm our commitment to Every Child Matters and continues to raise awareness of the impact of residential schools on Indigenous children and families," she said. "Our nursing students commemorate this event by renewing their pledge to provide culturally-safe nursing care in partnership with Indigenous people and their families, as well as to support, affirm and celebrate all people and serve as role models. This pledge also serves as an ongoing reminder of our commitment to reconciliation."
Melanie MacKinnon, head, Ongomiizwin – Indigenous Institute of Health and Healing and a nurse, also praised the group, saying advocacy is as important to the nursing profession as caring and compassion.
"Nurses have a responsibility to advocacy and this is one way that we show our support," MacKinnon said. "The pledge is particularly moving because it acknowledges the social determinants of health – poverty, education, economics and equity – outside of just the health sector."
Indigenous student rep from the Faculty of Education Tiffany Froese noted that advocacy is also important for teachers, which is why education students take part in organizing the event as well.
"It's a really special opportunity for educators to engage in meaningful conversations in their classroom," Froese said. "Normally we're in the classroom during Orange Shirt Day, but this year we can still have these conversations with our peers, which gives us the opportunity to practice introducing difficult conversations into the classroom."