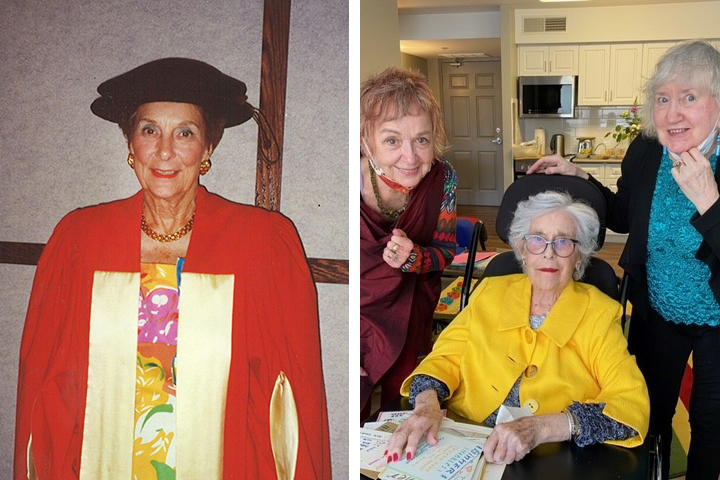 Nursing alumni honoured as trailblazing women
February 24, 2021 —
In January, the Nellie McClung Foundation announced Manitoba's 150 Women Trailblazers in the Winnipeg Free Press. The list included several University of Manitoba alumni, including two esteemed colleagues from what is now the College of Nursing, Rady Faculty of Health Sciences.
The honour celebrates contributions that Manitoba women have made to social justice, arts, sports, politics and community activities.
Joann MacMorran
Joann MacMorran, who graduated with a bachelor of nursing from UM in 1965, had an accomplished career of over 30 years dedicated to the control of tuberculosis (TB) in Manitoba and internationally.
In 1971, MacMorran became the provincial nurse consultant in tuberculosis and pulmonary disease. Working with Dr. Earl Hershfield, she was instrumental in implementing protocols in the treatment of TB and aggressive contact tracing. Together, they developed the direct observed therapy method for TB treatment, which was adopted internationally.
After retiring from the position in 2002, she was approached by the Canadian International Development Agency to join a project in Guyana to implement the program she helped develop in Manitoba, which included an electronic TB registry.
"Joann went all around the world and spoke about our program here in Manitoba, which was very innovative," said nurse educator Arlene Draffin Jones, who worked on the DOT program with MacMorran.
"We taught patients to take medications themselves. It was a very new idea at the time," said Jones, former president of the Council of Women of Winnipeg, which was also named in the 150 Women Trailblazers list.
Dr. Netha Dyck, dean of the College of Nursing, called MacMorran's contributions to health care "remarkable."
"We are honoured to pay tribute to Joann MacMorran and celebrate her contributions to quality health care, particularly in relation to her outstanding work in the management of tuberculosis," Dyck said. "She was passionate about treating tuberculosis and worked tirelessly in stopping its spread."
MacMorran taught in the UM nursing faculty from 1969 to 1971, and has remained active since leaving the CIDA project in 2006, volunteering at a thrift shop at Health Sciences Centre and with arts groups. However, in October 2020 she suffered a fall and tested positive for COVID-19 while in hospital.
Barbara Bilodeau-Shumley, a friend and fellow retired nurse, has been MacMorran's health-care proxy and arranged 24/7 care in her home.
"With 11 different caregivers every 24 hours, I'm happy to say she's on the road to recovery," she said.
Dr. Helen Glass
Also recognized was Dr. Helen Glass, former dean of the college. Dyck said she was delighted to hear that Glass was included in the list.
"As one of the most influential nurses in Canada and beyond, we continue to celebrate her extensive contributions in nursing education, nursing practice and community health, and in making amendments to the Canada Health Act," Dyck said.
Glass, who earned a UM nursing certificate in 1958, was named director of the School of Nursing in 1972, a position she held until 1979. She was instrumental in establishing a graduate program in nursing at UM and also in creating what is now known as the Manitoba Centre for Nursing and Health Research (MCNHR).
Glass later became president of the Canadian Nurses Association and had a great influence on the wording and scope of the Canada Health Act, working for the inclusion of nursing and allied health professionals alongside physicians in the delivery of primary care services.
The College of Nursing's building at Fort Garry campus is named in her honour, as is the MCNHR's annual research symposium. Glass died in 2015 at the age of 97.
Glass's daughter, Susan Glass, said it means a great deal to see her mother's impact on the nursing profession continue to be recognized and remembered.
"She made an impact on so many people. She loved her students and would do anything to make them better," she said. "And as she got older, we'd hear from her caregivers about the impact she made on them. Even late in life, she continued to elevate her profession, one nurse at a time."